LA Lakers vs Denver Nuggets Pick – Game 3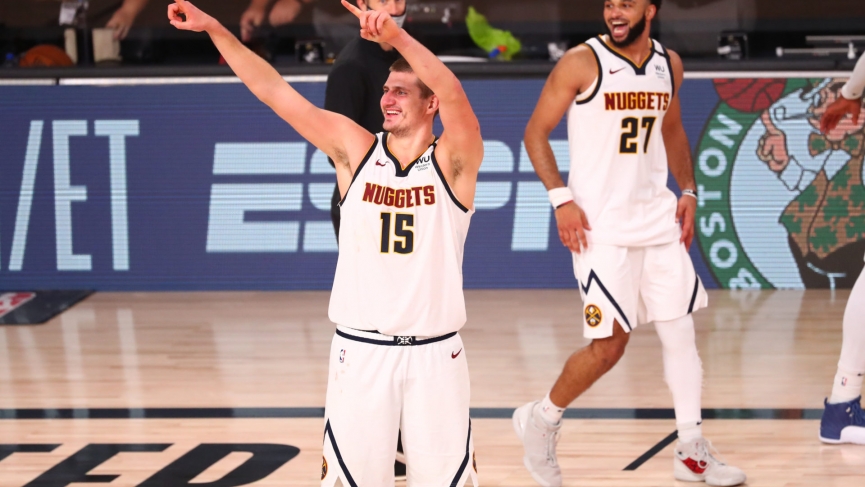 Odds.com's LA Lakers vs Denver Nuggets Pick- Game 3 West Finals: The Lakers are 8-4 to the Under, while Denver has gone Under the total or pushed in 9 of their last 10 games in the NBA playoff bubble. We head to Game 3 of the West Finals with the Nuggets in a fatal situation, as no team has come back from being down 0-3 in an NBA playoff series. 
| | | |
| --- | --- | --- |
| NBA Betting | Denver Nuggets | LA Lakers |
| Best ATS Line | +6.5 (-109) | -6.5 (-109) |
| Total | Over 213.5 (-110) | Under 214(-109) |
| Where/When | The Arena, FL | 9:00 PM EST |
Mile High: Denver facing an uphill battle
If there is a single word that can sum up the Denver Nuggets in their rollercoaster ride of a journey through the NBA Playoffs, and into the Western Conference Final here in the Orlando bubble it would be "resilience". This has indeed been a resilient Denver Nuggets team that has always been able to respond to adversity throughout the playoffs, and play their best basketball when it seems like there is no way back. Denver was down 3-1 to Utah in the first round and came back to win the series in seven games. Denver was down 3-1 to the LA Clippers in the second round–a Clippers team with Kawhi Leonard, and Paul George, and a boatload of championship aspirations, and yet the Nuggets made it all the way back to win that series as well in seven games.
The Nuggets got dominated by the Los Angeles Lakers in Game 1 of this series and then fell behind by double digits at halftime of Game 2, but once again their resiliency was on full display as Denver rallied back to take the lead in the 4th Quarter of Game 2, and appeared to be on their way to series-tying win when Anthony Davis broke the hearts of the Nuggets with a 3 pointer at the buzzer to give the Lakers a 105-103 win in Game 2, and a 2-0 lead in the series. Denver has shown the ability to rise up and find a way to win when they are counted out, and there will be an endless number of people set to count them out of this series after such a brutal, and painful defeat in Game 2. Denver will have another opportunity here in Game 3 to show their mettle and their resolve as they look to bounce back from a gut-wrenching Game 2 loss.
Joker Runs Wild
Nikola Jokic is the best offensive and most skilled low post player in the NBA. Jokic has a deft shooting touch, incredible footwork, and mobility for a man of his stature, tremendous court vision, and awareness, and is an elite passer. However, he struggles on defense and is quite often a liability at the defensive end of the court. Jokic doesn't always bring the intensity and effort that is required for someone with his presence on the floor. I saw a different "Joker" in Game 2 against the LA Lakers.
I saw Jokic competing and showing resistance at the defensive end of the court especially as the game was close and hanging in the balance down the stretch. He didn't back down from the likes of Anthony Davis or Dwight Howard who have been assigned with guarding and defending Jokic for most of the series so far while trying all the while to get under his skin and frustrate the big Serbian. He was as active defensively as I've seen from Jokic in a long time in addition to the usual 30 point performance he offered up in Game 2 at the offensive end. They need more of the Nikola Jokic who brought a much stronger will to battle defensively in Game 2 with him to the court for the rest of this series. It is established that he is an excellent offensive player, but they need some defense from him to beat a team as powerful as the LA Lakers.
Is the glass half full or half empty with Denver's defense?
It's a 'good news, bad news' situation for Denver. Denver's defense stepped up in the last game holding LA to 44.6% shooting and 36.1% from the perimeter. LeBron James had a 1st Quarter scoring outburst for the Lakers but didn't do a whole lot from that point on. That was the glass half full for the Nuggets. The glass half empty is that they are still getting crushed on the glass in the rebounding category. Through the first two games of this series, the LA Lakers own a +10 rebounding margin advantage over the Nuggets which means they are getting a far higher volume of second and third chance scoring opportunities and multiple extra possessions which can often make the difference over not only the course of the game but the entire series. Denver will need to have all hands on deck to try and win more of their share of the battles for rebounds against an LA team with a fairly obvious overall size and length advantage in this series.
LA Lakers vs Denver Nuggets Pick – Game 3
This series was an Anthony Davis shot at the buzzer away from being 1-1. Instead, it's 2-0 for the Lakers. The biggest question going into Game 3 from my standpoint is do you think the Denver Nuggets are mentally and emotionally broken following that demoralizing Game 2 loss? I don't buy it. This team has consistently come back and fought the good fight when things go against them. Whenever Denver has been punched in these playoffs, they have punched back. They have now proven they can match up with the LA Lakers with their performance in Game 2 when so many pundits have said they can't. Let's not forget that Nikola Jokic and Jamal Murray were both in serious foul trouble early in Game 1 which completely turned the tide in LA's favor in that game with their minutes being limited. They stayed out of foul trouble in Game 2 and the result was the Nuggets were live to win the game outright and they almost did. I cashed a ticket with Denver +7.5 in Game 2 and recommended the Nuggets in my most recent game preview article for this series. Denver is now 5-1 ATS in their last six tries off a loss here in the playoffs and that is a track record riding again tonight. I'm once again on Denver here in Game 3 catching +6.5 points. Denver has been able to dig down deep each time they have been knocked down. I expect to see more of the same here.
The best current price on the Nuggets is at +6.5 (-109) via BetAmerica