LA Lakers vs Denver Nuggets Pick for Game 4 West Finals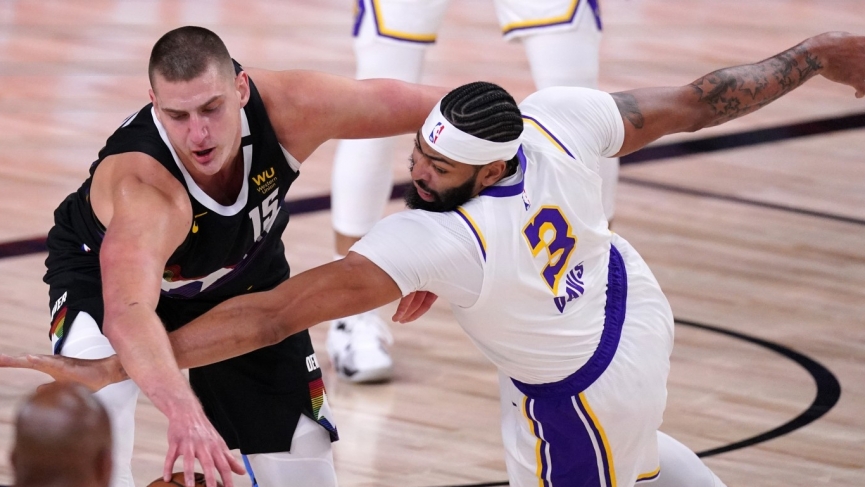 Odds.com's LA Lakers vs Denver Nuggets Pick for Game 4 West Finals: Denver has a very strong 6-2 SU, 7-1 ATS record in Game 4 through 7 of each of the first two rounds of the NBA Playoffs against Utah and the LA Clippers. Can they return to their winning ways in Game 4 vs the Lakers?

| | | |
| --- | --- | --- |
| NBA Betting | LA Lakers | Denver Nuggets |
| Best ATS Line | -6 (-110) | +6 (-106) |
| Total | Over 214.5 (-109) | Under 215.5 (-120) |
| Where/When | AdventHealth Arena, FL | 9:00 PM EST |
Resilience Is The Key
Resilience showed once again for Denver in Game 3 as they responded the way I thought they would against the LA Lakers even after a brutal and painful loss in Game 2 at the buzzer. Denver came out ready and dominated the first half taking a double-digit lead into halftime. The Nuggets pretty much led throughout but suddenly LA made a serious run in the 4th Quarter to cut the double-digit lead down to just a few points but once again, Denver punched back after being punched and closed out the game strong in the final minutes to hang on to win Game 3 and get themselves back in the series. Denver shot a spectacular 40-for-73 55% in Game 3 while forcing 16 Lakers turnovers which resulted in 25 Nuggets points. They also were aggressive on offense getting to the rim and drawing a ton of fouls.
Denver got its usual good offensive games from their two star players Nikola Jokic and Jamal Murray but they also got very critical secondary scoring contributions from the likes of Jerami Grant who had a phenomenal game with 26 points while Monte Morris off the bench stepped in and went 5-for-7 from the field for 14 points in the Game 3 victory. Denver's ability to make shots at a high percentage which allowed them to set their defense to be able to force the turnovers they did by the Lakers and then use those to fuel their fast-break transition game made all the difference in the winning result.
Will the Lakers be In The Zone in Game 4?
The Game 3 win for Denver almost wasn't in the 4th Quarter when LA Lakers head coach Frank Vogel decided to switch up his team's defensive scheme going from man-to-man defense to a zone defense with the Lakers seemingly down and out of Game 3 at the time. It worked. Denver's offense suddenly became stagnant and the Nuggets turned the ball over several times and suddenly a Lakers double-digit deficit was trimmed to just 2 points in the 4th Quarter.
However, Denver did what they've done throughout the playoffs and that responds to adversity and answer back. The Nuggets led by some outstanding defense in the final few minutes along with some clutch shot-making under pressure by Jamal Murray turned the tide back in their favor enough to hold off the furious LA Lakers rally. Going zone was effective though for the Lakers and one has to wonder if head coach Frank Vogel and the Lakers will go that route again in Game 4 knowing it worked and allowed them a chance to get back into the most recent game of this series.
LA Lakers vs Denver Nuggets Pick:
I have backed the Denver Nuggets in every game so far in this series and have gone 2-1 ATS in the process. I'm not reverting away from that here in Game 4. Denver remains the undervalued commodity in this series as I thought they might be. The Nuggets are getting better with each game in this series and more confident as well. It's surely worth noting that Denver has a very strong 6-2 SU, 7-1 ATS record in Game 4 through 7 of each of the first two rounds of the NBA Playoffs against Utah and the LA Clippers. That is a sign of Denver playing better and getting stronger as the series goes along which is something that might be starting to occur here against the Lakers as well.
LA needs more from their supporting cast around LeBron James and Anthony Davis and AD in particular needs to get on the glass much more as a player of his size and stature should not be held to only 2 rebounds in a playoff game as he was in Game 3. LA has a tough series on their hands and will be hard-pressed to win this game by any sort of margin. I also like the Under at 214.5 in this game. If the Lakers play some zone defense again, which I expect them to. it will likely slow the pace down and take away from the fast break, full-court basketball we have seen at times in this series. Denver will be ready for it if they see it from LA but I do expect the defenses to tighten up, the fouling to not be as excessive on either side in Game 4 as it was in Game 3, and the pace to slow down a bit leading to possibly a lower scoring contest.
The best current price on the Under is at 215.5 (-120) via BetRivers, while the best current price on Denver is at +6 (-106) via BetAmerica