Best NBA Teams to Bet O/U the Total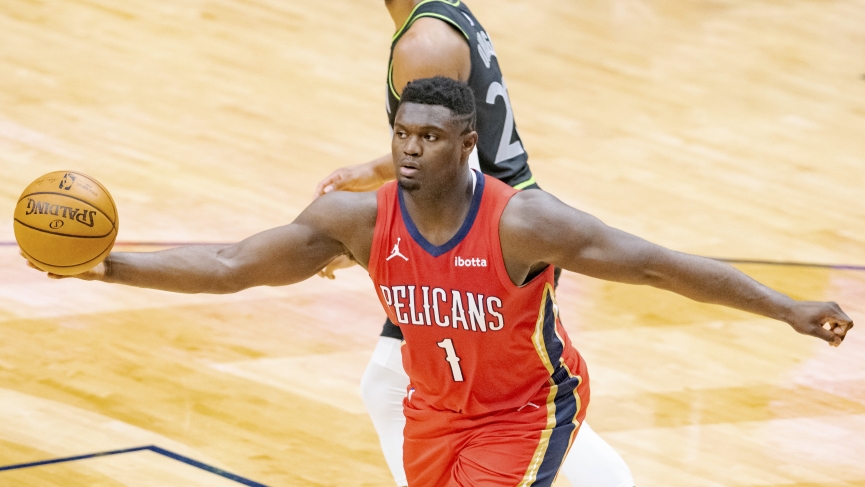 NBA Betting – Best Teams to Bet O/U this Season: The New Orleans Pelicans lead the way with a 30-16 record to the Over this season, cashing at a 65.2% rate. The Pelicans put up 115.3 points per game, while allowing 114.7, making them the best team to back on the 'Over' in the NBA this season.
– Updated March 30th, 2021
Five Best Teams to Bet 'Over'
| Team | Over Record | Over Win % |
| --- | --- | --- |
| Pelicans | 30-16 | 65.2% |
| Bucks | 28-17-1 | 62.2% |
| Nets | 29-18 | 61.7% |
| Pacers | 27-17-1 | 61.4% |
| Nuggets | 28-18 | 60.9% |
The LA Lakers have cashed at a 65% rate to the Under this season, going 31-16 for +12.21 units profit. The Lakers allow just 106 points per game, and are only behind the New York Knicks as being the best defensive team in the NBA. Many believed that the Lakers pace and strong defensive play would regress with LeBron James missing time due to an ankle injury, but they have continued to cash Unders, and remain the best team to back on a total, cashing at a higher rate to the Under than the Pelicans do the Over.
Five Best Teams to Bet 'Under'
| Team | Under Record | Over Win % |
| --- | --- | --- |
| Lakers | 31-16 | 65.9% |
| Knicks | 29-18 | 61.7% |
| Rockets | 27-18-1 | 60% |
| Warriors | 28-19 | 59.6% |
| Cavaliers | 27-19-1 | 58.7% |
---
Wizards O/U Record
| | | |
| --- | --- | --- |
| 2019/20 Season | Over Record | Profit (Units) |
| Wizards | 40-31-1 | +5.4u |
| 2020/21 Season | Over Record | Profit (Units) |
| Wizards | 23-21 | -0.07u |

Washington should consistently have the highest totals on the board this season, and despite that, it will still be difficult for oddsmakers to set them high enough. They acquired all-star point guard Russell Westbrook in a trade that cost them John Wall. Westbrook, paired with all-star Bradley Beal, will form one of the most formidable backcourts in the NBA. Note Wall missed all of last season with an injury; thus, when compared to last season, Washington added a star point guard without losing anyone.
Note in 2018, when Westbrook was with Oklahoma City, they ranked second in pace averaging 106.9 possessions per game, but last year without Westbrook, OKC ranked 20th in possessions per game. Houston in 2018 without Westbrook ranked 22 in possessions per game while ranking 5th last year with him. Washington was already considered a fast team averaging 106.6 possessions per game last year, which ranked 6th in the NBA, and that should only increase with Westbrook's fast tempo nature.
The biggest problem for Washington figures to be defense once again. Last year they ranked 29th in defensive rating, points per game at 119.1, and opponent field goal percentage at 48.8%. Whenever they did get a stop, they couldn't close out the possession as they gave up 10.5 offensive rebounds per game, which ranked 24th in the NBA. Westbrook will not help them in this regard. He ranked 14th in the NBA in real plus-minus, having a real offensive plus-minus of 4.33 but a negative defensive real plus-minus.
Outside of their two all-stars, the only other player making more than $10 million this year is David Bertans, who is also an offensive-minded player known for his 3-point shooting ability. Last year he ranked 4th making 3.7 threes per game and 6th hitting three's at a 42.4% clip. Rui Hachimura figures to improve second-year player to improve in his sophomore season after averaging 13.5 points last year, which ranked tied for 6th among rookies. He only shot 28.7% from three, but that figures to improve as he gets more comfortable in the NBA.
With all the poor defensive stats and Washington being an up-tempo team last year, they were an 'over' team despite having really high totals. They managed to go 40-31 (56%) to the 'over,' and I'd expect similar results this year as they will likely play with more pace and are a roster filled with offensive-minded players.
---
T-Wolves O/U Record
| | | |
| --- | --- | --- |
| 2019/20 Season | Over Record | Profit (Units) |
| Timberwolves | 36-28 | +4.76u |
| 2020/21 Season | Over Record | Profit (Units) |
| Timberwolves | 24-22 | -0.16u |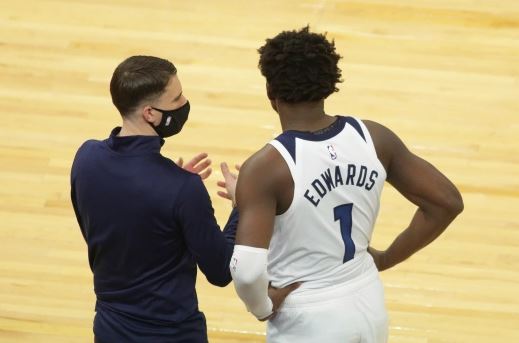 Last year Minnesota ranked first in the NBA in possessions per game at 108.1 possessions. They acquired point guard D'Angelo Russell during the season last year, and he averaged 21.7 points in 12 games for Minnesota. The idea was to pair him with fellow all-star center, Karl Anthony Towns. That only happened one-time last year with Towns nursing an injury. Towns is arguably the best shooting big in the NBA. Last year he led centers with a 41.2% 3-point shooting percentage, which ranked 15th overall.
Minnesota also acquired Malik Beasley last year, who had spent his first 3.5 years in Denver. In 14 games for Minnesota, he was allowed to be a starter and saw career highs in minutes, assists, rebounds and averaged 20.7 points on 47.2% shooting. Beasley leads a young shooting guard and small forward group that includes 2019 6th overall pick Jarrett Culver and this year's first overall pick Anthony Edwards.
Defensively, Minnesota allowed 47.7% shooting and 36.3% from the three-point range, which ranked 25th and 20th, respectively. Their defensive rating as a team ranked 20th, yet they allowed 117.5 points per game, which ranked 28th in large part because of their pace.
Last year Minnesota turned the ball over 15.3 times per game, which ranked 26th in the NBA. Considering their youth and that their best players Towns and Russell haven't really played together, I can see plenty of turnovers leading to transition baskets, especially at the pace they are likely to play with. Also, I would expect some miscommunications from their already mediocre defense as they learn to play with each other. I don't worry about the lack of continuity hurting Minnesota on offense as they have two all-stars who are proven scores.
Last year Minnesota ranked 24th in offensive rating and still managed to score 113.2 points per game which ranked 11th in the NBA. Towns only played 35 games last year, and Russell and Beasley combined to play 26 games as members of the Timberwolves, which combined doesn't even equal a full season. Last year Minnesota went 36-28 (56.2%) to the 'over,' and no surprise if they did it again, especially if their best players stayed healthy and became slightly more efficient on offense.
---
Raptors O/U Record
| | | |
| --- | --- | --- |
| 2019/20 Season | Over Record | Profit (Units) |
| Raptors | 39-43-1 | -7.51u |
| 2020/21 Season | Over Record | Profit (Units) |
| Raptors | 26-20 | +3.66u |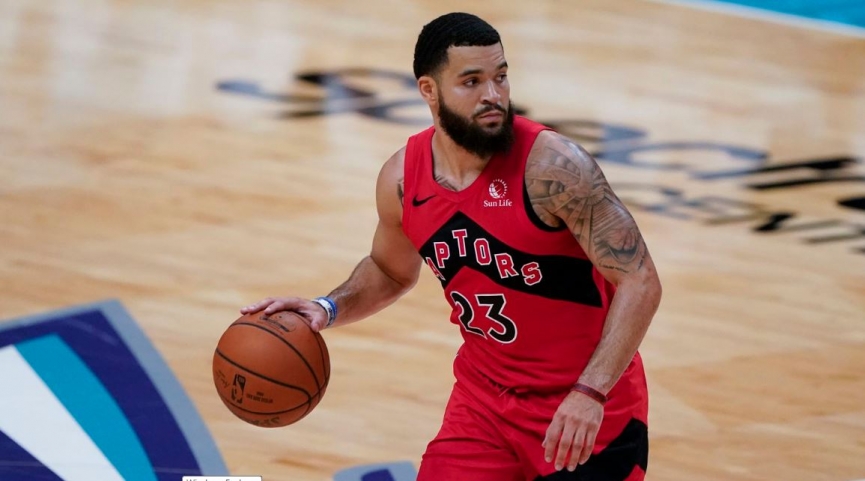 Toronto lost a pair of big men in the off-season in rim protector Serge Ibaka and former defensive player of the year Marc Gasol. Gasol continued to play strong low post defense last year and ranked 7th in the NBA with a +3.42 real defensive plus-minus, with Ibaka ranked 75th in that category at +1.27. Both players had defensive win shares above 2. Toronto allowed 41.1 points in the paint per game last season, which ranked 2nd in the NBA. It will be tough to repeat that with Gasol and Ibaka gone.
Toronto signed center Aron Baynes to help fill the void these players left, but he has a negative defensive real plus-minus. Note Baynes shot a total of 28 three's in his first six seasons and went 4/28 (14%). Two years ago, he made 21 threes on 34% shooting, and last year, he made 59 threes on 35% shooting. I would expect his progression in his outside shooting to continue.
Toronto also re-signed Chris Boucher, who is an intriguing prospect as he won both MVP and defensive player of the year in the G-league, but this will be the first time he will get real minutes in the NBA. Last year he averaged 13.2 minutes per game, and that is expected to go up this year. I would also expect Toronto to utilize smaller line-ups more often, increasing their pace and leaving them without rim protection, which could hurt them defensively.
Last year the Raptors had an elite defense giving up the fewest points per game in the NBA at 106.3. They ranked 2nd in opponent field goal percentage, 3-point field goal percentage, and defensive rating. They also ranked 4th averaging 8.6 steals per game, which in part led to ranking first, averaging 18.2 fast break points per game. With Toronto's backcourt intact, I'd expect these opportunities to present themselves again.
Small Forward OG Anunoby needs to take a step forward offensively if Toronto's half-court offense is going to work, but he showed signs of it last year. He averaged a career-high in minutes and, for the 3rd consecutive season, increased his scoring average to 10.6 points per game. He also increased his averages in most other statistical categories. More importantly, however, is he shot 50.5% from the floor, which put him just in front of Anthony Davis and in the top 10 among forwards. Anunoby also shot a career-high from three at 39%, which ranked 41st in the NBA. Note the Raptors had four players in the top 46 in three-point shooting percentage and as a team ranked 5th in the NBA shooting 37.2% from three. Those four players are all back with the team this year; thus, the Raptors should continue shooting the ball from distance effectively.
It was always going to be tough for Toronto to replicate the stellar year they had last year defensively, and losing two impact big-men will definitely hurt, especially protecting the basket defensively. I expect Anunoby to take a step forward offensively, and Toronto should be able to get fast break points and continue to shoot the three well this year. Last year Toronto trended to the 'under,' but with their rim protection gone, I expect that to change this year.
---
Warriors O/U Record
| | | |
| --- | --- | --- |
| 2019/20 Season | Over Record | Profit (Units) |
| Warriors | 30-35  | -7.7u |
| 2020/21 Season | Under Record | Profit (Units) |
| Warriors | 27-19 | +5.57u |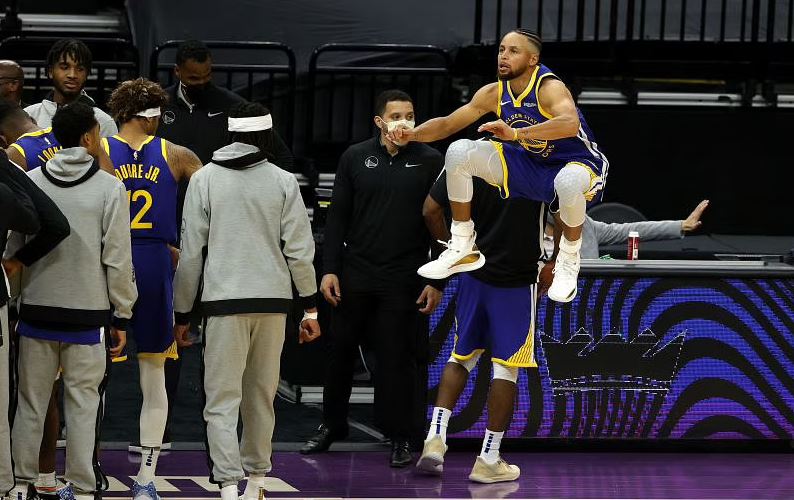 Due to injury, Golden State will be without their best two way player in Klay Thompson this year after missing all of last year. Last year Golden State also saw two-time MVP Steph Curry miss all but five games. Without this dynamic backcourt, Golden State had plenty of issues scoring. They ranked 28th, averaging 106.3 points per game. They ranked last as a team in various offensive efficiency numbers and offensive rating.
Aside from a healthy Curry, Golden State acquired small forward Andrew Wiggins during last season and Kelly Oubre Jr. in the offseason. Andrew Wiggins has always been known as a scorer averaging 19.7 points per game for his career. Last year he ranked 273rd with a -1.19 real plus-minus and 450th with a -1.64 defensive real plus-minus and graded poorly in various other defensive stats.
Kelly Oubre Jr., who has missed time in previous seasons due to injury, was given the chance to start full-time last year. He averaged a career-high 18.7 points per game and 6.4 rebounds. As a starter, he had one of his best seasons in both offensive and defensive win shares. That said, his real defensive plus-minus is worse than Wiggins at -2.5. Former defensive player of the year Draymond Green averaged fewer rebounds and blocks last year than his career averages. His defensive rating and defensive win shares were by far the worst of his career.
I expect the added talents to help Golden State score, but I wouldn't consider defense a strength for either of them. With Green getting older and not performing as well last year defensively, it's likely he isn't the defender he once was. Golden State projects to be better offensively, but a team that ranked 26th in defensive rating last year does not project to be better on that side of the Basketball; thus, expect 'overs.'
---
LA Lakers O/U Record
| | | |
| --- | --- | --- |
| 2019/20 Season | Over Record | Profit (Units) |
| Lakers | 43-49 | -9.87u |
| 2020/21 Season | Under Record | Profit (Units) |
| Lakers | 31-16 | +12.21u |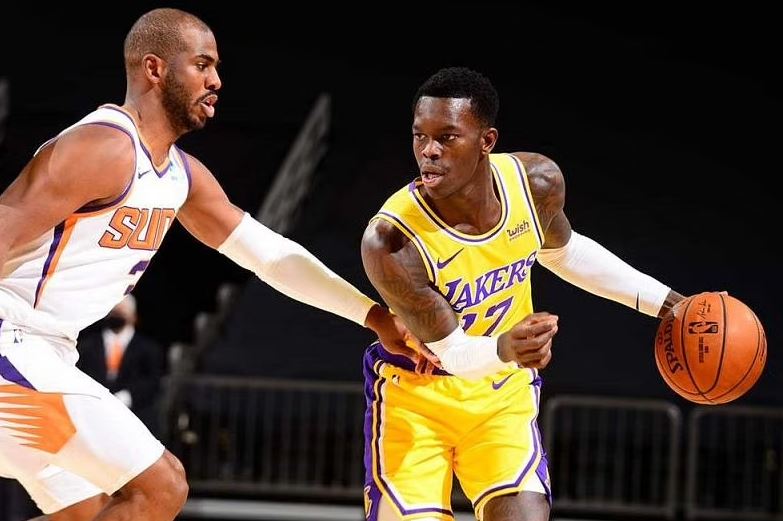 The reigning world champions Los Angeles Lakers re-vamped their roster this off-season in an attempt to repeat. Los Angeles added guard Dennis Schroder who averaged 18.9 points per game last year and added a career-high 1.9 three's made per game.
The Lakers also added power forward Montrezl Harrell, who has seen his scoring increase every year since he entered the league and averaged 18.6 points per game last year. Note Harrell had run an effective pick-and-roll offense with Lou Williams in recent seasons and would expect him to find similar success in a similar role with Schroder.
Schroder will be replacing Danny Green, who has been primarily a 3 point shooter throughout his career. Last year he shot 36.7% from three, but that is below his career average of 40%. Both players rated favorably in real plus-minus but in different ways. Schroder was a +2.07 compared to Green's +0.03 in real offensive plus-minus. In Defensive real plus-minus, Schroder was just a +0.3 compared to Green, who was a +1.14. Green's switch to Schroder should help a Lakers offense that ranked 11th in offensive rating last season.
Having played in the NBA finals, the Lakers, along with Miami, have had the shortest off-season in the NBA. With their superstar LeBron James entering his 18th season, I would expect them to decrease his regular-season workload. This year that means relying on offensive-minded players, which would be conducive to 'overs' after playing 53% of their games 'under' the total last year.
---
FAQ: 2021 NBA Odds
Who are the Odds on Favorite to Win the 2021 NBA Championship?
The LA Lakers are the current favorite at +290 (via Bet365)