LA Lakers vs Miami Heat Pick – Game 2 NBA Finals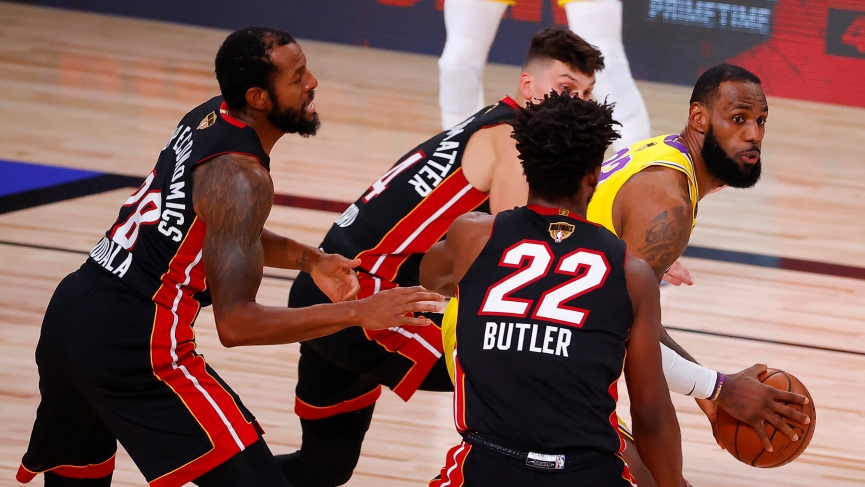 Odds.com's LA Lakers vs Miami Heat Pick for Game 2 NBA Finals: The Lakers snapped Miami's undefeated streak in the first two games of a playoff series in game 1. Now the Heat enters a dangerous phase, dealing with a Laker team that is 3-0 in Game 2's in these playoffs. Can the beat-up Heat bounce back from a poor performance, or will Lebron set the Lakers up for an easy sweep of Miami? NBA Picks for Game 2 of the NBA Finals.
| | | |
| --- | --- | --- |
| NBA Finals | LA Lakers | Miami Heat |
| Best ATS Line | -9.5 (-109) | +10 (-120) |
| Total | Over 216 (-110) | Under 217 (-113) |
| Where/When | AdventHealth Arena, FL | 9:00 PM EST |
Has the 'Heat Wave' come to an end already?
The Miami Heat lost Game 1 of the NBA Finals in blowout fashion by a score of 116-98 against the Los Angeles Lakers, but they lost much more than just the game. Injuries have riddled this Miami team coming out of Game 1. Bam Adebayo and Goran Dragic have already been ruled out for Game 2 on Friday night with neck, and plantar tear injuries respectively, and both could miss more games in this series than just this one. Jimmy Butler will play, but he's battling a minor sprained ankle injury as well.
Without Adebayo, the Heat's ability to guard and neutralize Anthony Davis becomes a massive challenge, to say the least, and without Dragic, we saw Miami's offense bog down and become a lot more stagnant as the player and ball movement wasn't as crisp or fluid. Dragic plays an underrated role in making sure the Heat are in a good rhythm at the offensive end of the basketball court. They lost quite a bit of that once he didn't return for the second half in Game 1. Now the task becomes much more difficult for Miami against this surging LA Lakers team as a shorthanded Heat squad will be asked to try and make adjustments on the fly and find a combination that works, which is easier said than done. The LA Lakers are playing their best basketball of the playoffs looking extremely stout at both ends of the court in the Game 5 closeout victory against Denver in the West Final, and again in Game 1.
Get out the Oscars for Supporting Actors
The reason for LA's strong performance in Game 1 is very simple to figure out. We know LeBron James and Anthony Davis are the two superstars on this team and you are usually going to get a high level of performance from them. In Game 1, LeBron had 25 points, 13 rebounds, and 9 assists, while Davis had 34 points. That's not a surprise. It was the LA Lakers role players and supporting cast that played a prominent part in the LA dominance against Miami in Game 1. Kentavious Caldwell-Pope had 13 points.
Alex Caruso chipped in with 10 points and even Danny Green, who has struggled with his shooting stroke throughout the playoffs was able to step up and go 4-for-9 from the field with 11 points. Rajon Rondo was scoring and making plays for his teammates and Markieff Morris had a few important buckets during the course of the game as well. When the Lakers get their supporting cast to play as well as they did in Game 1 with several players positively contributing in various ways, the Lakers become a team that's nearly impossible to beat. The Miami Heat found that out the hard way.
Can Miami find that bounce back magic?
The Miami Heat have been masterful at bouncing back in games following a loss including a perfect 3-0 SU, and ATS after a loss in the playoffs. That will be put to the test here in Game 2 without Bam Adebayo, and Goran Dragic. This quote from head coach Erik Spoelstra though says they are going to keep battling, and not about to give in to the Lakers no matter how tough the road might be: "You have to go through your Plan A, Plan B, Plan C. We love getting to work with this group. It's just looking for solutions, and trying to get to a better version of our game against a quality opponent." I wouldn't put it past Spoelstra to have his team prepared with a sound game plan, and making some excellent in-between game adjustments to go up against this LA Lakers squad as he's often done here in the playoffs.
LA Lakers vs Miami Heat Pick:
Yes, there is some concern for me about backing the Miami Heat in Game 2. Game 1 was a complete domination by the LA Lakers from the 2nd Quarter onward even before the injuries started to mount in that game for Miami. The Heat were thrown completely out of rhythm offensively by the Lakers elite-level defense. Multiple key perimeter threats especially Duncan Robinson, and Tyler Herro had very rough shooting nights for the Heat, and on the other end of the floor, the Lakers offense ripped apart whatever defensive set Spoelstra tried throwing at them. There is concern backing Miami throughout the rest of this series as well given how poorly they matched up with LA in Game 1, and also with their compromised state due to injuries, but the point spread is the great equalizer once again.
The LA Lakers closed a -4.5 point favorite in Game 1, and now they are laying -9.5 points here in Game 2. There has already been swift, and significant adjustment made toward the Heat absences. Given the LA Lakers point spread tax in this game, and the Miami Heat off a loss track record, that I have no interest going against in this spot, my lean is toward Miami +9.5, but there is no rush to bet it. We may see the public drive this number up on the LA Lakers even further before tipoff on Friday night.
I would wait to see if this line possibly hits 10 or higher by Friday night. I like the Over in this game at 216.5 as this total has dropped a point from where it was in Game 1. Keep in mind that Game 1 was on pace to go Over the total before the game became a blowout, and the injuries occurred for Miami with only 101 points in the second half, and the game staying Under the total of 217.5 by a few points.
The Lakers offense will likely feast in the low post without Bam Adebayo with the Heat's rim protection taking a huge hit without him, but I expect the Heat to play well offensively here too with Jimmy Butler stepping up, and I look for bounce-back shooting performances from Duncan Robinson, and Tyler Herro for Miami, who were a combined 6-for-21 29% shooting from the field in Game 1.
The best current price on the Over is at 216 (-111) via BetAmerica