LA Lakers vs Miami Heat Pick – Game 4 NBA Finals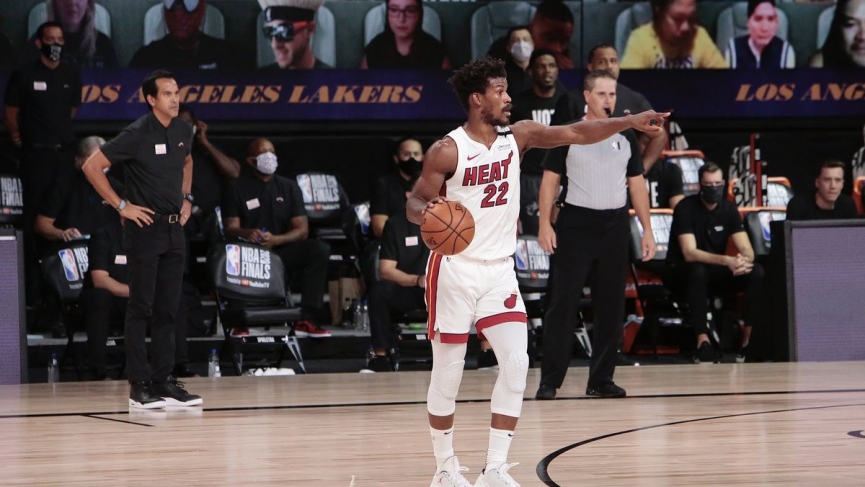 Odds.com's LA Lakers vs Miami Heat Pick for Game 4 NBA Finals: The Lakers were out to a 2-0 series lead and Miami was without two of their best players in Games 2 and 3. Yet, the Heat's strong forward, Jimmy Butler, who is averaging 19.9 points-per-game, 6.7 rebounds-per-game, and 10.2 assist-per-game for the series, found a way to lead his team to a huge Game 3 win Sunday Night.

| | | |
| --- | --- | --- |
| NBA Finals Game 4 | LA Lakers | Miami Heat |
| Best ATS Line | -7.5 (-110) | +8 (-110) |
| Total | Over 218.5 (-110) | Under 220 (-113) |
| Where/When | AdventHealth Arena, FL | 7:30 PM EST |
There was never a better time to bet aggressively on a team that was down 0-2 to the NBA Finals, than in game 3 with the Heat. Currently, the Lakers are favored by 7.5-points at all the major sportsbooks with MGM offering the Heat at +7.5 at +105 vig. For the series, you can get the Heat at +850, and +1100 for Jimmy Butler to win the MVP at MGM as the screenshot below shows.
Why So Bullish on the Heat?
That is a great question, and the answer consists of two parts. The first part is the fact that there have been three NBA Champions that had three different high scorers in each of the first three playoff rounds. The Miami Heat have become the fourth team, and strongly believe they are a real team with a great floor general in Butler and the vastly better coaching in Spoelstra. Miami backers should be completely sold when near the end of Game 3, Butler was seen saying "They know they are in trouble" repeatedly as he walked off the court toward his teammates during a timeout.
A Solid Money Line Betting System Supports the Heat
This money line betting system has earned a solid 104-89 betting record good for 55% winning bets and has made the Dime player profiting $37,200 over the last five seasons. The requirements are to be on any team using the money line in a game involving two teams that are allowing opponents to shoot between 43.5, and 46% from the field, and is a good ball-handling team averaging 14.5 or fewer turnovers-per-game, and are facing a team that forces an average of 14 to 16 turnovers per game in games played after the 41st one has been completed and including the playoff rounds.
LA Lakers vs Miami Heat Pick:
The machine learning models confirm the bet on the Heat tonight, and with the win would bring this series to an even two wins apiece, and reduce the Finals to a best-of-three match. The day off until Game 5 gives the Heat a chance to get Goran Dragic back into the lineup. He is listed as doubtful for tonight's game, and it's expected he will not play. However, it wouldn't be a surprise to see the Heat center Bam Adebayo get some minutes tonight. So, these projections do not include either player in the game tonight just as they did for last night's game.
The Heat are projected to shoot above 45% form the field, make at least 14 3-point shots, and make more 3-point shots than the Lakers. In past games in which the Heat met or exceeded these projections they went on to earn a 59-16 straight-up record, and 56-15-4 against the spread (ATS) record good for 79% winning bets since 1995, and 35-10 SU for 78% wins, and 31-10-4 ATS for 77% winning bets over the last three seasons.
All playoff teams that allowed their opponents to meet or exceed those performance measures are 15-64 SU for 19% wins. Losing by an average of 13 points, and 14-63-2 ATS for 18% winning bets, that failed to cover the spread by an average of 10 points. Take the Miami Heat as a Best Bet NBA in Game 4 of the NBA Finals
The best current price on Miami ATS is at +8 (-110) via FanDuel