Tampa Bay Rays vs LA Dodgers Pick – Game 3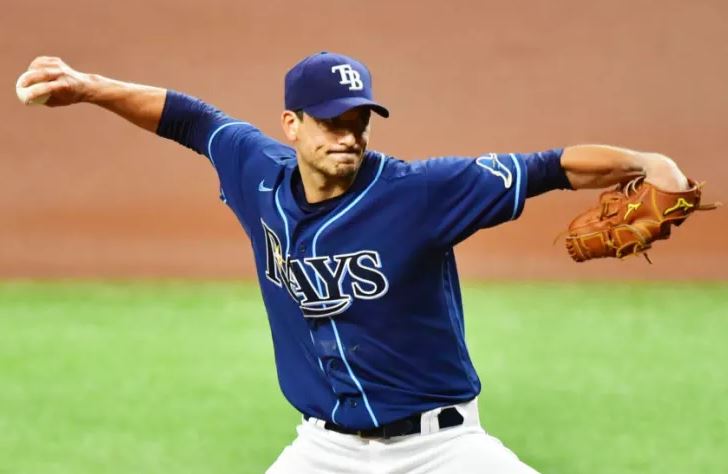 Odds.com's Tampa Bay Rays vs LA Dodgers Pick – Game 3 World Series: The Dodgers and Rays continue the World Series on Friday after a day off for 'rest'. The Dodgers have yet to be lined as an underdog in the entire MLB season, and it's looking like things will stay that way, as the Dodgers are -147 favorites in game 3, and -200 favorites to win the series.
| | | |
| --- | --- | --- |
| World Series Game 3 | Tampa Bay Rays | LA Dodgers  |
| Series Odds | +170 | -200 |
| Game 3 Odds | +135 | -147 |
| Total | Over 7.5 (+102) | Under 7.5 (-116) |
| Where/When | Globe Life Field | Oct 23rd, 8:08 PM EST |
This stage is set! This could be the pivotal game in this year's World Series. Charlie Morton has the experience under his belt, beating this same Dodgers squad in the 2017 World Series. Buehler needs to have his fastball on command or else he will be forced to spin the ball more than his blister would like. Look for offense from guys like Randy Arozarena, Willy Adames, and Brandon Lowe to be effective versus hard-throwing pitchers like Buehler. Morton mixes his fastball and curve ball very well, expect a similar showing Blake Snell had in game two. 
Starting Pitching:
2020 Postseason
Inning
Hits
Runs
BB
K's
HR's
ERA
WHIP
Buehler

(LAD)

19

15

4

11

29

2

1.89

1.36

Morton

(TB)

15.2

11

2

4

17

0

1.18

0.95
Walker Buehler
Los Angeles Dodgers starting pitcher Walker Buehler will get the nod in Game 3 of the World Series against the Rays on Friday. Buehler has an exploding fastball that catches batters by surprise at 53 percent this is the pitch Buehler will use to mow down batters. If the Rays can establish that they can hit the fastball, Buehler will have to look to his secondary pitches which he is not nearly as comfortable with.
His Fastball only allows .165 wOBA, while his Curveball and Sinker are much more susceptible to get hit at a .395 rate. Back in game one of the NLCS Freddie Freeman went yard on Buehler in the first inning, leaving his fastball high and inside to the left-handed wizard. Luckily for the Dodgers, the Rays do not have the consistent power the Braves did, but they know how to hit for power. Buehler needs to locate his fastball or else he will be forced to use his secondary pitches that do not come easy for Buehler. Blister issues make spinning the ball much tougher, Buehler could be susceptible if he cannot locate his fastball.
Charlie Morton
Tampa Bay Rays starting pitcher Charlie Morton, is 5-0 in five playoff starts with the team and will get the ball for Game 3 of the World Series against the Dodgers on Friday. Morton's velocity was down during the regular season, but he's been great in the postseason. The right-hander threw 5 2/3 scoreless innings in just 66 pitches in Game 7 of the ALCS against the Astros. The 36-year-old is 3-0 with a 0.57 ERA in three playoff starts this year, with opposing hitters sporting just a .474 OPS against him. Morton helped beat the Dodgers in Game 7 of the World Series with the Astros back in 2017. The playoff experience and success is there, but he's also facing a historically stacked Dodgers lineup, making him a risk/reward. Morton will mix in his fastball and Curveball at nearly the same rate, it's the Curveball the Dodgers struggle with, excluding Corey Seager who mashes curveball pitchers.
Offensive Output
The Los Angeles Dodgers are just so deep on the offensive side of the ball. Corey Seager NLCS MVP is the only batter who can hit Charlie Morton's curveball. This is the pitch Morton will look to for strikeouts. He uses his curveball just as much as his fastball, giving batters fits at the plate with a 15 MPH difference. Mookie Betts is one of several players who smash fastball pitching, Will Smith and AJ Pollock also have wOBA's above .400. Justin Turner and Seager can smash the sinker, this will be Morton's third pitch, used at a 10 percent rate. There are six out of a possible nine batters who should contribute at the plate for the Dodgers, even though Morton has been lights out this postseason. If the Dodgers want to be successful in tonight's crucial game three, they will need to be able to hit Morton's off-speed pitches.
The Rays are not as deep when it comes to offensive output. The talk of the town has been all about Randy Arozarena, the 25-year-old is raking with his 1.02 OPS is 2020. Not just that but Arozarena is batting an incredible .382 batting average. Tampa Bay will have to be able to hit Walker Buehler's fastball or else it's goodnight Irene. Three of a possible nine batters can hit the fastball quite well. Led by Arozarena, Brandon Lowe and Willy Adames enjoy a nice .400 wOBA when faced with velocity. Great news for the Rays, Lowe picked up two home runs in game two of the World Series finally getting off the strikeout train.
Bullpen Reliance:
Dodgers –  The way the Dodgers management has selected their relievers leaves many questions. For whatever reason, rather than letting your game one relievers rest, Dave Roberts and the company decided to go right back to Dylan Floro, and Victor Gonzalez, and Joe Kelly. You could say these are the three weaker arms for the Dodgers bullpen, but they still have their big names like Kelly Jansen and Brustar Grateral in the stable. Expect to see the bullpen come 5th inning, with names like Grateral, Adam Kolarek, and Blake Treinen. 
Rays – This is how you manage a bullpen. Kevin Cash and his management rested his game one starters mixing in most of his relievers in games one and two. This is key for your rotation to pitch every third day or so, if you have your key bullpen guys not pitching for several days, this will hurt your chances of getting your relievers in a groove. I trust the Rays bullpen, I'm just not sure how the Dodgers bullpen performed after having five days off they are not used to.
Tampa Bay Rays vs LA Dodgers Pick
Best Bet: Rays 1st 5 (+143) via Bet365: This is a very tough game to call, with Buehler only having one pitch to go to, the Rays have a great chance in running Buehler off the mound if they do hit his fastball. Los Angeles will have to hit Charlie Morton who's caused problems in the past on the big stage for the Dodgers. This is a very important game for both teams, expect the Rays squad to get after Buehler and his aching blister issue. The Dodgers are used to trailing in games, I'll bet the fact the Dodgers are down after the first five innings, the price indicates the Rays have a 41.15 percent implied probability to win. It looks to me, the big-name Walker Buehler is taking money just with his name, while Charlie Morton is the real ace with 18 years of experience under his belt.