Astros Futures Odds to Win World Series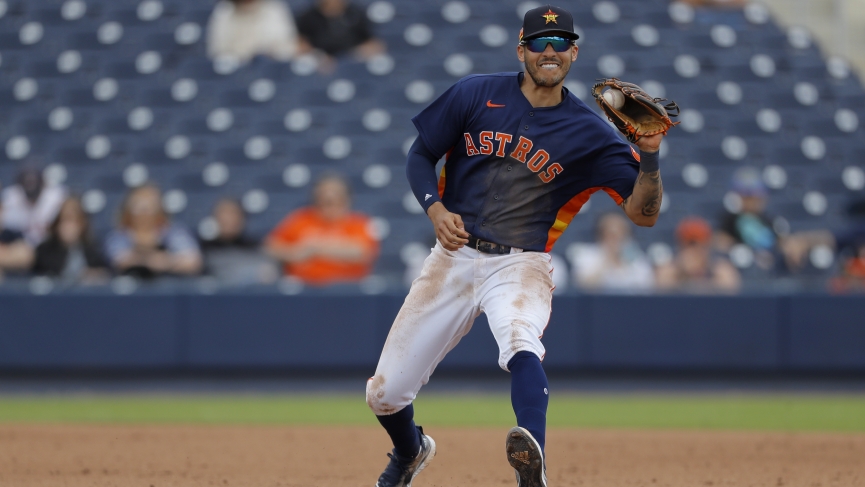 It's challenging to sum up the 2019 season for the Houston Astros. Very heroically, they won three straight road games to take a 3-2 lead in the World Series before crumbling against the Washington Nationals supreme pitching staff. Then, their villainous cheating scandal was brought to light and had fans calling their 2017 title a sham.
The offseason hasn't been fun for the Astros. They've been subject to criticism. They've been called frauds. Fans wan't their 2017 title and all personal awards (Jose Altuve's 2017 MVP Award) stripped away. They're being heckled and bombarded by fans at Spring Training, and honestly, they deserve it.
How will the Astros overcome this season? Can they capture another title? This is uncharted territory and feels like an unlikely scenario. Given that MLB fans of every opposing team will be lusting for their collapse, the underlying factors are severely stacked against the Astros in 2020.
Houston's New Challenges
There's no doubt that the Astors are a very talented bunch. They've won the AL West the past three seasons and have surpassed the 100-win mark each time while doing so. It's worth noting that teams within the division made some interesting moves. The Texas Rangers acquired Corey Kluber and the Los Angeles Angels signed Anthony Rendon. Kluber is a legitimate ace with a Cy Young pedigree. Rendon performed at an MVP level in 2019, leading the Washington Nationals offense. The Oakland Athletics didn't do anything big with their off-season (no surprise), but they're still a team that won 97 regular season games the past two seasons.
With this in mind, the Astros feel more vulnerable now than they ever have. There's more competition within the division and there's something else looming. The New York Yankees snatched Gerrit Cole. The Bronx Bombers broke the bank and signed Cole to a nine-year, $324 million deal. When you consider that the Astros may have to get through Cole and the Yankees to get to another World Series, it hurts.
Cole was incredible during his time in Houston. In two seasons, the big righty went 35-10 and struck out 602 batters over 412.2 innings. Cole led all pitchers in WAR (7.4) and K:BB ratio (34.0 percent) last season. He also led AL starters in ERA (2.50) and FIP (2.64). This is a massive loss and Cole should be regarded as irreplaceable. The Astros knew this was coming.
Moving Forward Without Cole
The Zack Greinke deal wasn't just a move for 2019. With two more years under contract ($35 million per season), Greinke was seen as a replacement. The Astros knew they couldn't contend in the insane bidding war for Cole. Adding Greinke allows Houston to have a solid one, two punch come playoffs, assuming they get there. With that said, Greinke is a solid veteran that has had success everywhere he has gone. Justin Verlander is dealing with a lat strain from spring and isn't getting any younger, but could recover before a delayed season begins. Will this be enough?
After a terrific one, two punch of Verlander and Greinke, things get pretty thin for Houston. Lance McCullers Jr. will slot in as the number three starter, but he's returning from Tommy John surgery and hopes to throw around 120 innings this season. He logged 128.1 innings in 2018, so don't start thinking that he's going to top this. After that, Jose Urquidy figures to fill the fourth slot. Urquidy was decent last year with a 3.95 ERA, but over a small sample size of 41 innings.
The fifth rotation spot is anyone's guess at this point. In a perfect world, top pitching prospect Forrest Whitley would be ready to help out. The 22-year-old just couldn't figure it out in Triple-A last year, so it would seem that he would need more seasoning.
The Rest Of The Gang Is Back
The Houston offense is intact. They remain a well-balanced offense. The emergence of 21-year-old Yordan Alvarez was something else. The kid racked up 27 homers and 26 doubles over 87 games, tallying a .313 average and a 1.067 OPS. If he can put that together over a full season, then watch out! The usual around the infield return in Alex Bregman, Carlos Correa, Jose Altuve, Yuli Gurriel, and Martin Maldonado. They'll continue to deploy Michael Brantley, George Springer, and Josh Reddick in the outfield. Kyle Tucker seems primed for a role as the fourth outfielder and potentially a backup first baseman.
This squad can hit. They posted the best team batting average (.274) and OPS (.848) in the AL. They can also defend, finishing 2019 with the second-best fielding percentage in baseball. On top of that, their bullpen posted the second-best ERA in the AL last season at 3.75. Unfortunately, setup man Will Harris and his 1.50 ERA over 60 innings last season, departed to Washington. The talent is real, but will these dominant statistics continue in 2020?
World Series Again?
After seasons of breaking rules (at what capacity and full extent, we may never know), it's fair to be skeptical of the Astros moving forward. Will their hitters continue to rake like they always do? Will the heckling and criticism turn into motivation, or will it shrink them? These are all fair questions that no one has an answer for.
Betting on the Astros to win the AL West in 2020 isn't going to yield a big return, and feels less certain than prior seasons. Betting on them to win a title feels less probable as well. Sportsbooks are consistently giving the Astros the third-best chance to win the World Series. This seems fair on paper, but time will tell. Currently, FanDuel has one of the better lines at +750. With the baseball universe rooting for their demise, the Astros feel like long shots.