Oakland Athletics vs Chicago White Sox Series Predictions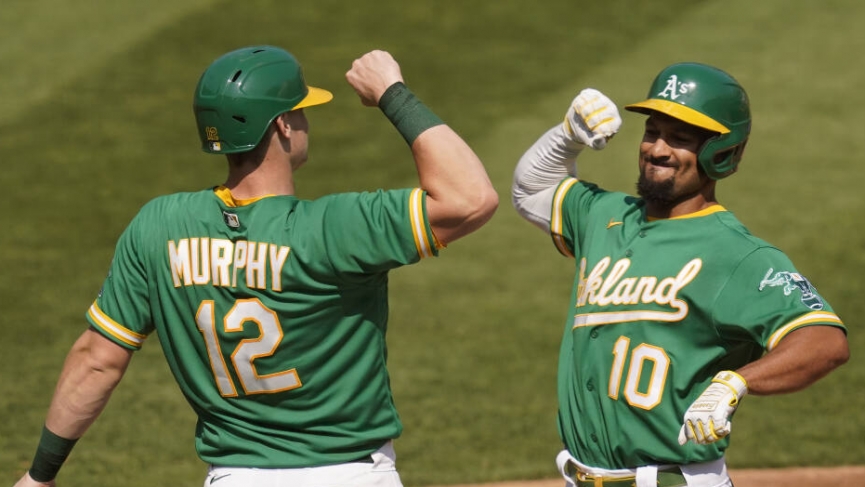 Odds.com's Oakland Athletics vs Chicago White Sox Series Predictions – AL Wild Card: The White Sox and Athletics meet in what should be a battle of pitching assets, as both teams sit 5th and 6th in team ERA this season. The difference-maker may be home-field advantage, as the A's had the 4th best record in the AL at home at 21-9, while the White Sox were 17-13 on the road. The road team is favored in this series, but for how long? Here's our series predictions for White Sox vs Athletics. 

| | | |
| --- | --- | --- |
| (Series Tied 1-1) | Oakland Athletics  | Chicago White Sox |
| Series Odds | OTB | OTB |
| Game 3 Odds | OTB | OTB |
| Where/When | O.co Coliseum | Oct. 1st, 3:10 PM EST |
Athletics Earn Home-Field In Wildcard
Chicago and Oakland are playing in the first-ever best-of-three Wildcard series. All three games are being played in Oakland. The White Sox finished in third in the AL Central with a 35-25 record, behind the Indians and Twins, while the A's locked up the No. 1 spot in the AL West with a 36-24 mark. The winner of this three-game set will go on to play the winner of the Minnesota/Houston series.
How They Got Here
Chicago stumbled down the stretch (lost seven of eight to end the season) and blew a golden opportunity to have home-field advantage in this opening round. After this, the MLB playoffs will shift to a bubble-format in LA and San Diego. The A's lost two of three to Seattle in their final series, but we can take that with a grain of salt as they had already wrapped up the division title and they were just looking to avoid any serious injuries. Both teams come in hungry. The Athletics have lost three-straight wild-card appearances and it hasn't won a playoff series since it advanced to the 2006 ALCS, while Chicago is in its first playoff series since 2008.
Important Stats
The White Sox were decent both at home (18-12) and on the road this year (17-13). Chicago finished 10-9 in day games and 25-16 in night games. Overall Chicago finished by averaging 5.10 runs per game and had a combined 3.81 ERA (sixth in the league.)
Home field advantage is a serious one for Oakland, as it was 21-9 in friendly confines this season, compared to just 15-15 on the road. The A's were 16-12 in day games and 20-12 in night contests this season. Overall Oakland finished by averaging 4.57 RPG (ranked 17th) and it posted a combined 3.77 ERA (ranked fifth in the majors.)
Oakland Athletics vs Chicago White Sox Series Predictions
Because of the 60-game format this year due to the pandemic, this is the first time these teams have faced each other this season. Recent form is a big factor that should always be taken into account when assessing teams coming into the playoffs (in every sport.) Did the team back its way into the playoffs after a red hot start, or does it enter on top form?
Oakland was one of the most consistent clubs during the regular season and it has a clear advantage here by hosting this Wildcard series. Chicago is filled with talent, but its recent struggles are going to carry over in this difficult road venue in my opinion. The White Sox had a chance to potentially win the division in their final regular-season game of the year vs. the Cubs, but they were unable to dig themselves out of an early 10-1 hole, eventually succumbing in a heart-breaking 10-8 setback. The end of season collapse resulted in a third-place finish due to the lost tie-breaker vs. the Indians.
Giolito and Keuchel do enter with an advantage over the Athletics line-up, which ranked eighth in the AL in runs scored and tenth in OPS. However, the A's counter that with a strong bullpen. Chicago's bullpen has been its weak point this year and it's one of the main reasons why it fell apart down the stretch of the regular season (Important to note that Chicago's offense cooled considerably as well over the last month.)
Why the Oakland A's are the Play in this Series
Oakland does indeed hold significant advantages at home and that definitely matters right now. The A's get to sleep in their own beds and come to the park that they're familiar with. This is a situational factor which the oddsmakers often have difficulties in properly quantifying, but it is important in my opinion.
The under was 19-10-1 at home for the A's this year, which is a testament to their starting pitching, their bullpen, and their closers. In the end, that's what it comes down to for me in this series. Expect Oakland's starters to match the White Sox' aces (Keuchel and Giolito) and look for the more consistent home team to take advantage of this struggling visiting side. There are many factors working in favor of the A's in this series. If you get on them now, while the price is still right, you can still get value backing Oakland to defeat the White Sox in this series.
The odds on Oakland to Win the Series are at +240 (via Bet365)