Minnesota Futures Odds: Can Gophers Win National Championship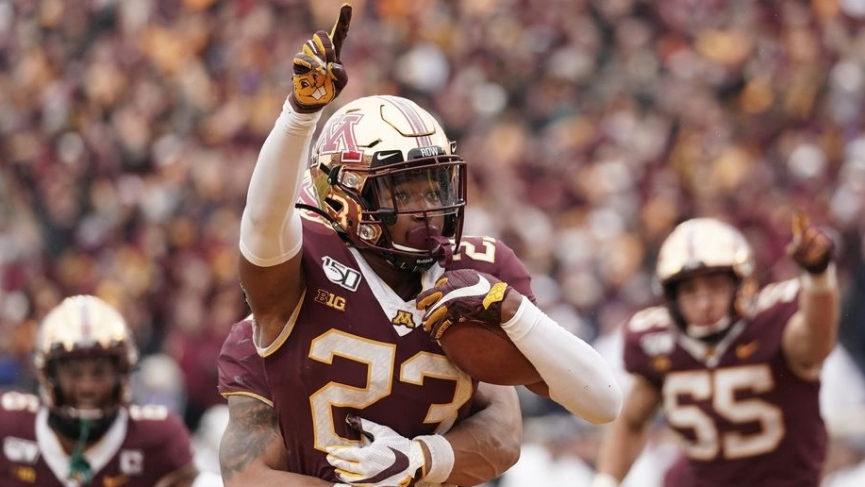 It may not have ended as well as it could have, especially after Minnesota won its first nine games. However, 2019 was still arguably the Golden Gophers' finest season ever, and PJ Fleck's gang put the nation on notice that football is back in the Land of 10,000 Lakes. So, what does last year mean for Minnesota futures odds this season?
While some might contend previous Minnesota teams accomplished more in terms of titles. What can't be argued is no Golden Gophers team ever won more games. There was just one 10-win season before 2019, and last year's Golden Gophers bested that 2003 squad by winning an 11th game with a victory over Auburn in the Outback Bowl. It wasn't a New Year's Six game, but it was the first time Minnesota played on New Year's Day since the 1962 Rose Bowl, which was a 31-24 upset as nearly a touchdown underdog.
Covering college football futures will mean overcoming bigger odds. Ohio State is the overwhelming favorite in the Big Ten and expected to make the College Football Playoffs. Minnesota is well down the list, looking up at Wisconsin, Iowa, and Nebraska in the West Division alone. Of course, the Golden Gophers were picked fifth or sixth in the division last year, and we saw how well that worked out for prognosticators.
Ample Protection Upfront For QB Morgan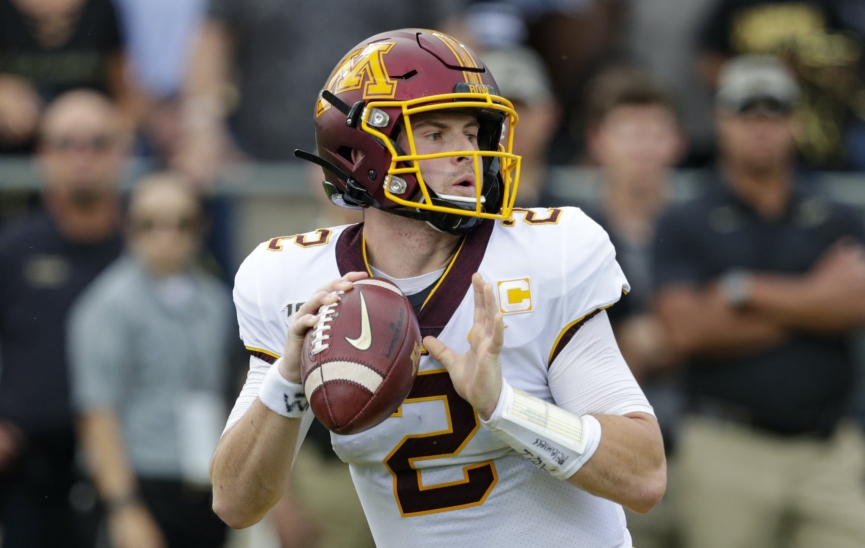 Fleck and new offensive coordinator Mike Sanford Jr. enjoys a luxury very few teams have, their quarterback returning along with all six offensive linemen to start games in 2019. Tanner Morgan had an outstanding campaign with more than 3,200 yards through the air and a 30/7 touchdown to interception ratio. The O-line gave him time to throw and opened up holes for over 2,300 more yards on the ground. Among the half-dozen who will return to Minneapolis is tackle Daniel Faalele, all 6-foot-9, 400 pounds of him.
Morgan had the luxury of two deep threats, and one of them is gone. Tyler Johnson found a new home with the Tampa Bay Buccaneers in the 5th-round of the NFL Draft, so a replacement is a priority for the passing game. Rashod Bateman is back after averaging more than 20 yards on his 60 catches, which 11 of those were for TDs. Chris Autman-Bell (28 rec, 5 TD) will get the first crack at the opening left by Johnson's departure, and Minnesota's top recruit from the 2020 class, Daniel Jackson could be on the field quickly.
Jackson, a 4-star wideout from Kansas, was also being pursued by Gopher rivals Wisconsin and Iowa. Almost 1,600 rushing yards are gone with Rodney Smith and Shannon Brooks graduating. Smith caught on as a post-draft pickup by the Carolina Panthers after running for 1,163 yards. His heir apparent is Mohamed Ibrahim. Ibrahim lost the job to Smith last year but was the lead back in 2018 when he ran for more than 1,100 yards.
Gophers Have Plenty Of Holes To Fill On D
We know that coach Fleck has experience on the offensive side of the ball, but almost the opposite is true on defense for DC Joe Rossi. The unit was top 20 in yards allowed last season, leaving it up to the offense to eventually send nine of the 13 games past totals on the college football odds. This time around, a defense with plenty of question marks might contribute to those 'overs.'
All four starters on the D-Line are gone, but their backups had plenty of opportunities to gain experience. The group will be led by a pair of senior ends, Esezi Otomewo and Boye Mafe. The Golden Gophers generally play with just two traditional linebackers and lost last year's starters Thomas Barber and Kamal Martin. Mariano Sori-Marin and Thomas Rush played often last season and should be in for most of the snaps this year.
The defensive backfield suffered the biggest loss with Antoine Winfield Jr. going in the second round to Tampa Bay. Who replaces him at safety is Rossi's top priority, while Coney Durr, Justus Harris, and Kiondre Thomas provide some experience at the corners.
UM Avoids Buckeyes On 2020 Slate
Minnesota is home for its first four games. Week 3 is when the Golden Gophers get a chance to avenge one of their two losses last year with a visit from Iowa. That will be the first of three games that are essential to a West Division title.
They go out on the road for the first time in Week 5 with a trek to Maryland. Then comes the second biggest game of the season at Wisconsin, the only other team to beat the Golden Gophers in 2019. That is followed by a visit from Michigan in Week 7. The Wolverines have beaten Minnesota 23 of the last 25 matchups. Roadies to Illinois and Michigan State close October, and the season comes to a stop with a Black Friday matchup at Nebraska.
DraftKings might be disrespecting the Golden Gophers a bit with 150/1 National Championship odds, but with the huge turnover on defense and playing in the Big Ten where the road to the College Football Playoffs run through Columbus this year, even a 250/1 price won't cut it in the end.
Odds to Win 2020 National Title: 150/1 (+15000) at DraftKings