2020 SEC Championship Odds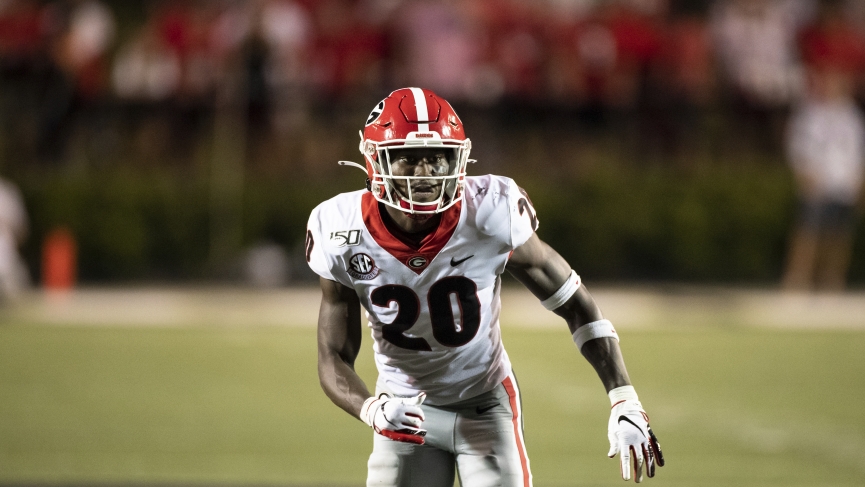 Never before has the SEC been this wide open with six potential teams gunning for Atlanta. Alabama, which missed out on last year's final, is the runaway favorite to win the SEC Championship but it should be another interesting year in the country's best football conference.
Alabama (-143)
The Crimson Tide have reloaded … again … and should not be trifled with. One basic rule in futures bets is to never break the bank. If the odds for any wager is negative, it means that the outcome is very likely to happen and placing a bet on that outcome would payout less than the amount you wagered. So if you're feeling Bama in 2020 (trust me, you're not alone) then you would have to bet $143 just to make $100 back. In essence, you would be loaning the sportsbook your money for the entire season, interest free.
If you like those kinds of bets, you should probably just stop reading now and have fun throwing money around at the 'War' table at your local casino.
Alabama will have no trouble replacing last year's starting quarterback Tua Tagovailoa. Mac Jones had a successful dress rehearsal during the end of last season and if he can't cut the cheese, expect offensive coordinator Steve Sarkisian to turn to freshman sensation Bryce Young. Regardless, the Tide will be in good hands. On defense, linebacker Dylan Moss and defensive tackle LaBryan Ray are back and both are potential first-round draft picks in 2021. I took a deeper dive into Alabama's 2021 Championship odds.
Georgia 5 to 1 (+500)
The Bulldogs have advanced to three consecutive SEC Championships but what do they have to show for it? Until they get over the Alabama (or LSU) hump, they will continue to be viewed as the second best-looking dog at the Westminster Kennel Club Dog Show. Everyone knows the Bulldog never wins that thing. But they are the best bet this year in the SEC.
For the Georgia offense, it will be out with the old and in with the new as Jake Fromm left early for the NFL and Wake Forest graduate transfer Jamie Newman enters at quarterback. The new blood doesn't stop there. The Bulldogs also added a new offensive coordinator in Todd Monken, who held the same role on the sinking ship that was the Cleveland Browns in 2019. Monken is known for pushing the ball down field through the air so the UGA offense should feature some explosive fireworks. Their regular-season meeting with Bama this year will be in Tuscaloosa, so if they can pull off that upset, then July 4th will come early to Athens and to the smart folks who put their money on the Bulldogs.
Florida 6 to 1 (+600)
It's been a while since anything resembling a national title hunt was being whispered around the Swamp. But here we are. Florida is finally relevant again in a post-Tim Tebow world. A lot of the credit has to go to coach Dan Mullen, who has turned things around in Gainesville. And yet, Tebow remains in Florida as he was on the other side of the state for spring training and still clinging to a MLB pipe dream with the New York Mets.
In his first season as a starter since his freshman year of high school — I'm not joking — quarterback Kyle Trask led Florida back to prominence in 2019. He will be back this year and ready to dominate. If the Gators can chomp their way to a win over national champion LSU at the Swamp and somehow snap their three-game skid against Georgia (in Jacksonville, Fla. on Halloween) then the red carpet will be rolled out for the SEC Championship. They could be the biggest surprise in the SEC this year.
LSU 6 to 1 (+600)
All great keg parties tend to end prematurely. By the time the tap is sputtering out foam and the fun has been had, the men behind the party have already disappeared. This is what happened to LSU. Head coach Ed Orgeron was still shaking off a national title celebration hangover before he found himself all alone. His former defensive coordinator Dave Aranda is taking over at Baylor while his wunderkind offensive guru Joe Brady made the leap to the NFL. All successful programs deal with coaches leaving but this exodus has the Tigers' odds at an SEC title trending down.
Heisman Trophy winner Joe Burrow is expected to be the No. 1 overall pick in this month's NFL Draft but he also represents that intangible factor in college football. No one was talking about Burrow this time last year. So do the Tigers have enough depth to make another run? You're damn right they do. Only eight teams have repeated as champions since the AP Poll began in 1936 and if LSU can reach the SEC final at 6 to 1 odds, then it's almost a certainty that winning that game puts them on the inside track for another run at the CFP title.
Texas A&M 10 to 1 (+1000)
Get this: the SEC's most experienced quarterback is in College Station? That's right, you heard me correctly. There's not another signal-caller in the conference with more starts than Kellen Mond. Will his reps under center pay off for the Aggies? He'll need a stellar season to win the division as coach Jimbo Fisher has some depth all around and should be excited in his third year at the helm.
Auburn 14 to 1 (+1400)
If quarterback Bo Nix takes a big step forward in his sophomore campaign then Auburn is an interesting long shot in the SEC. However, the Tigers also lost their best offensive lineman, cornerback, and two best defensive linemen to the NFL Draft. Auburn may not have the interior to take down the big dogs in Alabama and Georgia.
Mississippi State 100 to 1 (+10000)
Mike Leach brings his Air Raid offense to the Bulldogs but he's already off to a shaky start because of his social media feed. Leach posted an offensive tweet last week poking fun at the Covid-19 pandemic and at least one player — an OT who started all 13 games last season — has entered the transfer portal as a result. If Mississippi State doesn't at least split its opening games against Arkansas and Texas A&M, then a trip to Tuscaloosa in Week 3 will be the beginning of the end.
Tennessee 100 to 1 (+10000)
Jeremy Pruitt is in his third season in Knoxville and the Vols had a strong finish last fall. They have Oklahoma early and hopefully, they can roll into their October matchup with Alabama in good shape. Don't forget about when Florida comes to town in their SEC opener in Week 4. If Tennessee can build on last season's late surge, then these Vols can make some noise
Kentucky 125 to 1 (+12500)
Kentucky is one of the tougher teams to projected in the SEC this season, a squad with enough talent returning on both sides of the football to be competitive, but not necessarily be division title material in 2020. Given what Mark Stoops has been able to do the past two seasons with consecutive bowl wins and a Top 15 finish, buying some stock in Kentucky as a dark horse in the SEC East is never a bad idea.
Missouri 125 to 1 (+12500)
Missouri is undergoing a philosophical switch on both sides of the football and now the timetable gets pushed up with first-year coach Eli Drinkwitz. Could be tough sledding. A stunning home loss to either Louisiana or Arkansas to close out the season could cost Drinkwitz his job.
Mississippi 125 to 1 (+12500)
Ole Miss will have an interesting start to the season matching up with Baylor and new coach Matt Rhule. The real fun for Lane Kiffin starts in Week 3 when the Rebels meet four teams that finished in the Top 15 last season over a five-week span. It will be a brutal run for Ole Miss, which expects to have sophomore John Rhys Plumlee under center.
South Carolina 125 to 1 (+12500)
After succumbing to the nation's toughest schedule in 2019 and finishing with Will Muschamp's worst record in Columbia, the Gamecocks will again have another treacherous slate. November is particularly scary as South Carolina will run into Clemson, LSU and Georgia.
Vanderbilt 250 to 1 (+25000)
The Commodores need something good to happen this fall, but the SEC isn't getting any easier and the only opportunities for wins come against South Carolina and Ole Miss in Nashville. After a mass exodus at quarterback, Vanderbilt's fall camp will feature two junior college transfers and two freshmen competing for the job. Production under center will go a long way in determining how the Commodores fare this fall.
Arkansas 500 to 1 (+50000)
Sam Pittman got an earlier start than most at his new gig, having held the job for three and a half months prior to the suspension of play in the SEC due to Covid-19 concerns. He salvaged the program's 2020 signing class best he could and feels good about where this team is heading despite being a first-year coach trying to turn around a bottom-feeder in the conference.