LSU Picked to Win NCAA Championship… Again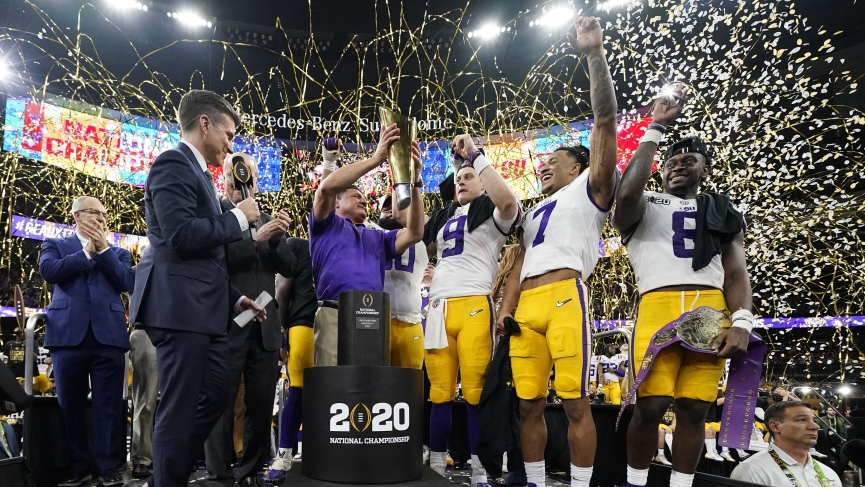 NCAA Football Picks: LSU Odds to Win Championship
2019-20 Record: 15-0, National Champions
Odds to Win 2021 National Title: 16/1 (+1600) at FanDuel
Is it just me, or does anyone else think the target on the backs of the LSU Tigers is going to clash with those purple-&-gold jerseys? A year after winning it all to ruin predictions of another National Championship between Clemson and Alabama, not to mention a lot of the chalky college football futures wagers on those two teams, Ed Orgeron's group is going to be the circled date on every opponent's schedule in 2020.
All 12 regular season foes will be looking to put a stop to LSU's current 16-game win streak, though the vast majority – maybe even all – of that dozen will end up disappointed with the Tigers drawing a favorable fixture. More on that later.
Louisiana State's run to its fourth National Championship – and third the last 17 seasons – was indeed a magical one, and the folks at FanDuel don't think it's farfetched for the Tigers to repeat. They are going off a 16-to-1 at that sportsbook, which puts the Tigers right in the middle of the second group, and chalkier than they were prior to last season.
Bayou Bengals Send 5 First-Rounders To NFL Draft
That +1600 price is a lot of respect for Orgeron and the players who are returning after LSU lost so much top-flight talent to the NFL Draft. The Tigers had five members of their championship team claimed in the first round alone, and added five more to the list during Rounds 2 and 3.
Heisman Trophy-winning quarterback Joe Burrow was the first Tiger and first overall pick in the proceedings joined in the opening round by linebackers K'Lavon Chaisson and Patrick Queen, wideout Justin Jefferson, and tailback Clyde Edwards-Helaire. Burrow will be the toughest to replace, but then, even if Burrow was returning, we couldn't realistically expect him to repeat 5,600+ yards passing and 60 TD aerials. Can't help but feel a little sorry for his projected replacement, Myles Brennan, a former 4-star recruit out of Mississippi who looked pretty good in limited action last year mopping up routs in relief of Burrow.
As much as LSU lost on offense at the skill positions, it's having to replace four of five O-line starters that will be the biggest task for Orgeron and his staff. Speaking of his staff, let's not forget Orgeron is breaking in a new defensive coordinator after Dave Aranda left to take the head coaching job at Baylor while Joe Brady, who orchestrated the huge passing game last year in Baton Rouge as wide receivers coach, is now the OC with the Carolina Panthers.
The Tigers' new DC, former Nebraska head coach Bo Pelini, will need to replace the previously-mentioned Chaisson and Queen, plus corner Kristian Fulton. Statistically, LSU wasn't a top-tier defense in 2019 but didn't have to be with a blistering offense. It might not be as deep as a year ago but could prove as good or better defense if key returnees avoid injury.
Top-Rated High School TE Leads Strong Group Of Frosh
Before LSU thrashed Clemson in the College Football Playoffs Championship, Oregon not only talked some of the top high school talent in the nation to come join him down in the swamps, he had eight of them enrolled in spring classes. At the very tip-top of that group is Arik Gilbert, who rated out as the top tight end coming out of high school ever. Ever.
Gilbert is expected to see action from LSU's first snap of the season. Freshmen guards Marlon Martinez and Xavier Hill and tackle Marcus Dumervil could also contribute early considering how the O-line is the team's biggest mystery. And either of the two frosh QBs, TJ Finley and Max Johnson might emerge as Brennan's backup.
New recruits who will see substantial action on the defensive side of matters start in the backfield. Corner Elias Ricks and safety Jordan Toles, each on campus this spring, are the studs of the group. Down in the trenches, Ali Gaye comes over from the JUCO ranks to be part of the competition at end, while freshman Jacobian Guillory is a potential beast on the interior of the line. Adding to the LB corps are BJ Ojulari and Phillip Webb, who broke the hearts of other SEC recruiters when they chose LSU.
As Usual, 'Bama Game Looms Largest
No team in the SEC West ever has an easy schedule, but LSU's slate at least qualifies as favorable. The Tigers are home four of their first five games, the only trip to nearby Houston for a scrimmage with Rice. Of those early home games, the one with Texas should be the toughest.
The first real test comes in Week 6 at Florida, and that is huge for both the East and West races in the conference. That is followed the next week with a trek to Arkansas, then come three home games and a bye week, that extra rest just before hosting Alabama on November 7. Obviously, the clash with the Crimson Tide is the most crucial as far as the Tigers' chances to repeat in the SEC and earn another CFP invite. But it's not inconceivable for LSU to be 10-0 before finishing the campaign with a pair of road games at Auburn and Texas A&M.
Those 16/1 NCAA football odds to repeat put the Tigers fifth on the list of favorites, but the problems are the three other SEC squads ahead of them. In many ways, LSU getting through the regular season with two losses or less this time would be a more unlikely achievement than the 15-0 mark put up last season.