College Football Picks – Auburn Odds to Win Championship Are Not Optimistic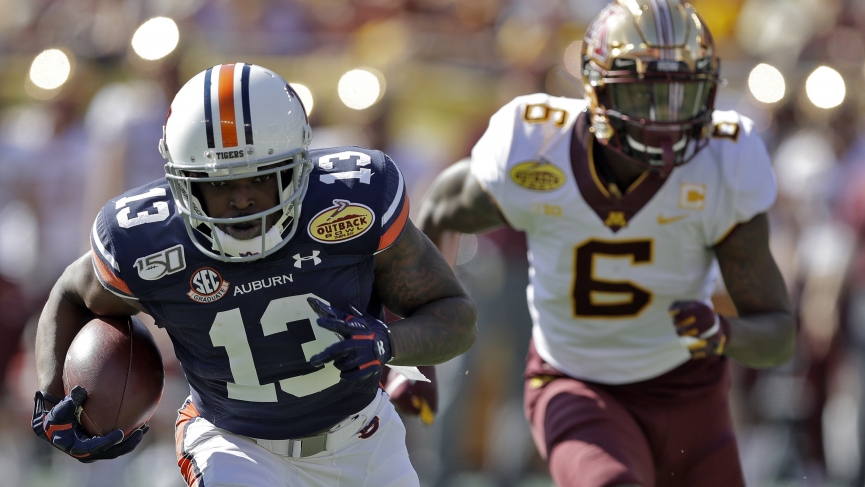 For sports bettors, anytime college football picks cash, it's a win. For Auburn fans, every time the Tigers win the Iron Bowl, it's a successful season. Not that the Tigers ever want to win just one game in a season, but as long as that lone victory comes against rival Alabama, it makes for an enjoyable winter and leads to renewed optimism down on the plains.
2019-20 Record: 9-4, 3rd in SEC West
Odds to Win 2021 National Title: 50/1 (+5000) at FanDuel
Auburn's 48-45 triumph over the Crimson Tide last November did more than just give the Tigers and their fans bragging rights in the long-running feud, it officially ended Alabama's chances to make it to the College Football Playoffs for a 6th-straight year. Down south, we call that gravy on the biscuit, though it might also serve to be motivation for Nick Saban and his Crimson Tide when the Iron Bowl rolls around this fall.
All of that optimism sits primarily with Auburn and its fans, however. The Tigers are carrying a 50/1 odds to reach the gridiron version of the Final Four and win a third National Championship in program history, the latest coming 10 years ago when a guy named Cam Newton was directing the offense. While those college football odds put Auburn in the top 25 of contenders, it also puts the Tigers sixth in line for the SEC, and fourth in the powerful West Division.
Can Nix Build Off Mixed Frosh Campaign to improve Auburn Odds?
Gus Malzahn and his staff have a lot of work to do if the Tigers are going to upset the applecart in the SEC West, but quarterback is one position that is pretty well set. Bo Nix produced his shares of highs and lows as a true freshman last season, looking at times as if he was overmatched and coming off as genius at other times. He limited the bad by season's end, going interception-free over the final five games.
Nix had an experienced offensive line in front of him, and that won't be the case in 2020 as Malzahn and OC Chad Morris need to replace four starters from last season. With spring practices cut short, it didn't give O-Line coach Jack Bicknell Jr. much time to evaluate the big uglies at his disposal, plus Auburn is bringing in three JUCO transfers to compete for jobs at tackle. Much could depend on whether Austin Troxell can stay healthy after sitting last year due to a third knee surgery. Regardless, there are going to be a lot of new faces to work into the scheme once practices resume. Be certain that Troxell's knee will have bettors hedging their college football picks if it doesn't heal right.
JaTarvious Whitlow, Auburn's leading rusher the past two seasons, went into the transfer portal in February, opening up space for a new face in the backfield as well. DJ Williams and Mark-Antony Richards are being penciled in as the front-runner, but keep your eraser nearby after Auburn landed 5-star tailback Tank Bigsby out of Georgia. If the line comes together, it will be a deep backfield to take the pressure off Nix and the passing game.
Nix will have his top three receivers – Seth Williams, Anthony Schwartz, and Eli Stove back to play catch with.
D-Line & DBs Decimated By Departures – Will this affect Auburn Odds?
The 45 points Alabama put up on Kevin Steele's defense last season was the exception, not the rule, as Auburn's stop unit finished 17th in scoring and 28th in total defense. Steele now has a huge job ahead to replace his top four DBs, including corner Noah Igbinoghene who went late in Round 1 to Miami, plus linemen Derrick Brown (No. 7 to Carolina) and Marlon Davidson (Rd. 2, Atlanta).
Big Kat Bryant and TD Moultry return with experience in the pass rush department, along with Derick Hall. As thin as the position is, don't be surprised to see freshman recruits Zykeivous Walker and Romello Height pressed into action. There is more hope among the DBs than the D-Line with names like Smoke Monday, Roger McCreary, and Christian Tutt stepping in. Here again, Steele may have to fall back on JUCO transfer Marco Domio and incoming freshmen Ladarius Tennison and Chris Thompson Jr. to step up.
The only good news on defense is an experienced and deep linebacking corps that has all three starters back. Seniors Chandler Wooten and KJ Britt are the top returnees, plus Owen Pappoe and Zacoby McClain.
Do We Have To Wait Until Week 6 To See War Eagle's Potential?
Those question marks along both lines and the defensive backfield are producing a wide range of projections for Auburn in 2020. I've seen best-case scenarios run as high as 11-1, while college football odds on the other end suggest 6-6. We should have some idea just how good – or bad – the Tigers can be in Weeks 2 and 3 when they travel to take on North Carolina in Atlanta before going to Oxford for the SEC opener against Ole Miss.
Wins in both of those would make for hype surrounding Auburn's Week 6 date at Georgia. The Tigers come home after that to host Texas A&M, then have a week off before hosting Arkansas and UMass. Let's say the Tigers get through that point 9-1 or 8-2, it's those final two games – home against LSU and at Alabama – that will ultimately make or break Auburn's season.
Put me in the middle of the two extreme projections, with Auburn having another 8-4 campaign before the bowl season rolls around. That won't cash those 50/1 college football odds at FanDuel, no matter how much optimism the fans hold after winning the Iron Bowl last year.