UFC 249 Picks – Ferguson vs Gaethje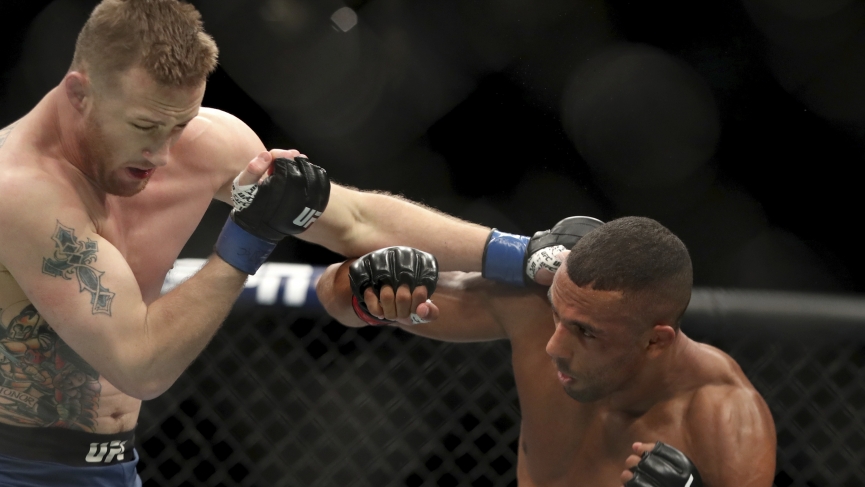 UFC 249: Ferguson vs Gaethje
Time: Saturday, May 9th, 2020 10:00 PM EDT
Where: VyStar Veterans Memorial Arena, Jacksonville, FL.
TV: ESPN+
Odds: Ferguson -162, Gaethje +153
Tony Ferguson will have a shot at becoming the first-ever two-time interim champion in UFC history on May 9th at UFC 249 when he faces Justin Gaethje.
The Rise and Fall and Rise Again of UFC 249
Tony Ferguson was initially slated to take on UFC Lightweight Champion Khabib Nurmagomedov on April 18. However, due to the coronavirus pandemic, Nurmagomedov was unable to leave his home country of Russia due to the country's travel restrictions. This would be the fifth time that Ferguson and Khabib have had a fight scheduled and called off. The lightweight division's #2 fighter, Justin Gaethje, stepped in as a late replacement for the April 18th event. However, even after Dana White attempted to move the event, in order to circumvent statewide 'lockdown', the April 18th, UFC 249 event was again called off.
Tale of the tape
'El Cucuy' – Tony Ferguson
Age: 36
Height: 5ft 11in (180 cms)
Reach: 194cm
Fights: 28
Record: 25-3
Wins by KO: 12
'The Highlight' – Justin Gaethje
Age: 31
Height: 5ft 11in (170 cms)
Reach: 178cm
Fights: 23
Record: 21-2
Wins by Stoppage: 19
Styles Make Fights
Although the Tony vs Khabib bout would have been, from all accounts, a modern-day MMA 'super-fight.' We are being treated to likely 'the next best thing' as a replacement when it comes to the hard-hitting and ultra-violent Justin Gaethje.
Toe to Toe
Both Ferguson and Gaethje are dangerous stand-up fighters. Gaethje's brawling style has made him a must-see fighter over the last few years in the UFC. Since his loss to Dustin Poirier in April of 2018, Gaethje has strung together three consecutive wins, all of which coming by way of first-round stoppage. As for Ferguson, his inhuman endurance and highly unorthodox fighting style has been a big part of why he hasn't dropped a fight in over eight years. Ferguson is constantly switching stances and is always keeping his opponents guessing what's next. Although Tony undoubtedly has the power to finish fights. Gaethje's ultra aggression gives him a slight edge in my mind when it comes to the striking match-up.
Ground Game
One could argue that Justin Gaethje is a more accredited wrestler than Tony Ferguson. However, when it comes to what can actually be applied in the octagon, Tony has the overall advantage when it comes to his wrestling, and more specifically, his grappling ability. Justin Gaethje's path to MMA comes via his all-American pedigree as an amateur wrestler, at the University of Northern Colorado. None the less, Justin's offense has mostly come from his ability to stand and bang, especially since coming to the UFC back in 2017. As for Tony, he too comes from a collegiate wrestling background, not exactly to the extent of Justin Gaethje's, but a stand-out achievement in amateur wrestling none the less. What is interesting is that; although Justin may be the more esteemed amateur wrestler, he gives up the edge to Ferguson, who is a far more capable wrestler when it comes to what can be translated for usage in an actual cage fight. Ferguson is also much more technically sound when it comes to submissions. Gaethje, although known for being a very dangerous wrestler, only has one submission to his credit on his MMA record. In comparison to Tony Ferguson, who has five of his last nine UFC wins by submission, and eight submission wins in his MMA career overall.
Both coming off Win over Cowboy
Ferguson and Gaethje are ironically both coming off TKO wins over UFC veteran Donald 'Cowboy' Cerrone. Ferguson defeated Cerrone in June of 2019 at UFC 238. Cerrone's next fight would be three months later at UFN 158 in Vancouver vs Gaethje. 'The Highlight' defeated Cerrone by TKO in the first round. As for Ferguson, 'El-CuCuy' is currently riding a twelve fight win streak, which is tied with UFC Lightweight Champion Khabib Nurmagomedov for the best current win streak in the UFC.
Gaethje's Fight Trends
Justin Gaethje has won 19 of his 23 fights by stoppage, whether it be by KO, TKO or submission. That's an 82.6% stoppage rate. The best current odds for Gaethje to'Win Inside the Distance' are +175 at most sportsbooks. Gaethje has won 21 of his 23 professional fights overall, and his best current odds for beating Tony Ferguson at +153. I think whenever you're getting a fighter with over 20 pro-fights, that has won over 90% of those fights, you are getting a ton value at anything beyond plus money. As for 'Fight Doesn't go the distance.' Justin has only had two of his fights go the distance, both of which were he picked up wins. Although, at the current price of -530 (via 5Dimes) for the fight 'Not to go the Distance.' From a +EV standpoint, you would need closer to -455 for that bet to have any value.
Ferguson's Fight Trends
Tony Ferguson (25-3) has won 89% of his professional MMA fights, at his current odds of -162, there is still a considerable amount of value if you plan on backing 'El-Cucuy.' Ferguson's fights have a 71% stoppage rate, with him winning inside the distance in 20 fights of his 28 pro fights. There is also a considerable amount of value on Ferguson winning inside the distance at the current best odds of -130 (via 5Dimes). Just seven of Ferguson's 28 professional MMA fights have gone to decision, but even still, at the current best odds of +350 the 'Fight Goes the Distance' prop still has a considerable amount of value. Tony has won five of his 28 pro-fights by decision, the best current odds for Tony to take this one to the judge's scorecards is +520. This is another prop that you can't go wrong backing, especially if you think Tony has what it takes to take this fight into the later rounds.
Early Prediction: 'The Highlight' lives up to his name
Overall, what makes Tony Ferguson one of the most special fighters on the UFC roster, and possibly in UFC history, is his unmatched ability to adapt under pressure. Not many fighters could go from preparing to face the wrestling phenom that is Khabib Nurmagomedov to the ultra-aggressive style of Justin Gaethje, but if only one fighter could, it would be Tony Ferguson. What makes Tony special and what has made him the #1 contender in the Lightweight division for some time, has been his ability to use a wide variety of fighting skills to fit the game plan that is needed to defeat his opponents. I just think that if Tony's movements are not precisely calculated at every moment of this fight, he could run into some trouble from Gaethje's ultra-imposing style. I think the deciding factor in this fight for Justin, will be his overall striking speed. If Gaethje can be precise and land on the mark when exchanging blows, especially when on the counter-attack, I think he has a shot at winning the gold. Further, if Tony isn't ultra-defensive when gaining his feet after the wild scrambles I envision this bout will be full of; I think Gaethje's creativity as a striker will be shown, and 'The Highlight' might be able to pick up a TKO win over one of the greatest fighters to ever step into the cage. My early read for this fight: Justin Gaethje wins a chaotic bout, full of wild exchanges, landing one on the button at some point in the first 7 minutes.
Best Bet: Gaethje +153 at several sportsbooks
Follow me on Twitter @SparkAlMac