Thiago Moises vs Jailin Turner Pick – UFC Vegas 9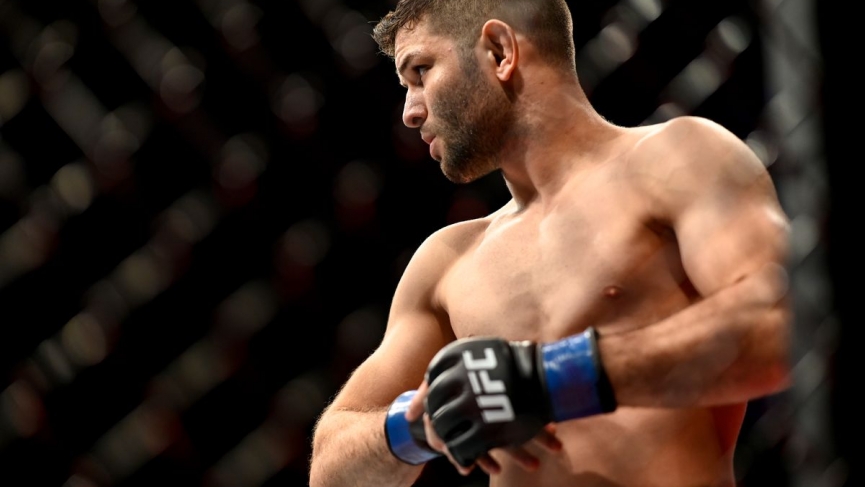 Thiago Moises vs Jailin Turner pick is my underdog lean for UFC Vegas 9 which is another one of these wild cards where the fights are lined extremely closely. You could go through this card and make an argument for almost all of these underdogs this week. The key is finding a GOOD underdog and an underdog that we feel has value.
To learn how I find my underdogs in more detail check out the full article here:
| | | |
| --- | --- | --- |
| UFC Fighter | Thiago Moises | Jailin Turner |
| Odds | -172 | +140 |
| Age | 25 years old | 26 years old |
| Height | 5'9 | 6'3 |
| Reach | 70' | 77' |
| Wins by Submission/KO-TKO | 5 | 8 |
| Win/Loss | 13-4 | 9-5 |
| Finish Rate | 61% | 100% |
Thiago Moises is a young prospect with all the pieces. On paper, this kid should be an absolute monster. Moises has decent hands, some powerful kicks, and is a slick grappler. Moises is capable of going a full 15 minutes or digging deep and putting his opponent away when he needs to. The only issue I have with Moises is he is inconsistent. He has lost to the mid to upper-level competition he has faced in the UFC and he has defeated the lower level competition he faced, but in his last fight, he made Michael Johnson look like a beast. Moises took a beating in the first round and had to change things up and take the fight to the mat in order to get a finish. All props to him for taking the fight where he needed it, but that first round was extremely concerning against a fighter who should have been a layup.
Jailin Turner is another hot young prospect who has struggled in the UFC. After impressing on Dana White's Tuesday Night Contender Series with a big knockout Turner is 2-2 in the promotion. Turner started his UFC career against a top contender and dangerous knockout artist in Vincente Louque and that is a recipe for disaster for a young fighter. That fight ended as you would expect, but we have seen improvements from Turner ever since.
Moises vs Turner: The criteria
Fight IQ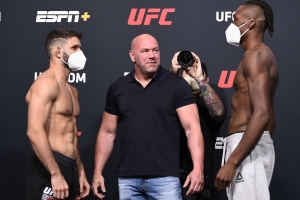 Jailin Turner is a striker and an opportunistic offensive grappler. Turner has shown by his record that he knows his victories come on the feet. Even though Turner is capable on the mat he does everything he can to keep the fight standing where he can put his insane height and reach to his advantage and look for that knockout. Turner has solid defensive grappling and that's all I need from this young man to know he is going to look to stay safe on the floor and land a bomb on the feet.
Chin
Turner may have been KOd already in the UFC, but honestly, it was from Vincente Louque. Louque has knocked out far higher caliber fighters than Turner is at the moment with regularity. I don't know that I question Turner's chin based on that kind of a loss and the young fighter is still growing and his defensive capabilities are only going to improve.
No Quit
Turner is another fighter who just never gives us. In the fight with Matt Frevola, Turner was thoroughly out-grappled and he never quit looking for that opportunity to get back to his feet. Even though it was painfully obvious that a high caliber wrestler like Frevola was able to do what he wanted Turner gave himself every chance he could to win.
Power
100% finish rate. That's about all I have to see about this kid. 8 out of 9 wins from Turner are by knockout and even that 1 that got away was a finish via submission. Turner is a massive 6 inches taller than Moises and I honestly have no idea how this kid makes the 155-pound limit. He is going to have a power advantage, a height advantage, and a reach advantage.
Thiago Moises vs Jailin Turner Pick
I think the value is all here on Jailin Turner. In my opinion, this fight should be lined closer to a pick-em. We have seen over-sized fighters like Luise Pena who have been unable to live up to their potential and rely on their size to grind out smaller fighters, but Turner is not like that. Turner uses his size to smash his opponents.
While Moises has never been finished he has taken some serious damage and especially in his last fight against Michael Johnson he took a beating. That beating came just 6 months ago and you have to wonder if he has fully recovered from it even though he got the win. We have seen situations where the fighter who won paid for it in their next fight such as when Stipe survived against Ngannou but was warmed right up for Daniel Cormier.
Moises might be able to out-skill the larger, more powerful fighter, but I have a hard time seeing it. Turner will be able to hit Moises any time Moises is even close to striking range. For a fighter who likes to sit on the outside and kick Moises will not be safe when he attempts that in this particular fight. We are still in the UFC APEX so we will have the smaller cage and that will force the action here. I think Turner eventually forces Moises into a corner and lands a bomb.
The Pick: Jailin Turner (+140)