Stefan Struve vs Tai Tuivasa Pick – UFC 254 Undercard Prediction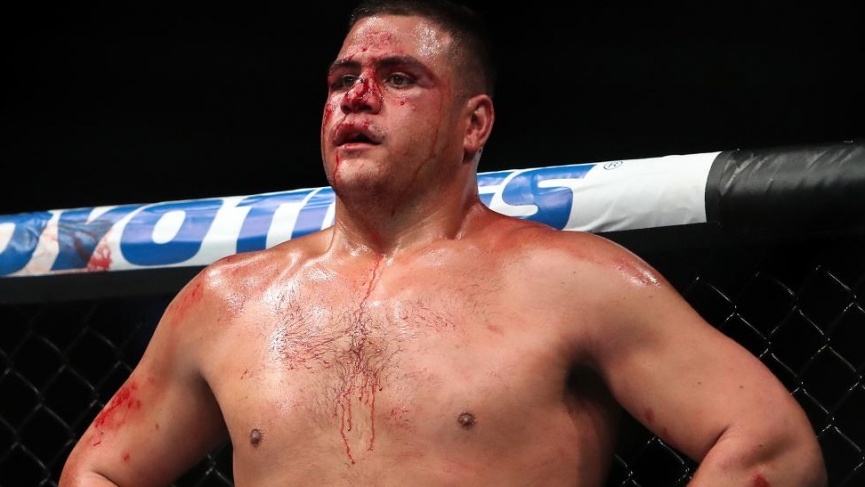 Odds.com's Stefan Struve vs Tai Tuivasa Pick – UFC 254 Undercard Prediction: It's a coin flip bout between heavyweights when Stefan Struve takes on Tai Tuivasa at UFC 254.
| | | |
| --- | --- | --- |
| UFC 254 | Stefan Struve | Tai Tuivasa |
| Best Odds | -107 | +100 |
| Total Rounds | Over 1.5 (-117) | Under 1.5 (+114) |
| Where/When | Fight Island, Abu-Dhabi | Oct 24th, 11:00 AM |
UFC Fight Island 6 could have gone better. We have been on a bit of a heater recently and that got snapped. Lucky for us the biggest event of the year is right around the corner and I could not be more excited for UFC 254. This card is stacked and the headliner is a champion vs champion title unification bout between 2 of the best in the world. We can't jump straight to desert thought, so let's look for some betting action on the undercard.
Tale of the Tape
| | | |
| --- | --- | --- |
| UFC Match Up | Stefan Struve  | Tai Tuivasa |
| Age | 32 years old | 27 years old |
| Height | 7'0 | 6'2 |
| Reach | 84′ | 75′ |
| Wins by Method | 18 Wins by Submission | 8 Wins by T/KO |
| Finish Rate | 90% | 89% |
| Win/Loss | 29-12 | 10-3 |
The Fighters:
Stefan Struve has been around the UFC for a long time. He was the hottest prospect on the block for a long time simply due to his sheer size. They don't call Stefan "The SkyScraper" for nothing. The prevailing logic was that one day he would fill into that gigantic frame and be a destroyer in the UFC's Heavyweight decision but that just never seemed to happen. Struve has fought some of the best fighters in the world such as Alistair Overeem, Mark Hunt, and Andrei Arlovski, and will have an obvious experience edge in this fight. The issue for me with Struve is that he seems to have settled with his skills. I just don't see improvement anymore. He doesn't use his reach advantage particularly well and has that dreaded tall man's defense that sees overhands land easily leading to 8 career knockouts.
Tai Tuivasa could be put in the pile of busted prospects for the UFC. Tai came to the UFC an undefeated apostle of MMA legend Mark Hunt and seemed to embody the same entertaining style as his teacher and racked up 3 entertaining wins. Unfortunately for Tai once he took that step up in the UFC he floundered. Now riding an 0-3 run he needs to get a W in a bad way or Tai might be getting his walking papers from the organization.
The Match-Up:
This is a spot where you could easily pass considering how poor both fighters have performed in the UFC. In my opinion, however, one fighter is worse for wear than the other. Stefan Struve retired not too long ago, but like most MMA retirements it didn't last long. Since his return, Struve is 1-1 but nothing seems to have changed. Struve is very talented on the mat with his long limbs, but on the feet, he just seems to be a bit too slow for quicker heavyweights. Struve also isn't much of a wrestler and has to rely on knockdowns and scrambles to get his fights to the floor.
Stefan Struve vs Tai Tuivasa Pick
The Pick: Tai Tuivasa (+100) via Bet365: Tai Tuivasa has taken considerably less damage in his short career than Struve has and he seems to understand what is at stake with his job being on the line. Tai still has aspirations and dreams in the sport where I think Struve has settled into the role of gatekeeper. Tai will use his leg kicks to get in close and then he can uncork that giant overhand to touch Struve's chin. If Struve happens to take this fight to the floor then Tai will be in trouble, but I don't know if he will be able. Tai gave up an astounding 6 takedowns in his last loss to Serghei Spivac which many will use to justify his terrible takedown defense, however, most of those were hip throws and Sergei catching kicks. These options will be unavailable for Struve considering Struve will have a hard time catching the low calf kick from way up to where he is and doesn't have much of a hip throw game. When you consider you need to have your hips under your opponents to pull off a throw it makes the idea of Struve getting that low on the short and squat Tuivasa almost laughable.
In my opinion, Struve is submission or bust in this fight and I think the wrong man is favored in this match up. I'll take that + money on Tai Tuivasa and trust that he has taken the last year off and worked on the holes in his game in order to re-establish himself in the UFC.