Smith vs. Teixeira: UFC Predictions For Tonight's Fight Night Jacksonville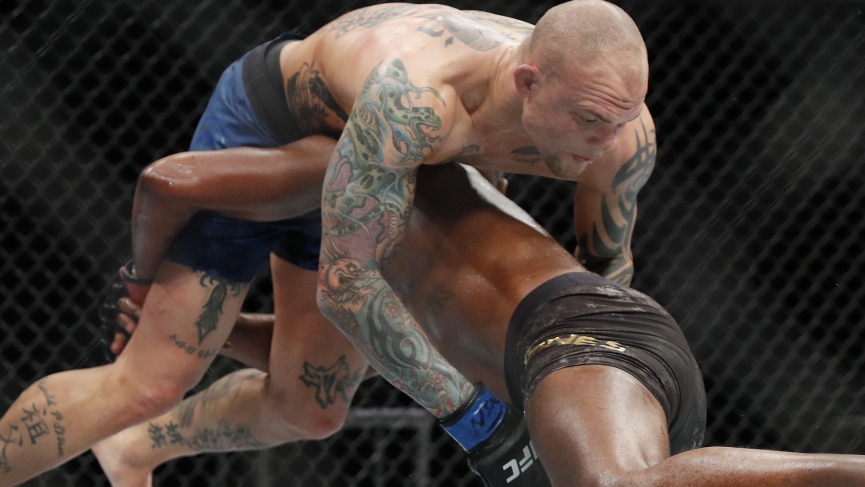 Anthony Smith and Glover Teixeira were supposed to meet at 'UFC Fight Night 31' in Lincoln, Nebraska on April 25th, 2020. However, due to the coronavirus pandemic, the event was canceled and has since been rescheduled to take place on Wednesday, May 13th. Smith is currently ranked #4 in the UFC's Light Heavyweight division, with Teixeira ranked 8th.
Smith failed to capture UFC gold at UFC 235 in March of last year when he faced UFC Light Heavyweight champion, Jon Jones. Smith dropped the bout to Jones via unanimous decision. Smith put together a decent bounce-back performance against Alexander Gustafsson, beating him via rear-naked choke at UFC Stockholm last June. UFC predictions on this fight are leaning towards 'Smith inside the distance'.
| | |
| --- | --- |
| Time: | Saturday, May 13th, 2020 6:30 PM EDT |
| Where: | VyStar Veterans Memorial Arena, Jacksonville, FL. |
| TV: | ESPN+ |
| UFC Odds:  | -183, Teixeira +170 |
Smith is looking to crawl his way back into the list of top contenders at Light Heavyweight. He's looking to chase down a number of fighters in the division; including Thiago Santos, Dominick Reyes, and Jan Blachowicz, who are all currently ranked above him. A win vs Teixeira may very well line up a bout against one of those three, setting up a true 'number one contender' match up.
Teixeira went undefeated last year, going 3-0 in 2019, from January to September. The 40-year-old Brazillian is currently sitting outside of the top 5 in the Light Heavyweight division, but a win could easily see him catapulted into the spot Smith currently sits in at #4. For Teixeira, this is as close to a 'title eliminator' match that he's going to get, possibly for the remainder of his career in the UFC. It's now or never for Glover if he wants to remain relevant in this division, or the UFC for that matter. Let's take a look at the tale of the tape.
Smith vs. Teixeira: Tale of the tape
'Lionheart' – Anthony Smith
| | |
| --- | --- |
| Age | 31 years old |
| Height | 6ft 4in |
| Reach | 193cm |
| Wins by Stoppage | 17 |
| Win/Loss | 33-14 |
| Fights | 47 |
Glover Teixeira
| | |
| --- | --- |
| Age | 40 years old |
| Height | 6ft 2in |
| Reach | 193cm |
| Wins by Stoppage | 17 |
| Win/Loss | 30-7 |
| Fights | 37 |
Styles makes fights
With both fighters having deep Brazilian Jiu-Jitsu backgrounds, it would be a-typical of a UFC for this one to remain on the feet, as both fighters may be looking to avoid their opponents' stylistic strengths. As we've seen when two wrestlers are matched up, the outcome is likely a slugfest, rather than the typical wrestling scrambles you would expect. The same thing can be said when you have two fighters so evenly matched in Jiu-Jitsu.
I expect 'Lionheart' Anthony Smith to utilize his length in this fight, although Smith and Teixeira have the same reach length, Smith is about 2inches taller than Teixeira, which could be a big factor in such an even bout stylistically. Even though I do feel that this fight remains on the feet for quite some time, I do feel that once someone gets knocked down, we could see those mad scrambles that we'd expect when two sound grapplers meet in the cage. While I think the fight favors Teixeira if they decide to stand and bang, the ground game has to favor Smith in my opinion.
While Teixeira may be the better striker, the difference in age may be a factor in a five-round fight. At the end of the day, I think Smith may be outmatched as far as overall striking goes, but when it comes to the battles on the mat, Lionheart has the upper-hand. I see this one going into the later rounds, and whichever fighter has the better cardio is going to be the one to come out on top. In this case, I think the younger fighter in Smith, is the right side to be on. Let's take a look at the fight trends between these two fighters.
Smith vs. Teixeira UFC Predictions
In his 11 UFC fights since returning to the promotion in 2016, Anthony Smith has finished 54.5% of those 11 fights, inside the distance. If you bet $100 on Smith to win 'Inside the Distance' in every one of his fights' since 2016, you've gone 6-5, +$758, a profit of +$69 per fight, win or lose.
As for Teixeira, the Brazillian has seen 82% of his fights end 'inside the distance', since his UFC debut in 2012. In fact, when combining Smith's last 11 fights and Teixeira's last 17, 67.8% of their 28 combined fights have ended 'inside the distance.' Implied probability dictates that any 'Fight Goes The Distance' prop with a price of -210 or better is a value bet. Unfortunately, the 'Fight Goes the Distance: No' prop is currently sitting at -275. So, needless to say, the secret is out on these two fighters finding a way to finish.
However, the best way to extract value in this fight is by simply taking Smith to win 'Inside the Distance.' There is value on this bet for a number of reasons, but simply put, the combined odds of Smith to win at -190 and 'Fight Goes the Distance: No' at -275, is about -115. Currently, you can get Smith 'Inside the Distance' at various sportsbooks as high as +100. To me, it is more than obvious, that backing Anthony Smith 'Inside the Distance' is the best bet to make here. Good luck and enjoy the fights!
Al Mac's Best Bets: UFC Jacksonville
UFC odds for Fight Night's main event:
| UFC Pick | UFC Odds | Unit % |
| --- | --- | --- |
| Anthony Smith (Inside The Distance) |  -110 | 2.5% |
| Smith/Teixeira o2.5 | +103 | 1.3% |
UFC picks for the remaining card:
| UFC Pick | UFC Odds | Unit % |
| --- | --- | --- |
| Ben Rothwell | +115 | 2.2% |
| R. Simone, Eubanks/Moras o2.5 (Parlay) | +111 | 1.2% |
| Borg/Simon o2.5, Azure/Kelleher o2.5 (Parlay) | -123 | 1.1% |
| Johnson/Moises o2.5, Hernandez/Dober o2.5 (Parlay) | +137 | 1% |
| Andrei Arlovski | +146 | 1% |
| Drew Dober | -132 | 1% |
| Thiago Moises | -117 | 1% |
| Benitez/Morales o2.5 | -142 | 1% |
| Sarah Moras | +300 | 1% |
| Thiago Moises | -117 | 1% |
| Benitez/Morales o2.5 | (-142) | 1% |
| Sarah Moras | +300 | 1% |
Follow me on Twitter @SparkAlMac