Rothwell vs St. Preux Odds – UFC Fight Night Jacksonville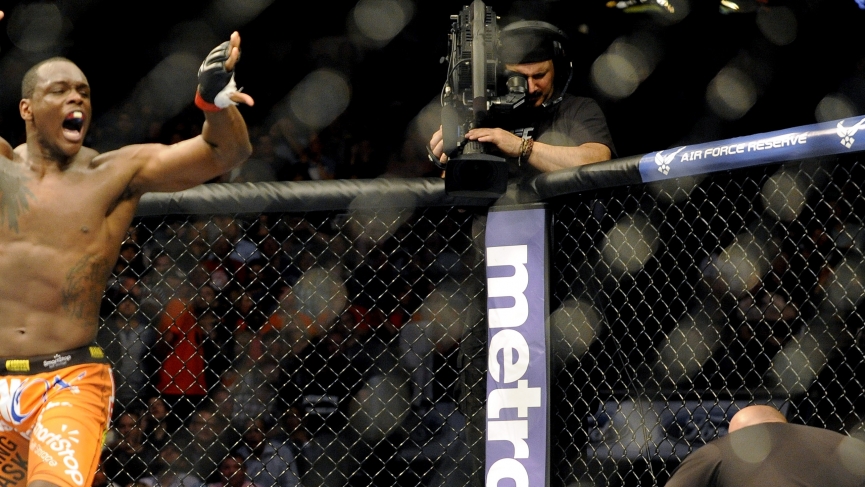 The Co-Main Event of UFC Jacksonville is an odd fight that we never imagined we would ever see. Everything is fair game in this COVID-19 crisis world we live in and many future fights might leave you scratching your head at the matchmaking. Here we have former 205 contender Ovince St Preux (OSP) taking a short notice fight with long time heavyweight Ben Rothwell. The UFC is rolling right along and giving us the entertainment that we are craving and because of that we are going to have to be prepared for odd situations like this one. Once you dig into the match up it turns out this is a VERY interesting fight and we might have some solid UFC picks to review.
Ben Rothwell vs Ovince St. Preux: The Basics
Even though OSP is a 205er and Rothwell comes in close to the 265 Heavyweight limit St. Preux is not going to be at a severe size disadvantage. Rothwell will be just 1 inch taller and OSP will actually enjoy a 2-inch reach advantage making this a fairly close fight on paper. A big key is that OSP has confirmed he is not making the move to Heavyweight permanent and plans to drop back to 205 after this one match.
Rothwell is still trying to get his career back on track after a USADA suspension for a banned substance took him out of commission for 3 years. Ben went on an 0-3 run and likely saved his job with a win over Stefan Struve in his last fight back in December. OSP has struggled recently as well dropping 2 fights back to back before rebounding against the hot prospect Michal "Lord" Oleksiejczuk in September. Both fighters need to get a win here to keep their careers on the right path as they look for late success. 
Ben Rothwell (+130)
| | |
| --- | --- |
| Age | 38 years old |
| Height | 6'4 |
| Reach | 78' |
| Wins by KO/TKO | 28 |
| Win/Loss | 37 – 12 |
| Finish Rate | 92% |
Ben Rothwell is a longtime staple of the UFC and has fought the best of the heavyweight division since 2009. Ben Rothwell has in insane 28 wins by KO over the course of his career and has only been knocked out himself 4 times with the last one coming over 10 years ago. The man is a calculated brawler with heavy hands and a solid chin. Ben is willing to take a shot to land a shot and that strategy has paid off for the majority of his career.
He does stand a bit flat-footed, but he is constantly walking his opponents down and rushes in with a blitz attack. Ben doesn't only look for single shots, he will also attack with 3-5 punch combos. Ben is also well versed in the clinch and will put his opponents against the cage wearing on them and looking to drain that gas tank while hitting them with hard knees to the body.
Ben's biggest issue since his return to the UFC has been his low volume. He has been lulled into inactivity and managed to get behind on the judge's scorecards and that's never a good look. In his most recent fight with Stefan the Skyscraper he landed several accidental kicks to the cup and had a point deducted. He was unable to win the fight on points and knowing he needed a finish decided to leave it all in the cage and was able to TKO the wounded Struve in round 2. His comments after the fight lead me to believe that he may have realized he is still capable of finishing if he would just step on the gas. 
Ovince St. Preux (-150)
| | |
| --- | --- |
| Age | 37 years old |
| Height | 6'3 |
| Reach | 80' |
| Wins by KO/TKO | 8 |
| Win/Loss | 24-13 |
| Finish Rate | 79% |
OSP has been a mid-tier 205er his entire career. Every time he puts it together and rises to the status of a contender he drops the ball and now it looks like it may simply be too late for him. OSP is 2-3 in his last 5, but his most recent win was by far his biggest. OSP was a massive underdog against hot prospect Michal Oleksiejczuk in September 2019 and managed to weather the early storm and submit "Lord" in the 2nd round with his patented Von-Preux Choke.
OSP appears to have settled into a gatekeeper role turning back talent that isn't quite ready for ranked opposition and stepping on cans that just don't cut it at the UFC level. Earlier in his career he was known for his explosive athleticism and dangerous kicks, but that appears to have faded. OSP still has an extremely dangerous ground game, but his athleticism is hampered by his gas tank. These days OSP has just over 1 round in him if you make him work. IF OSP is able to dominate you in the 1st round he will likely be able to get the finish, but if you can drain his gas tank and make him work he is far less dangerous in the 2nd and 3rd rounds. 
UFC Picks for Rothwell vs St. Preux
I think this fight simply comes down to how prepared OSP is. Ben Rothwell was already focused and in camp preparing for Gian Villante, but that fight was canceled due to the COVID-19 crisis. OSP was also scheduled to face Shamil Gamzatov and Ion Cutelaba, so he isn't prepared for a Heavyweight, he was preparing for 205. He might not seem small next to Ben but believe he will discover the strength disadvantage when they clinch. If OSP isn't able to get Ben to the mat and this fight is contested on the feet I believe that favors Ben.
Even if OSP gets Ben to the mat, Rothwell is so physically strong and has a good enough ground and get up game that I believe he will be able to nullify what OSP brings to the table. Ben also likes to force his opponents to grapple against the cage and if he can do that OSP's gas tank is in serious trouble. I like Ben Rothwell as a dog here to grind out a tired OSP and maybe even get the finish in rounds 2 or 3. So far the early money has come in on OSP, so there may be some value in waiting. If Ben can get around +145 or +150 I think there is some really good value there. 
UFC Pick: Ben Rothwell +130