Phil Hawes vs Nassourdine Imavov Predictions | UFC Fight Island 7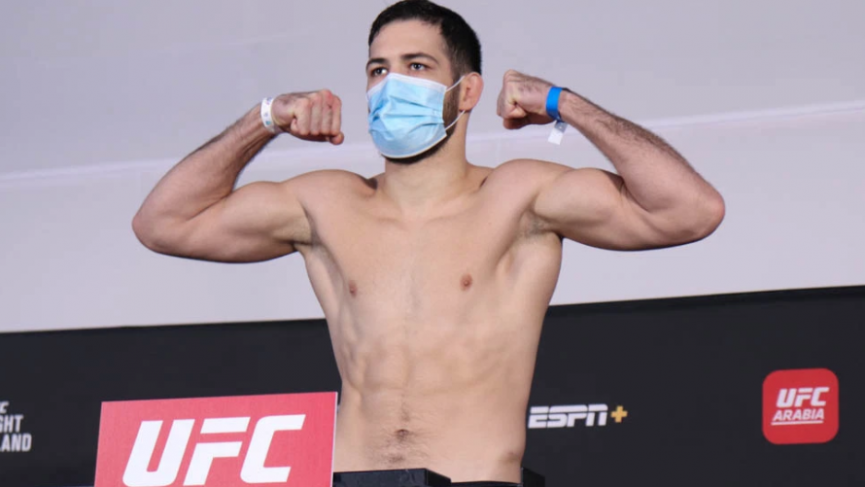 Phil Hawes vs Nassourdine Imavov Predictions | UFC Fight Island 7: Our very first fight card of 2021 is going to be full of action, and the undercard is going to set us up nicely for what the main card has to offer. The undercard's feature fight is a battle between rising stars when Dana White's Contender Series alumni Phil Hawes takes on France's Nassourdine Imovov in a prospect vs. prospect battle that could show us a future contender at 170.
| | | |
| --- | --- | --- |
| UFC Fight Island 7 | Phil Hawes | Nassourdine Imavov |
| To Win Outright | +148 | -155 |
| Inside the Distance | +333 | +200 |
| by Decision | +410 | +250 |
| Total Rounds | Over 2.5 (-104) | Under 2.5 (-110) |
| Fight Goes Distance | Yes: +105 | No: -110 |
| Where/When | Yas Island, Abu-Dhabi | Sat, Jan 16th, 3:00 PM ET |
The Fighters:
| | | |
| --- | --- | --- |
| UFC Match-Up | Phil Hawes | Nassourdine Imavov |
| Record | 9-2 | 9-2 |
| Finish Rate | 100% (7 Wins by T/KO) | 77% (4 Wins by Sub) |
| Age | 32 | 25 |
| Height | 6'0 | 6'3 |
| Reach | 77′ | 75′ |
I grew up watching Transformers and Beast Wars. You would think I would be a massive fan of a fighter who goes by "Megatron," but there is something about Hawes that doesn't strike me the right way.
Phil Hawes is an absolute physical monster. This man is explosive and powerful and carries the capability of finishing a fight at any time by simply being able to overpower his opponents.
Hawes has an impressive 100% finish rate, showing just how scary he can be, but there are many questions of if he can sink or swim at a higher level. The two times that Phil was on the wrong end of a skill match up he was finished.
Nassourdine Imovov is a newcomer to the UFC middleweight division, with an impressive record and an excellent 1-0 in the promotion. Imavov is a capable grappler and striker with a balanced skillset who, at only 25, has a very bright future in the sport of MMA.
Imavov has excellent distance management and mixes in his grappling and cage control to make sure the fight's pace is his. Imavov is a talented wrestler with a nasty submission game, and he springs his front chokes on unsuspecting opponents without warning. I expect him to be in this fight even against a beast like Hawes.
The Match-Up:
Phil Hawes is a fighter who I have publicly announced that I am looking to fade, and I think I have my spot. It came earlier than I anticipated, but here we are, and I will not pass on my opportunity. Hawes has a relatively bad gas tank. As a fighter who relies on his explosiveness and power to get the job done against a well-rounded grinder like Imavov, if Phil is unable to get that early finish, he will be at the mercy of his opponent.
The big concern is Phil in round one. This kid packs missiles into his fists and is capable of knocking out a full-grown Ox, but what happens if he can't land that big shot? Phil has never seen the judges in his MMA career. Phil is what he calls a good hammer, so he is a terrible nail so far from what we have seen. When the tables get turned on him, he doesn't have the answers, and he doesn't have that 2nd great to survive and get his way back into a fight. That is what I am counting on here by rolling the dice on some likable odds and a nicely priced underdog.
Phil Hawes vs Nassourdine Imavov Prediction:
UFC Fight Island 7 Undercard Best Bet – Nassourdine Imavov (+110) via Bet365: Imavov will need to stay smart and stay safe early, but his style is perfect for exposing a fighter like Hawes. Imavov looks to bully his opponent against the fence and make them defend takedowns while fighting for underhooks. Imavov will get Phil's arms all pumped up with blood, and once Hawes starts to breathe more heavily and once those punches slow down a bit and aren't so lightning-quick, then Imavov will begin to take over. We have seen Phil Hawes' ability to break, and I believe that Imavov can do that, and once Hawes runs out of options, he will look for the door. Don't be surprised if Imavov manages to sink in that nasty front choke when Phil Hawes gets his first look at the 3rd round of an MMA fight and doesn't have the gas or the heart to continue.
---
FAQ: UFC Fight Island 7
What is the main event for UFC Fight Island 7
The main event for UFC Fight Island 7 is between former UFC Featherweight champion 'Blessed' Max Holloway taking on #6 ranked featherweight in the world, Calvin 'the Boston Finisher' Kattar.
What times does UFC Fight Island 7 start?
UFC Fight Island 7 starts at 12:00 PM ET, 9:00 AM PT, with the main card starting at 3:00 PM ET on ABC.