Miocic vs Cormier Prediction – UFC 252 Main Card Pick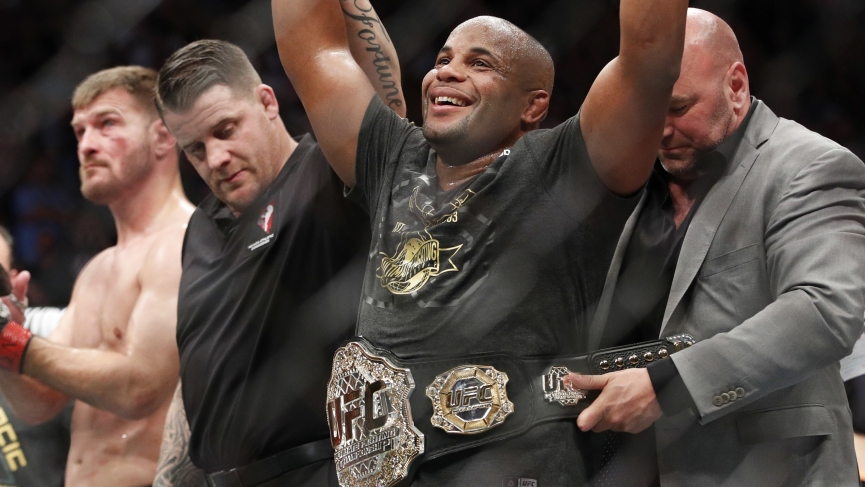 This is it, folks, my Miocic vs Cormier prediction for UFC 252. Saturday we will find out who is the undisputed baddest man on the planet and the heavyweight GOAT. These two men have unmatched resumes at heavyweight and the fact that they are 1-1 in this battle for the belt just gives me chills.
After DC won the first fight and cemented his legacy as a UFC Champ Champ I thought he was the undisputed GOAT at heavyweight, but then the rematch happened. I bet DC in the first fight and cashed a ticket, but Stipe came back with a vengeance and cost me when he dug deep and staked his claim to the title of GOAT putting DC away late. There's a lot to unpack here, so let's dig in.
| | |
| --- | --- |
| UFC Fighter | Stipe Miocic   |
| Odds | -111 |
| Age | 37 years old |
| Height | 6'4 |
| Reach | 80' |
| Wins by Decision | 15 |
| Win/Loss | 19-3 |
| Finish Rate | 79% |
Stipe Miocic is the most disrespected heavyweight I have ever seen. And part of that is my own fault. I have done my very best to poke holes in his record and career all the way along. I bet Daniel Cormier in both the previous fights and had good reasons for doing so. He beat Fabricio Werdum, Junior Dos Santos, and Alistair Overeem all beyond their primes and it felt like he wasn't as good as his record showed.
But now we have the value of hindsight and all 3 of those men are still kicking!! Not only that, but his comeback win and domination over the Heavyweight boogeyman Francis Ngannou and his comeback against Daniel Cormier in their rematch shows just what this man is made of. Stipe has an iron will and he can dig deeper than nearly anybody I've ever seen when the chips are down. Stipe took 181 significant strikes from DC while turning the tables on him and landing 123 of his own and knocking out the then-champion in the 4th round. I have nothing but new-found respect for Stipe and I cannot discredit him any longer.
| | |
| --- | --- |
| UFC Fighter | Daniel Cormier   |
| Odds | -111 |
| Age | 41 years old |
| Height | 5'11 |
| Reach | 72' |
| Wins by KO/TKO | 10 |
| Win/Loss | 22-2 |
| Finish Rate | 68% |
Daniel Cormier is one of my all-time favorite fighters and is in the conversation for one of the all-time best to ever do the damn thing. If it were not for Jon Jones DC's record would be impeccable and he would without a doubt be the front runner for the greatest MMA fighter of all time. Yes, Conor fans, he has a better resume even than your king. DC is a high caliber wrestler and has a sick submission game to accompany it.
He is small for Heavyweight but seems to carry power that he somewhat lacked at 205 at the heavier class. DC has slick striking and knockout power in both hands and his only finish losses came from a juiced-up Jon Jones and Stipe in the rematch. Cormier has cleaned out 205 twice and has taken over the heavyweight division in short order. Now he is nearing retirement with this being his well-documented final fight and is getting up for one last fight to determine who was the best. One. Last. Time.
Miocic vs Cormier – The matchup
I am SO torn on this fight. I have backed DC his entire career and done so very successfully and my heart is screaming for me to bet on him here in the trilogy. I want to see DC knock Stipe's head off and see Dana White wrap that shiny gold belt around his waist again. I want to see DC cry tears of joy and lay his gloves down in the middle of the cage but walk away happy knowing that he is the undisputed GOAT. I want so badly to ride with DC this one final time.
But fairy tales aren't real folks.
This is The Hurt Business and there are very few happy endings. The fact of the matter is the Daniel Cormier is 41 years old and stopped evolving several years ago. We saw the cracks in the armor in the last fight between DC and Stipe when DC's legendary cardio failed him and he was completely gassed after being unable to put away Stipe. DC has only landed over 100 significant strikes in a fight 1 time prior to DC vs Stipe 2 and that was against Alexander Gustafsson where he landed 140. Since then he has only needed somewhere around 35 significant strikes to end things. Father Time is the one and only undefeated combatant and I believe DC is stepping in the cage Saturday more against Father Time than he is Stipe.
We have a rule that you do not bet on fighters who are 40 years or older unless you have a "damn good reason" and that reason for me this week would be: ITS DC!! He has done the impossible more than once and has an unmatched resume that gives you all the justification you would need to pull that trigger. There is another issue, however. I have another rule and that is you do not bet on retiring fighters. It is extremely hard to know when a fighter is hanging up the gloves and more often than not you only find out after they are flat on their back and they throw the towel in.
Miocic vs Cormier prediction
This time we KNOW that DC will not be returning. Win, lose or draw DC is going to walk away from fighting after this trilogy. When you combine that he is over 40, retiring, his gas tank appears to be waning, and he wasn't able to put Stipe away with 181 significant strikes. I think there are enough reasons to say this is Stipe or pass.
It hurts me to say it, but Stipe is the side to back here. He is the current champion and has shown us what he is capable of. DC was able to overcome the height and reach disadvantage his entire career, but not anymore. The deck is stacked against him and he isn't getting any younger. DC is starting to show the signs of aging and even if he is going all-in for this training camp the truth is he has one foot in the grave already.
The Pick: Stipe Miocic (-111)