Ketlen Vieira vs Yana Kunitskaya Pick: UFC Vegas 19 Predictions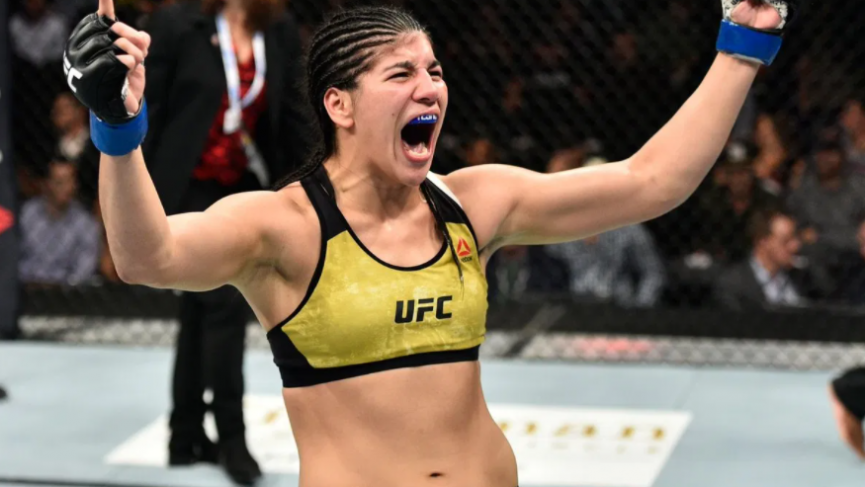 Ketlen Vieira vs Yana Kunitskaya Pick – UFC Vegas 19 Predictions: Following the example of UFC 258, UFC Vegas 19 has a co-main event featuring up-and-coming women's stars. The UFC's Ketlen Vieira is looking to rebuild the momentum that she previously had and get to a title shot. Standing across from her is Yana Kunitskaya, who has put together a 3-2 record in the promotion since joining in 2018 and is looking to prove that she is next for a shot at that strap. 
〉More UFC Vegas 19 Picks: Curtis Blaydes vs Derrick Lewis 
Ketlen Vieira vs Yana Kunitskaya Odds
| UFC Vegas 19 Odds | Ketlen Vieira | Yana Kunitskaya |
| --- | --- | --- |
| To Win Outright | -259 | +231 |
| Inside the Distance | +334 | +650 |
| by Decision | -120 | +325 |
| Total Rounds | Over 2.5 (-325) | Under 2.5 (+260) |
| Fight Goes Distance | Yes: -275 | No: +225 |
| Where/When | UFC Apex, Las Vegas | Sat, Feb 20th, 5:00 PM ET |
The Fighters: Vieira vs Kunitskaya
| UFC Women's Bantamweights | Ketlen Vieira | Yana Kunitskaya |
| --- | --- | --- |
| Record | 11-1 | 13-5 |
| Finish Rate | 55% (4 Wins by Submission) | 64% (7 Wins by T/KO) |
| Age | 29 | 31 |
| Height | 5'8 | 5'6 |
| Reach | 68′ | 68′ |
Kelten Vieira is a monster. The Nova Uniao product looked like the next big WMMA stand out with her undefeated 10-0 record in the UFC until she ran into Irene Aldana. Since taking that first loss, Vieira has bounced back over the UFC mainstay Sijara Eubanks and showed that she has a well-rounded MMA game and is able to face and defeat a tough and experienced veteran. Ketlen is looking to put together a little run, and if she gets by Yana on Saturday, it would be hard to imagine the UFC not giving her a title shot soon. 
Mrs. Thiago Santos is a fighter with an interesting path in the UFC. Yana Kunitskaya was brought in as a challenger to Cris Cyborg in the 145lbs, UFC Women's Featherweight division, which is above Yana's natural weight class, and the fight went about as you'd expect. Yana lasted just 3 minutes with Cyborg but was allowed to prove herself in the next several fights where she rattled off back-to-back wins against Linda Lansberg and Marion Reneau. Yana is a tough and gritty fighter who likes to physically bully her opponents around the cage and is willing to make a fight boring in order to get that win. 
The Match-Up: Vieira vs Kunitskaya
Yana Kunitskaya comes into this fight as the heavy underdog on the UFC odds board. However, Kunitskaya is a fighter that you have to respect. She is tough as nails and willing to grind. Typically speaking, those are qualities that I look for when backing a fighter with my money. The issue for Yana is when she runs into a fighter who she cannot bully for 15 minutes. When she faced Cris Cyborg; we saw that she was just big enough and was handled unceremoniously in the first round. When Yana met Aspen Ladd, who is a young fighter with a lot to learn, she controlled the first 2 rounds of the fight, but when Ladd threw caution to the wind, Yana was overwhelmed and finished in the 3rd. Saturday is a tall order for Yana, who needs to control 15 minutes of this fight because Vieira is a monster and will not be bullied like some of Kunitskaya's previous opponents. 
Kelten Vieira was recently promoted to BJJ black belt and it is worth noting that she is a capable wrestler. So far in the UFC, Ketlen has averaged 2.02 takedowns per 15 minutes and landed with an impressive 52% accuracy. Vieira does an excellent job of mixing up her game and can transition smoothly between boxing and wrestling, which makes her very dangerous here.
Ketlen Vieira vs Yana Kunitskaya Pick:
UFC Vegas 19 Co-Main Event Best Bet – Ketlen Vieira (-275) via Bet365: Yana Kunitskaya has one gigantic flaw in her game and that is her takedown defense. Yana has just a 33% takedown defense rating and somehow always manages to find herself on bottom. That will be a huge problem when facing Ketlen's wrestling. I am not convinced that Yana can physically bully and control Ketlen the way she needs to win this fight and even if she can, I know that she will get reversed and wind up on the mat at some point. Ketlen Vieira is going to maul Yana when this fight hits the mat and even though Yana is known for her toughness, I don't know how long she can survive under Vieira. This fight will be competitive early, but I expect Ketlen to pull away in the fight the longer it goes. I see a second or third-round finish for Vieira. Lay the wood or use her in parlays. I may even take the inside the distance prop, which is +334 on open.