UFC Betting Trends: Justin Gaethje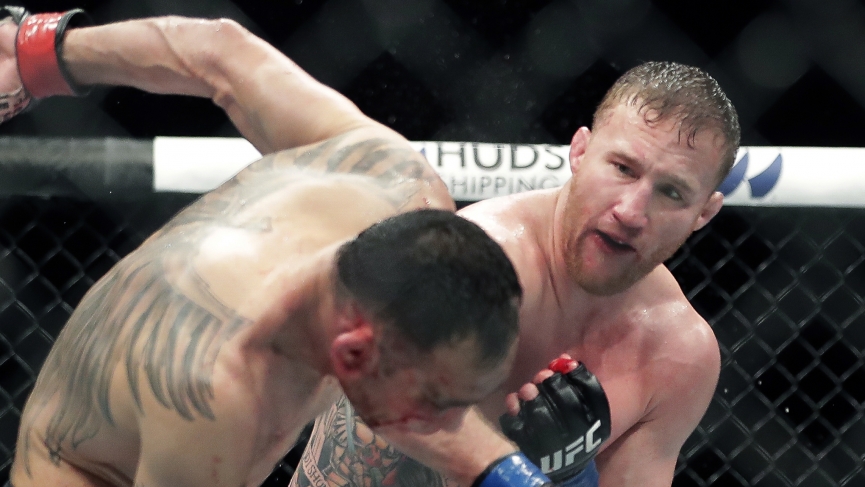 Justin Gaethje is coming off the biggest MMA win of his career and has his sights set on undisputed lightweight gold. We take a look at Gaethje's historical betting trends.
Next Opponent for Justin Gaethje?
'The Highlight' Justin Gaethje is coming off an impressive 5th round TKO victory over Tony Ferguson at UFC 249. With the victory, Gaethje won the UFC's interim Lightweight Championship. Gaethje will now likely face the 28-0 Lightweight Champion Khabib Nurmagomedov, who was sidelined in early 2020 due to travel restrictions caused by the COVID19 global pandemic. Gaethje was asked by MMA media if he could possibly be persuaded into fighting UFC icon Connor McGregor in a money fight, before fighting for the undisputed championship. Gaethje told MMA reporters that he 'wants Khabib next.' and that 'Connor is losing clout.' Gaethje also relayed a statement to the media from the words of Dana White. Based on Gaethje's account, McGregor told UFC president Dana White, that he was interested in fighting Gaethje. McGregor took to twitter in early May, claiming he would 'butcher' Gaethje, and he would be his next opponent. In response, based on Gaethje's words, Dana White told McGregor  'No, Gaethje is fighting Khabib.'
Head to Head Odds
Based on odds indexed by 'BestFightOdds.com' Justin Gaethje has both Khabib and Connor listed as potential opponents, with odds provided for both match-ups.
Gaethje/McGregor a coin flip fight
Based on odds provided by WilliamHill, the Gaethje/McGregor match up is currently listed as both fighters being at the pick'em two-way price of -110. At various other sportsbooks, McGregor is a slight margin favorite of about -145 at the highest, with Gaethje as the +125 underdog.
Khabib the strong favorite vs Gaethje
Unlike the match up with Connor, Gaethje is edged out as almost a 2-1 underdog, with Khabib the overwhelming favorite. Based on sportsbook odds provided by WilliamHill, Gaethje is currently listed as a +175 dog to Khabib who is the -227 favorite. Meanwhile, odds have been provided for the potential rematch between Khabib and McGregor, with Khabib being an even stronger favorite than he is against Gaethje, listed as -332 vs McGregor (+240).
The take away here is obvious, the oddsmakers believe Justin Gaethje has a slightly better chance at knocking off Khabib than McGregor. As we've already seen Khabib take care of Connor quite easily, the oddsmakers think it is highly unlikely that the outcome in the rematch is any different. As for Gaethje, the same can not be said. While Khabib is still the overwhelming favorite in both matchups, the bookmakers seem to have more belief in Gaethje getting the job done over Khabib, than they do Connor. However, considering these are 'future event' props, the public has yet to weigh in on these odds, so movement in these prices is expected.
Justin Gaethje: Fighting Trends
The Over:
In his last 16 pro-fights going back to 2013, Justin Gaethje has seen 62% of those fights reach 'Over' the betting total. Bettors who have taken the 'Over' in every one of Gaethje's last 16 fights has gone: 10-6, for +3units. If you bet $100 on every Over, you profited +$19 per fight, win or lose.
Fight Doesn't Go The Distance:
In his last 11 pro fights going back to the WSOF in 2013, Justin Gaethje has not had a single fight to reach the distance. Backing the 'Fight Goes the Distance: No' prop, in every one of Gaethje's last eleven fights, has seen bettors go: 11-0 for +2.85 units. Over eleven wagers, a $100 bet on each fight would bring in a return on investment of +$26 per fight.
Gaethje MoneyLine:
Since March of 2013, Justin Gaethje has had 16 professional MMA bouts, holding a record of 14-2 through that stretch. Bettors who backed Gaethje on the money line, in every fight since 2013, have gone 14-2 for +5.66u. At a unit size of $100 per bet, bettors have profited +$35 per fight backing Gaethje on the ML, win or lose.
Best Bet: Inside the Distance:
Since coming into professional MMA through the World Series of Fighting in 2015, the best and most profitable way to back Justin Gaethje has been via the 'Inside the Distance' prop. In his last eleven pro-fights, Gaethje has finished nine by stoppage. Bettors who have backed Gaethje 'Inside The Distance' in his last eleven pro-fights have gone: 9-2, for +7.45 units.
That's +$68 profit per fight, win or lose. Gaethje finished Tony Ferguson in his last fight, in the 5th round by way of TKO, cashing the 'Inside the Distance' prop at +220. For a guy who has never reached a decision in his UFC career, and only twice in his MMA career as a whole, backing Justin Gaethje 'Inside the Distance' has been his best fight trend by far.