Jamie Mullarkey vs Fares Ziam Pick – UFC Fight Island 6 Undercard Prediction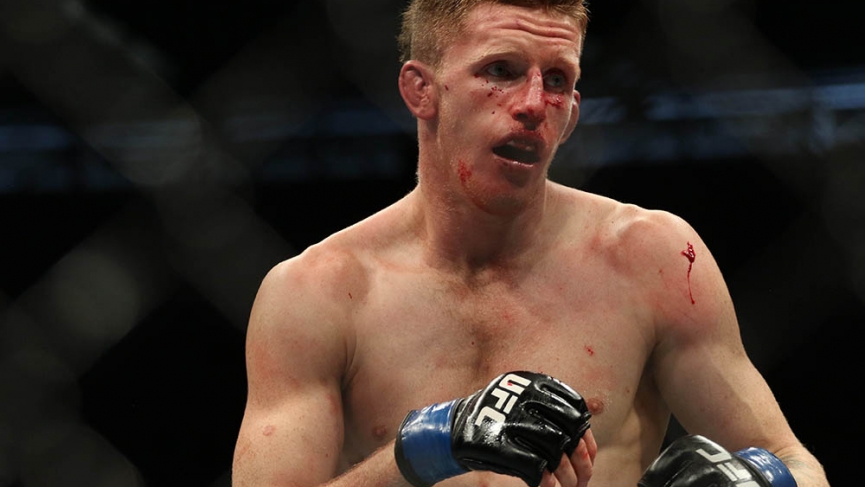 Odds.com's Jamie Mullarkey vs Fares Ziam Pick – UFC Fight Island 6 Undercard Prediction: Both fighters have won 4 of their last 5 pro fights, but are both coming off losses in their UFC debuts. The "Smile Killer" Fares Ziam takes on Jamie Mullarkey in a lightweight battle on UFC Fight Island 6 undercard.
| | | |
| --- | --- | --- |
| UFC Fight Island 6 | Jamie Mullarkey | Fares Ziam |
| Best Odds | -130 | +123 |
| Total Rounds | Over 2.5 (-172) | Under 2.5 (+150) |
| Where/When | Fight Island, Abu-Dhabi | Oct 17th, 7:00 PM |
UFC Fight Island 5 was a wild ride and we were on some of the biggest upsets of the night! Looking at UFC Fight Island 6 it might just be a tougher card from a betting perspective. There are a few spots that we can try to make some money on and keep this gravy train rolling. Let's take a look at this week's undercard!
Tale of the Tape
| | | |
| --- | --- | --- |
| UFC Match Up | Jamie Mullarkey | Fares Ziam |
| Age | 26 years old | 23 years old |
| Height | 6'0 | 6'1 |
| Reach | 74′ | 75′ |
| Wins by Method | 8 Wins by T/KO | 5 Wins by T/KO |
| Finish Rate | 69% | 90% |
| Win/Loss | 12-3 | 10-3 |
The Fighters:
Jamie Mullarkey is 0-1 in the UFC and is looking to notch that ever-important first W. Mullarkey is a very talented young prospect who uses a nice long jab and heavy low kicks to coral his foes. He uses solid footwork and a fade-away hook to take advantage of his opponents when they get overly aggressive and he has excellent level changes. Mullarkey is talented both on the feet and the mat and at just 26 years old has a very bright future in the UFC.
Jamie made his UFC debut against City Kickboxing striking coach Brad Riddell who is a very high-level fighter and is making waves in the division undefeated in the organization. This is one of those rare circumstances where even though Mullarkey lost the fight to Riddell, he showed us all the pieces of the puzzle that we needed to see. This kid is ready for the big show and he is just going to be getting better.
Similarly to his opponent Fares is coming off of a disappointing loss in his UFC debut. The 23-year-old took a risk in that fight accepting Don Madge on just 3 weeks' notice and he was unable to get the W. Fares is looking to bounce back with a full camp and make his mark against Mullarkey on Saturday. Fares is primarily a grappler with nice level changes and a decent top game. If he can get the fight to the mat he is able to float well on top. From the clinch or on top of his opponents' Fares uses his long frame well to attack with knees and elbows. Fares will be the younger fighter on Saturday and will enjoy a slight 1-inch reach advantage.
The Match-Up:
The biggest key for me in this fight is that Jamie Mullarkey proved himself to be a valid match for Brad Riddell who is a top talent at Lightweight. Fares Ziam has a great build and is athletic however the younger fighter is extremely green. I have seen in his recent fights mistakes that younger fighters who just need more seasoning will make. Fares' striking leaves something to be desired and he is surprisingly slow. He can fight long and has a nice jab and leg kick, but that will only get you so far.
Fares is best on the mat, but he has to be in top position to really have success and when shooting for takedowns he puts his neck in chokes and leaves himself open to dangerous spots. The final piece is that Ziam has fought an extremely suspect level of competition in his MMA career. His 10-3 record is great, but he hasn't fought anybody of note.
Jamie Mullarkey vs Fares Ziam Pick
MMA math does not work. Styles make fights and this is a good match-up from the UFC's team. We have not seen either fighter for roughly a year so I expect them both to come back better versions of themselves, but Mullarkey was simply further along. Even though they both got 15 minutes of cage time against UFC vets Don Madge is barely getting his UFC career started where Riddell is a beast and a respected name.
Fares was nullified and bullied his entire fight and Mullarkey had moments and caused Riddell some problems. Truth be told I am shocked this line is as low as it is and the only reason I am not hammering it harder is mostly because the fight will all come down to who made more improvements in the offseason. Mullarkey should still be the better fighter and I think he wins this comfortably.
The Pick: Fares Ziam (+123) via WilliamHill