Hernandez vs Dober Odds to Win UFC Fight Night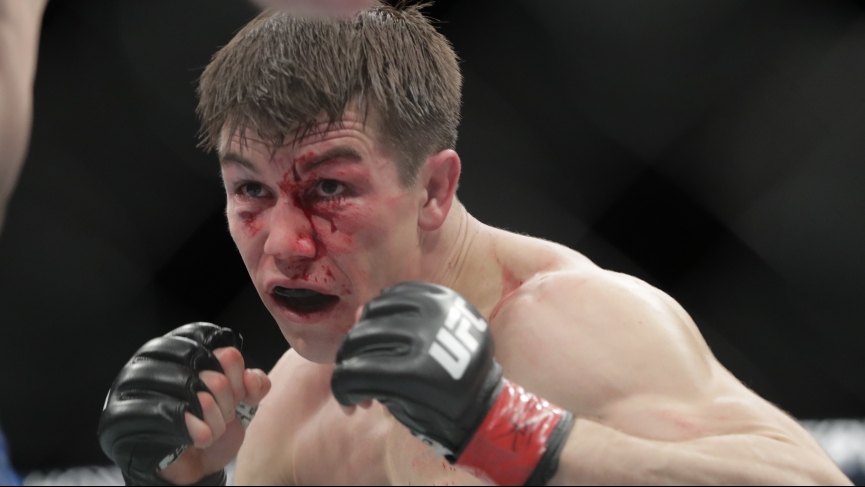 While UFC Fight Night Jacksonville's undercard is a cluster of trash fights thrown together to fill a card out, the main card is solid with some really good names and exciting matchups. Nearly every main card match up has some value for the divisions in question, so the stakes are high! There are several spots that I am interested in betting on the main card and all the fights should be highly entertaining!
Hernandez vs. Dober – The basics
Both fighters are coming off of successful rebound fights and are looking to re-establish themselves as true contenders. Alexander Hernandez was humbled by Cowboy Cerrone after completely disrespecting Cowboy with the level of trash he talked, but he bounced back against Francisco Trinaldo in a less than exciting fight which most people felt he lost. Hernandez showed a new wrinkle in his game and really exercised his excellent fight IQ to grind out a close fight.
Drew Dober is coming off of back to back impressive first-round knockout wins and is riding high! In a recent interview he talked about making the changes needed in his life to achieve his title aspirations and he is doubling down on himself. This is going to be a modern-day MMA striker vs grappler match up where both men have a base but are not out of their element in the other's realm. This fight should be fireworks as both fighters have the ability to finish the other.
Alexander Hernandez UFC Odds +100
| | |
| --- | --- |
| Age | 27 years old |
| Height | 5'9 |
| Reach | 72' |
| Wins by KO/TKO  | 4 |
| Win/Loss | 11 – 2 |
| Finish Rate | 55% |
Alexander "The Great" Hernandez stormed onto the UFC scene in March 2018 when he destroyed Beneil Dariush in just 42 seconds and cashed as a +350 underdog. Alexander was immediately marked as an explosive striker, but he showed the world that he is not one dimensional in his next fight.
When Hernandez faced OAM in his 2nd UFC fight it was billed as striker vs grappler, but he was able to completely dominate and shut down the ground game of Olivier Aubin-Mercier. Alexander proved himself very quickly to be extremely well rounded, explosive, AND he demonstrated high fight IQ. When you combine his skills in the cage, the trash he talked, and his ability to back up every threat he made Hernandez is looking like a star in the making.
After dropping his fight to Donald Cerrone we saw a much more restrained version of Hernandez against Francisco Trinaldo which in my opinion speaks to his growth and understanding that he will not be able to just steamroll every fighter he faces in the UFC. Hernandez attacks with a chain wrestling approach relentlessly going for the takedown when he wants it. He uses the threat of his grappling to open up his striking game and then he brings the heat with explosive kicks with heavy hands.
Hernandez scrambles very well and transitions well to the back of his opponents always hunting for submissions and chokes. Before he was matched with Drew Dober Alexander was preparing for a fight with Islam Makhachev who is a high-level grappler averaging over 3 successful takedowns per 15-minute fight. Hernandez was already in camp and in fight shape and his wrestling is already on point in preparation for that daunting match up.
Drew Dober UFC Odds -120
| | |
| --- | --- |
| Age | 31 years old |
| Height | 5'8 |
| Reach | 70' |
| Wins by KO/TKO  | 9 |
| Win/Loss | 22 – 9 |
| Finish Rate | 68% |
Drew Dober was an amateur Muay Thai world champion prior to making the transition to MMA. In addition to his 22-9 record, Drew has 7 amateur MMA fights where he went 6-1. Experience is going to definitely be on his side. Drew has an excellent precision striking and uses heavy leg and body kicks to drain his opponents. He can explode with flying knees and has excellent timing with counter shots. Drew is far more dangerous in round one than in the latter stages of the fight and most of his KO victories have been in the first. Where Drew tends to struggle is with grapplers who can survive his early onslaught. Drew's last 3 losses have been to grappling heavy fighters who were able to dominate him on the mat.
The Matchup
These two fighters are both exciting, explosive, and brimming with confidence. The difference between them is that Alexander has the grappling ability that appears to be Dober's Achilles Heel in his back pocket. These 2 fighters actually share 2 common opponents in Beneil Dariush and Olivier Aubin Mercier.
Both of those fights Alexander won and both of those fights Dober lost. Now, MMA math does NOT work. Just because Fighter A beats Fighter B and Fighter B beats Fighter C does NOT mean that Fighter A beats Fighter C. However, in this case we can draw some conclusions from these results.
Dober was absolutely working Beneil Dariush on the feel in round 1, but slowed just enough in round 2 for Dariush to put him on the mat and from that point it was a clinic. The OAM fight was VERY similar to OAM finishing Drew in the second round via rear-naked choke which might just be Alexander's best submission. When you combine all this with the fact that Alexander has been preparing to face a world class wrestler for the past several months it just seems like his best weapon will be his sharpest tool leading into this change of opponents.
One of the reasons I like Alexander is how intelligently he approaches his fights and I doubt he will decide to strike or brawl with Dober knowing his greatest advantage and easiest path to victory will be the ground game. I'm going to roll with Alexander The Great to upset the slight favorite and possibly get a finish.
UFC Pick: Alexander Hernandez +100