UFC Vegas 14 Underdog Best Bets: Eryk Anders vs Antonio Arroyo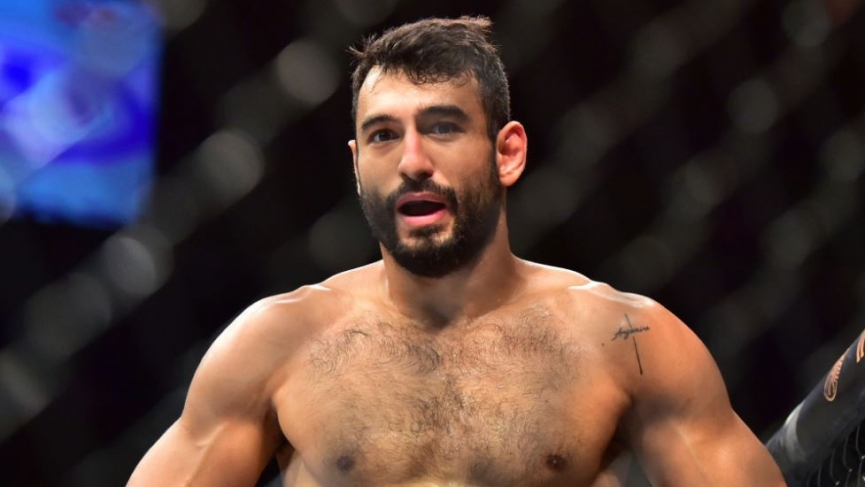 Eryk Anders vs Antonio Arroyo Pick – UFC Vegas 14: The UFC has been on a chalky run. In the last three events, there have only been three underdogs who have come through. We know that kind of trend cannot last, and this is the card where the dog's breakthrough.
UFC VEgas 14 ODDS
Eryk Anders
Antonio Arroyo
To Win Outright
-120
+115
Inside the Distance
+300
+315
by Decision
+200
+333
Total Rounds
Over 2.5 (-160)
Under 2.5 (+140)
Fight Goes Distance
Yes: -139
No: +110
Where/When
Apex Center, Las Vegas
Sat, Nov 14th, 7:00 PM ET
There are several closely lined fights, and there are several disrespected underdogs. I think there is more than one you could pin your hopes on, but I think I have one we should all really like.  To learn how I find my underdogs in more detail, check out my full article written earlier this year.
The Fighters:
UFC Match-up
Eryk Anders
Antonio Arroyo
Age
33
31
Height
6'1
6'3
Reach
75′
73′
Wins by Method
8 Wins by T/KO
4 Wins by T/KO
Finish Rate
70%
88%
Record
13-5
9-3
Eryk Anders is one of the first athletes to transfer over to the UFC from another major sport. The former Alabama Crimson Tide football player made waves early in the UFC with his spectacular athleticism and strength. The world was his oyster, and we expected big things from Anders, but he has turned out to be a bust. Anders has prematurely peaked as a fighter. Even though he has worked his way up to fight some of the biggest names in the division such as Thiago Santos and Lyoto Machida, Anders has not improved his skill set and seems reliant on his physical gifts, and that can only get you so far in MMA. 
Antonio Arroyo is a fresh face in the division and is coming off of Dana White's Contender Series. The athletically gifted striker is really fun to watch in the cage and is a welcomed, exciting addition to the division. Arroyo last fought against Andre Muniz in November of 2019 and is looking to bounce back after that grinding loss. We haven't seen Arroyo in nearly a year, but you can see he is working hard to evolve if you watch his social media. A fighter at his age who is motivated and driven should have plenty of improvements to show after a year of training. 
UFC Vega 14 Underdogs – The Criteria:
Fight IQ: Arroyo is a striker first. You may look at his record and see that he has four wins by submission and four wins by KO, but his primary skill set is on the feet, and he knows it. Arroyo is very talented off of his back and knows how to keep himself safe in there. While Arroyo may give up takedowns, he is very physically strong himself and has an excellent get-up game. While on the feet, Arroyo is a fighter who looks to be elusive. He strikes where his opponents cannot strike back and use his movement to avoid counters. I like everything I see. 
Chin: Arroyo has tasted defeat before, but he has never been knocked out. We do also need to address his two losses by submission because we don't want to back a dog with a glaring weakness, even if we aren't explicitly discussing the chin. Arroyo lost by submission back in 2015 and 2017 by submission and was only four fights into his career when it happened. Since then, his ground game has dramatically improved, and I simply don't believe we have much to fear from Anders, who has one submission on his record from back in 2016 when he fought an 0-3 fighter. 
No Quit: Arroyo is a fighter who will dig deep and fight for your money. Even in his loss against Andre Muniz back in November, Arroyo was always working to get back to his feet and hurt his opponent. He will always look to work his way back into a fight. 
Power: Arroyo has nine wins in his MMA career, and only 1 of them has come by decision. This man is big, strong, and athletic for 185, and he knows how to use that frame. Arroyo has both slick transitions and chokes on the floor and power on the feet. Even though I believe he has what it takes to beat a fighter over 15 minutes, more often than not, he doesn't need to, and having that kind of finishing ability on the feet and on the floor is nice to have in our back pocket. 
Eryk Anders vs Antonio Arroyo Pick:
UFC Vegas 14 Underdog Best Bet: Antonio Arroyo  (+110) via Bet365: I am ready to lock and load on Antonio Arroyo. This kid is somebody the UFC is obviously looking to get behind because of his exciting style, and he is getting that push hard and early. While Anders may have a broad experience edge, and this point, as I said at the start of the article, he just isn't evolving. The Eryk Anders we saw three years ago is the same man that will walk into the cage on Saturday, and that will give Arroyo plenty of opportunity to game plan. Both Arroyo and Anders have roughly three significant strikes landed per minute so far in their UFC runs. Still, Arroyo has outlanded his UFC opposition by over a full significant strike per minute. I know he has faced a lower level of competition, which will skew the numbers somewhat, but his style is built around movement. Arroyo has the kind of elusive movement that will cause Anders to struggle with his basic forward-plodding boxing style. 
As much as this is a bet on Arroyo, this is also a bet against Anders. In Anders' last 6 UFC fights, he has two wins. Of those two wins, one is a split decision, and one is a KO. The KO came against the world's chinniest fighter Vinicius Moreira Castro who was gifted to Anders to get him a win, and the Split decision came against Gerald Meerschaert, who outlanded Anders 72 to 64 in significant strikes and, in my opinion, the wrong man won. 
Anders should be 1-5 in his last 6, and the writing is on the wall. Let's get some fresh blood in here. Somebody who actually is hungry, looking to improve, and will fight to the death for a win. Arroyo is worth a stab as a worthy underdog. 
Keep it locked to Odds.com for all of your UFC betting needs for UFC Vegas 14. The best current odds and content can be found on our UFC page.