Edgar vs Munhoz Pick – UFC Vegas 7 Main Event Prediction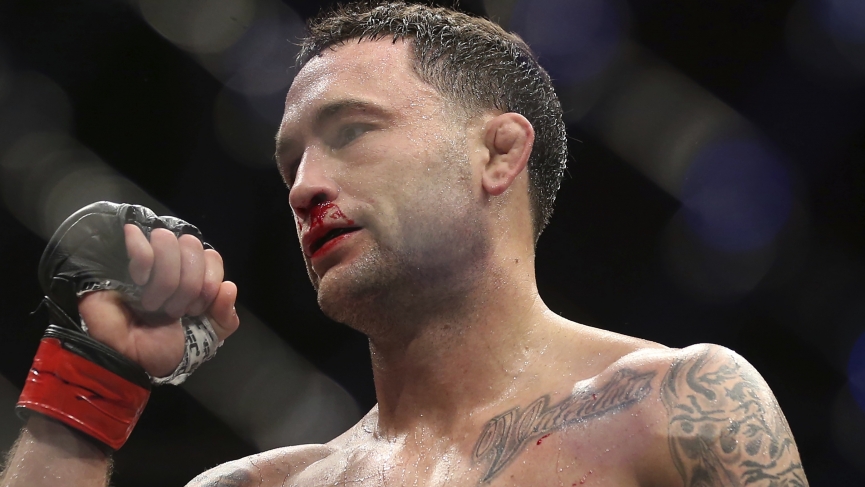 It's time to look at my Edgar vs Munhoz Pick for this UFC Vegas 7 main event and Frankie Edgar is BACK! This man is an absolute legend in the UFC and was so good in his prime that he fought essentially 2 weight classes up from his natural class and still won and defended the belt.
Unfortunately, this is the hurt game, and Father Time is undefeated in MMA. Pedro Munhoz is looking to build off of the aging veteran's name and cement himself as a true threat at Bantamweight while Frankie tries to resent and take one more run at UFC gold.
Edgar vs Munhoz fighter breakdown
| | |
| --- | --- |
| UFC Fighter | Frankie Edgar |
| Odds | +200 |
| Age | 38 years old |
| Height | 5'6 |
| Reach | 68' |
| Wins by Decision | 12 |
| Win/Loss | 23-8 |
| Finish Rate | 47% |
Frankie "The Answer" Edgar has fallen on hard times. The legend is knocking on the door of 40 which is never a good thing in combat sports but has managed to keep himself relevant at the deep end of whatever division he is fighting in. Edgar was the 155-pound king and dethroned the legend, BJ Penn, at the height of his power. Frankie was finally convinced to drop from 155 to 145 and unfortunately just found himself in another shark tank and he was still somehow too small for the monsters he was facing there.
Frankie took a short notice and poorly thought out fight against The Korean Zombie Chan Sung Jung back in December and it ended just as violently as you would think it would. Frankie is looking to make his 135 debuts and honestly… doesn't look bad. Frankie realistically should have been fighting at 135 for his entire career but was so unstoppable that there was no point for him to drop. The big question on everybody's minds now is… was he too late in making the move?
| | |
| --- | --- |
| UFC Fighter | Pedro Munhoz   |
| Odds | -250 |
| Age | 33 years old |
| Height | 5'6 |
| Reach | 65' |
| Wins by Submission | 9 |
| Win/Loss | 18-4 |
| Finish Rate | 72% |
Pedro Munhoz is a man who cost me a large chunk of money. His unreal win over Cody Garbrandt in March of 2019 busted my Garbrandt by KO +200 prop bet that looked like it was well on its way to cashing. Munhoz had picked Cody apart by attacking his legs and when Cody realized he wasn't going to last much longer it forced a firefight that he just didn't have the chin for and he nearly KO'd Munhoz in the process.
Munhoz's chin gets so much respect from me from that fight and the battle with Aljo Sterling following. Munhoz is a high-level BJJ black belt and he uses front chokes and leg locks to keep his opponents on their toes. Pedro's boxing is his main tool on the feet, but he has trained to mix in some devastating leg kicks as well. Munhoz is a problem and he is in his fighting prime right now.
Edgar vs Munhoz – The matchup
I don't have many rules or angles when it comes to betting MMA, but a few of my big ones come into play in this fight. If you are fighting on a 40-year-old fighter you have to have a damn good reason to do so. Now I know Frankie is not 40 yet, but 38 is very close, and with the amount of damage he has taken over the course of his career he might as well be 40 and I am treating him as such in my cap of this fight.
The damn good reasons I would have for betting Edgar would be his durability (I know I know but hear me out) and his wrestling. Pedro Munhoz is a phenomenal grappler but in the MMA game of wrestling vs BJJ, I side with the wrestlers more often than not. Before you riot and come after me, I practice BJJ myself, so this isn't a bias based on nothing. In MMA the judges are known for being bad.
When you are the man on top that signals control and winning, so when BJJ players accept the bottom looking to sweep or submit, if they can't pull it off they end up losing rounds. Frankie is no stranger to BJJ at this point in his career himself and I don't see him getting caught. Frankie has never been submitted in his UFC career and even though his durability isn't what it once was, he has only actually been finished twice and his last KO loss to the Zombie was actually a referee stoppage, so it wasn't a hardcore KO loss that he can't come back from.
Not to mention the fact that I look for fighters to take 6-9 months off following a bad KO loss and that time has now passed. I was concerned the first time this fight was booked that it would be too quick, but I think the delay in matchmaking has only helped as far as Frankie having the time he would need to recover.
Frankie is dropping weight for this fight and that is another big no-no in my book, especially for an aging fighter. When you have to leave your normal weight class and turn everything on its head looking for a new life and a second chance that signals the end.
Precious few fighters actually make that transition and are still able to compete with the elite and we see a much higher success rate moving up than we do moving down. However, Frankie doesn't quite fit this red flag. Frankie should have been at 135 all along. Frankie is such a badass that he was able to beat men not 1 but 2 weight classes above where he should have been competing all along.
Now that he is fighting without being at a significant height or reach a disadvantage I have to wonder if maybe he has the shot to bottle some lightning here. The only concern to me is that Frankie has been in war after war and now at 135 he will be missing some extra water weight which may cost him.
Edgar vs Munhoz Pick
Looking at Frankie's Instagram he looks like he is in serious shape for this fight and even dropping a class looks very well muscled and not sucked out. Frankie is used to wrestling with the likes of Ben Henderson, Jeremy Stephens, and Gray Maynard. Facing an opponent whose size he will be able to match will be a big deal for Frankie after facing the Zombie, Max Holloway, and Brian Ortega who all towered over him.
In fact, Frankie is going to enjoy a reach advantage against Munhoz for the first time in 7 fights!! When Munhoz fought Aljamain Sterling he struggled with the reach of Sterling and even though Aljo went 0-7 on takedowns just the threat of the takedown was enough to open up striking opportunities. The final piece of the puzzle is the sheer experience. Pedro has never gone through a 5 round fight and I believe that Frankie will really be able to use that veteran experience in the later rounds. Frankie has fought nothing but champions in 5 round main events and title fights. Munhoz does have an excellent 81% takedown defense rating, but how will that hold up when he gets to the 4th and 5th round?
I may be crazy.. but if I had to bet this fight I think I would sign on to ride with Frankie Edgar one last time. In my opinion, this is a dog or pass spot and if you are looking to play Frankie then wait a little bit. There has been nothing but money on Munhoz, so I expect this line to get wider than it is. On the same thought process though if you are looking to bet on Munhoz you should get on it sooner than later, because he is just going to get more expensive or you will have to look for an Inside The Distance prop or KO Prop later in the week.
The Pick: Frankie Edgar (+200)