Derek Brunson vs Edmen Shahbazyan Pick – UFC Apex 5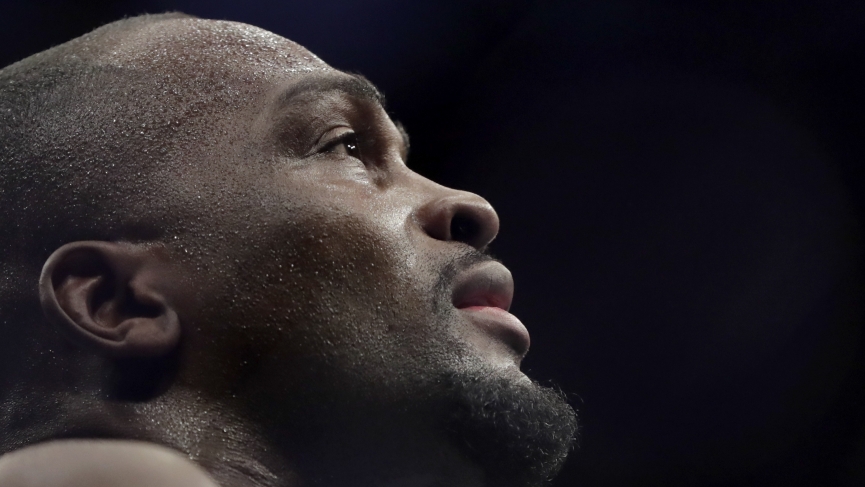 My Derek Brunson vs Edmen Shahbazyan pick came after the scheduled main event for Saturday's UFC Apex 5 fell out due to Holly Holm's scheduled opponent contracting COVID-19 the UFC had to do what they do best and pivot. Derek Brunson and Edmen Shahbazyan have been thrust into the main event slot and both men are looking to make a statement.
Brunson is attempting to re-establish himself as a contender after a bit of a rocky road the last few years and Edmen is the undefeated prospect looking to smash his way into title contention for the first time. The stakes are high and these high octane athletes are well deserving of the main event spot.
Derek Brunson vs Edmen Shahbazyan Odds
| UFC Apex 5 Middleweight Main Event | Derek Brunson | Edmen Shahbazyan |
| --- | --- | --- |
| To Win Outright | +225 | -278 |
Derek Brunson looked like he was on a rocket ship headed to the title in 2016 when he was on a 5 fight win streak with 4 coming by KO/TKO before he ran into Robert "The Reaper" Whittaker who we just cashed in on last week. Whittaker KO'd Brunson in the first round and sent him back to the drawing board. Since then Brunson has dropped back to back losses twice and seems to be re-inventing himself.
| | |
| --- | --- |
| UFC Fighter | Derek Brunson   |
| Odds | +225 |
| Age | 36 years old |
| Height | 6'1 |
| Reach | 77' |
| Wins by KO/TKO | 11 |
| Win/Loss | 20-7 |
| Finish Rate | 70% |
The blitz attacks and speed combined with the power of Brunson have taken a back seat to the wrestling game we knew Brunson had, but never seemed to need or use. Brunson is on a 2 fight win streak after an uninspired win over Elias Theodorou, who is admittedly difficult to look good against, and a win over the surging Ian Heinisch. Brunson completely stuffed everything Ian had to offer and that win carries some weight! Now Brunson finds himself in a gatekeeper role where he is being asked to defend the contender's ranks from the newest would-be future champion on the block.
| | |
| --- | --- |
| UFC Fighter | Edmen Shahbazyan   |
| Odds | -278 |
| Age | 22 years old |
| Height | 6'2 |
| Reach | 68' |
| Wins by KO/TKO | 9 |
| Win/Loss | 11-0 |
| Finish Rate | 74% |
Edmen is the first and only fighter sponsored by Rhonda Rousey. The fact that she is not much of a manager but has put her stamp on this kid carries some weight for me and so far he has not disappointed. Shahbazyan is undefeated and nearly perfect in every way in the cage. He averages 4.11 significant strikes per minute only absorbing only 2.16 marking just how solid he is defensively considering his high output.
Edmen is primarily a boxer, but also knows exactly what he has to do to win a fight and is more than capable of taking his opponents down when he needs to as shown by the 8 takedowns he landed on Darren Stewart in his UFC debut. For being just 22 years old the fight IQ on Edmen is unreal and I expect him to fight for a title sooner rather than later.
Derek Brunson vs Edmen Shahbazyan: The matchup
Edmen Shahbazyan is just an unreal next-level talent. He has all the right people around him and seems dialed in for a 22-year-old. Even though he will be at a 3-inch reach disadvantage in this fight I believe he will know just what he needs to do defensively to make up for it. I do not expect Brunson to charge in like a raging bull and get KOd, he does appear to have learned from his past losses and that game plan is on the shelf.
What we can expect to see from Brunson is takedowns as he looks to stifle the striking offense of Edmen and I believe that Edmen will be prepared and more than up for the challenge of defending those takedowns. If Edmen is able to use that wrestling in reverse and keep the fight standing with Brunson he should be fully capable of a win here. Brunson may have great athleticism and speed, but Shahbazyan has timing and power.
Derek Brunson vs Edmen Shahbazyan Pick
I believe Shahbazyan will be able to continue his streak here and might even touch that already cracked chin of Brunson. Brunson has been KOd 5 times in his MMA career and he is facing possibly the hardest hitter he has faced to date in Eden on Saturday. Not only is Brunson a little on the damaged side he isn't getting any younger. 36 is by no means old, but after the losses he has suffered in MMA then that drop off at the end of a career can come up much faster than anticipated.
I am sold on Edmen and I will ride this train until it gets derailed. It is chalky, but I think Edmen wins this fight and will be willing to lay the wood here. You can always look for an inside the distance prop if you believe Edmen will add to his current 3 fight finish streak or use him in a parlay.
The Pick: Edmen Shahbazyan -278