Spicely vs Perez Pick and Borg vs Maness Best Bet – Brunson vs Shahbazyan Undercard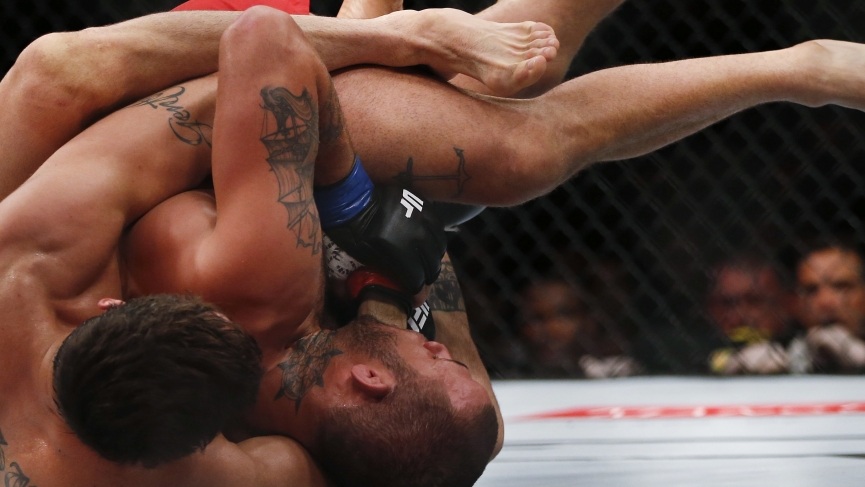 We are back to the Apex in Las Vegas for my Spicely vs Perez pick and Borg vs Maness best bet. The finale for UFC Fight Island was full of unexpected results and insane battles. We went to absolute war with the sportsbooks and barely squeezed out a win, but it's already back on the grind for us now. We are in for a shift of location as the UFC heads back to the UFC's Apex and back to the smaller cage.
This is something we are going to have to keep in mind moving forward since all the angles we previously were looking at will have to be adjusted due to this arena shift. Let's preview the undercard and look for some good spots to get rolling back state-side.
Eric Spicely vs Markus Perez Odds
| UFC Apex Middleweight Bout | Eric Spicely | Markus Perez |
| --- | --- | --- |
| To Win Outright | +170 | -200 |
Eric Spicely is attempting to mount a second UFC run and really needs a win Saturday. Spicely fought his way to the UFC back in 2016 and went 2-4 in the organization that was ended with a 0-3 run with all 3 losses coming by finish. After going back out on the regional scene and getting 2 finish wins he was brought back for another shot but seems to just be used to make other fighters look good.
| | |
| --- | --- |
| UFC Fighter | Eric Spicely |
| Odds | +170 |
| Age | 33 years old |
| Height | 6'1 |
| Reach | 73' |
| Wins by Submission | 6 |
| Win/Loss | 12-5 |
| Finish Rate | 83% |
| | |
| --- | --- |
| UFC Fighter | Markus Perez |
| Odds | -200 |
| Age | 30 years old |
| Height | 6'1 |
| Reach | 73' |
| Wins by Submission | 6 |
| Win/Loss | 12-3 |
| Finish Rate | 75% |
Eric Spicely vs Markus Perez: The Matchup
Spicely went to war with Deron Winn in June of 2019 and absorbed 169 significant strikes in a fight where he got the raw end with the smallest fighter in the division. Since then Winn has gone 0-2 and has not looked at all impressive. Markus Perez has alternated wins and losses recently but has set a bit of a trend for himself. Perez is a finisher. When Perez cannot get the finish he tends to lose a decision, but the main key is that those opponents have to be hard-nosed, durable, wrestlers.
The 3 foes Perez has lost to were Erky Anders, Andrew Sanchez, and Wellington Turman who were able to safely avoid the submission offense and stifle Perez's offense. I simply do not find that Spicely will be capable of repeating that. Spicely is mean and dirty in the clinch and that is a path to victory for him, but Perez should be able to control the range and avoid those dangerous spots. This fight can absolutely hit the mat and if it does Spricely knows what he is doing, but Perez has legit BJJ.
Spicely vs Perez Pick
What we see from time to time is that fighters who share a common base tend to think they can out-do one another in another area they are both lesser fighters in. This fight might end up being a striking battle and if that is the case I think Perez can win based on volume. I think that Spicely is going to end up getting cut from the UFC again.
The Pick: Markus Perez (-200)
Ray Borg vs Joseph Nathan Maness odds
| UFC Apex Featherweight Bout | Ray Borg | Joseph Nathan Maness |
| --- | --- | --- |
| To Win Outright | -190 | +155 |
Ray Borg is always in a really tough spot. He's too small for 135, but he cannot seem to complete a weight cut to 125 properly. At 125 Borg is a machine and can manhandle just about everybody he faces, but at 135 his size has caused him some real issues when facing bigger stronger grapplers who he cannot overpower.
| | |
| --- | --- |
| UFC Fighter | Ray Borg |
| Odds | -200 |
| Age | 41 years old |
| Height | 5'4 |
| Reach | 63' |
| Wins by Decision | 6 |
| Win/Loss | 13-5 |
| Finish Rate | 54% |
| | |
| --- | --- |
| UFC Fighter | Joseph Nathan Maness   |
| Odds | -200 |
| Age | 32 years old |
| Height | 5'10 |
| Reach | 72' |
| Wins by KO/TKO | 4 |
| Win/Loss | 11-1 |
| Finish Rate | 54% |
Ray Borg vs Joseph Nathan Maness – The matchup
Borg is a grappler and a special talent, but he HAS to find his way back to 125 and it seems like the UFC is only interested in giving him matches at 135 due to his previous issues. Borg showed off some impressive and improved striking against Ricky Simon in his last fight, but Simon may have been the worst possible matchup for him.
Saturday Borg is welcoming Maness to the UFC and the big question mark here is what Maness can do on the mat. Maness is an extremely impressive striker with some heavy hands, but what we really haven't seen in his MMA career so far is his grappling ability. If he has even a small chink in his armor Borg will find it and expose him and that's the only way I can look.
Borg vs Maness Best Bet
Borg is a proven UFC commodity and even though I absolutely hate this price on him at 135 I can't ignore the fact that he is battle-tested. If you can tweet me a video of Maness stopping some serious takedowns then I will roll the dice on the dog here, but until that happens I have to side with the fighter who I know is going out there to do one thing and one thing only.
Borg will just wear you down over the course of 15 minutes with never-ending chain grappling attacks and the issue most fighters face is not defending the first, it's defending the 2nd, 3rd, and 4th attempts and eventually, you succumb and end up on your back. After doing everything you can to get up he just sits you right back down. You can see the will to fight to the death in the eyes of Borg's opponents and I think welcoming a new fighter to the UFC is a big enough step down that Borg should get right here.
The Pick: Ray Borg -227