Azure vs Kelleher Odds to Win UFC Fight Night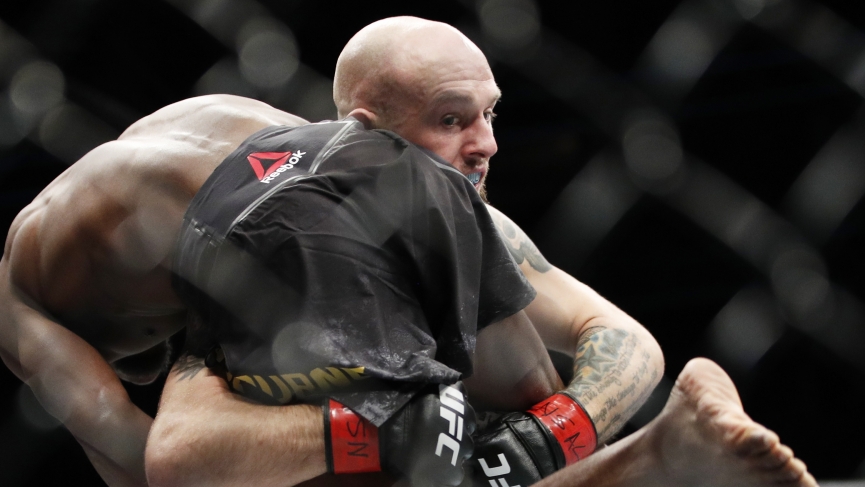 With UFC 249 behind us, we finally have live sports back and we will have UFC picks to bet on. I would personally be happy with just having our regular UFC schedule back, but we are getting much more than that. To make up for lost time Dana White has decided to make up for lost time and is giving us 3 events in 8 days!! For die hard MMA fans, like me, this is the greatest gift Uncle Dana could have ever given us and we are looking to take full advantage of this chance to make some money!
UFC Fight NIght Smith vs Teixeira is taking place Wednesday 5/13/2020 at the VyStar Veterans Memorial Arena and due to the COVID19 pandemic there will be no fans in attendance for the event. We can tune in via ESPN+ for all the beautiful violence and there is bound to be some. Fight Nights do not carry the heavy hitting name value like a numbered UFC pay per view event will, but in my opinion, these smaller cards offer some of the best opportunities for betting and action! These are lesser-known, hungrier fighters who are looking to make a name or they are fighters just past their prime looking to re-establish themselves in the division or make one last run at the title. When you throw all those elements in together you tend to get fireworks.
Hunter Azure vs Brian Kelleher: The Basics
Just the second fight of the night is one that I think we need to pay attention to! Brian "Boom" Kelleher was facing back to back losses for the first time in his UFC career but was able to potentially save his job by showing up big in his last fight against Ode Osbourne. In the UFC the magic number for losses tends to be 3. Fighters who are exciting and fan friendly might get a 4th shot at getting a "W" or if the UFC is heading to a market they are interested in and want to push a local fighter they will lead a losing fighter to slaughter in order to shine on their local star, but generally, you get cut after dropping 3.
Kelleher was being looked down on by most bettors after his 2 fight skid and many thought he was a sacrifice for rising prospect Ode Osbourne, but Kelleher blew the brakes off him and submitted Ode in the first round of their contest. The UFC does not appear interested in giving Kelleher an easy path as they are giving him to undefeated Hunter Azure come Wednesday night. Hunter is 8-0 with only 1 UFC fight under his belt. The experience edge will be on the side of Kelleher in this fight, but it seems almost as though he UFC wants to give Azure a favorable matchup to gain some experience.
Brian Kelleher (+145)
| | |
| --- | --- |
| Age | 33 years old |
| Height | 5'6 |
| Reach | 66' |
| Wins by Submission | 9 |
| Win/Loss | 20 – 10 |
| Finish Rate | 80% |
"Boom" has fast hands, solid footwork, and sharp counter boxing. One of his best weapons is his counter hook and he is always looking for it. He can throw spinning attacks and has a good reliable chin and excellent recoverability when he does get rocked. Recently Kelleher looks to have leveled up his wrestling game, showing off some serious explosive takedowns against Ode in his last fight. If Kelleher gets you on the floor he has a very offensive submission attack. He stays heavy on top of his opponents and if he can find his way to your neck he will choke you unconscious.
Hunter Azure (-165)
| | |
| --- | --- |
| Age | 28 years old |
| Height | 5'8 |
| Reach | 69' |
| Wins by KO  | 3 |
| Win/Loss | 8-0 |
| Finish Rate | 50% |
Hunter Azure fights out of Arizona and until recently trained at the MMA Lab who are known for their wrestling products. Recently he made the move to Fight Ready where current champ Henry Cejudo trains. Fight Ready is my current favorite gym in the world of MMA.
In combination with NeuroForce1, Fight Ready is transforming fighters into complete monsters and you can't get a better wrestling coach than Olympic gold medalist Henry Cejudo. Hunter attacks with powerful body and leg kicks looking to chop his opponent down and bank damage for the later rounds. He has heavy hands and excellent killer instinct swamping when he has his opponents hurt. Hunter has a phenomenal 75% takedown defense rating against his last opponent Brad Katona who is a very skilled wrestler himself.
UFC Picks for this matchup
The way I see this fight playing out is Hunter stalking Kelleher and hurting him. Being the bigger and more physical of the two fighters is going to aid him here and he will be able to cut Kellcher off and attack his legs and body to slow him down. Kelleher won't have much of a way to get this fight to the mat.
I expect Hunter will be more than able to stuff and shake off the offensive wrestling of Kelleher and if he cannot take Hunter down he won't be able to use that submission offense. Hunter is going to enjoy a 3-inch reach advantage and will force Kelleher to fight from the outside where he is not comfortable. I expect the bigger more damaging shots will come from Hunter and as long as he keeps this fight standing I expect him to rough up Kelleher for 15 straight minutes and if you don't want to lay the wood I think he is a perfect parlay piece.
UFC Pick: Hunter Azure -165