Austin Hubbard vs Joe Solecki Pick – Underdog Prediction UFC Vegas 7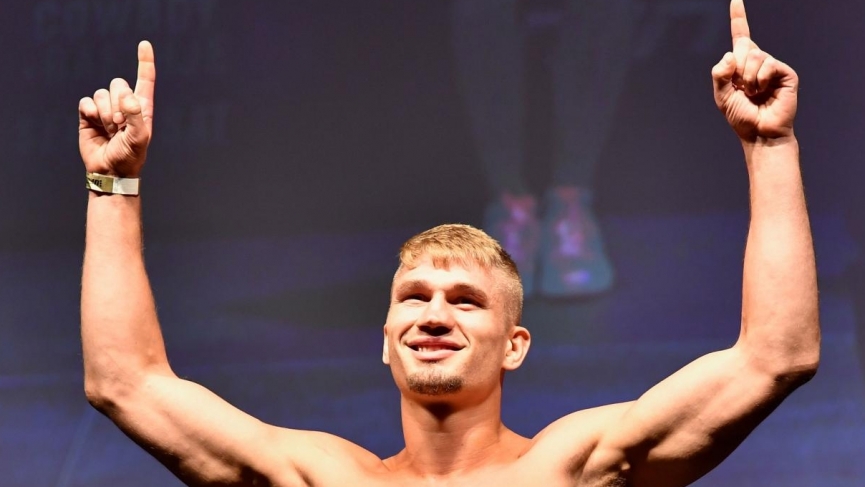 Let's take a look at my Austin Hubbard vs Joe Solecki pick. To be honest I could make a case for nearly every underdog on UFC Vegas 7. There are some cards that are chalk heavy but this isn't one of them. The lines at UFC Vegas 7 are extremely close and for good reason.
Most of these fighters have a chance in all of these fights, so you could toss a few darts and hit a dog this week. We, however, take a more refined approach to picking an underdog bet and I am eyeing one in particular.
To learn how I find my underdogs in more detail check out the full article here:
Austin Hubbard vs Joe Solecki Odds
| #UFCVegas7 Lightweight Bout | Austin Hubbard | Joe Solecki |
| --- | --- | --- |
| To Win Outright | +125 | -152 |
This week the UFC is pitting two of its brightest prospects against one another in a fantastic striker vs grappler match up. Hubbard was a home run bet of ours just a few short weeks ago when he derailed the hype train that was Max Rohskopf and now he is being put to the test. Joe is a UFC caliber fighter coming off the contender series and will be a much tougher fight.
| | |
| --- | --- |
| UFC Fighter | Austin Hubbard   |
| Odds | +125 |
| Age | 28 years old |
| Height | 5'10 |
| Reach | 71' |
| Wins by KO/TKO | 5 |
| Win/Loss | 12-4 |
| Finish Rate | 59% |
Austin Hubbard is a prospect that I am super high on. This kid trains out of Elevation with the likes of Cutis Blaydes, Neal Magny, and most importantly Justin Gaethje. Austin has been counted out in almost all of his fights so far and it appears he still has yet to earn the respect of the betting public or Vegas.
| | |
| --- | --- |
| UFC Fighter | Joe Solecki  |
| Odds | -152 |
| Age | 26 years old |
| Height | 5'9 |
| Reach | 70' |
| Wins by Submission | 6 |
| Win/Loss | 9-2 |
| Finish Rate | 78% |
Joe Solecki is a BJJ blackbelt with a strong offensive grappling game who comes to us from Dana White's Contender Series. Joe attracted a lot of hype because of his style and high finish rate and rightfully so. Joe made a successful UFC debut against Matt Wiman back in December and did whatever he wanted to the UFC vet. I have high expectations for Joe in the future.
Austin Hubbard vs Joe Solecki Fight Criteria
Fight IQ
Hubbard is a striker and doesn't stop trying to do what he needs to do. The UFC has been testing Hubbard since day 1 when he made his debut against Davi Ramos and Hubbard has proven time and time again that he knows he needs to and can stand back up after being taken down and go to war.
Hubbard's takedown defense is solid and even though he has given up takedowns over his career it's been to some of the best wrestlers the division has to offer and he wears them out. Generally, the man being taken down gets tired, but Hubbard makes them work so hard by the 3rd round they are wheezing and he is ready to crack. Hubbard's IQ is not in question.
Chin
Hubbard has shown no signs of any type of durability issues. He was submitted once way back in 2016, but a younger and greener Hubbard was to blame for that. Since that one loss, Hubbard has not been finished and he has taken big leaps up in competition. Surviving against names like Mark O. Madsen and Davi Ramos with the offensive power and threats they bring to the table leaves me without doubts.
No Quit
I touched on it already, but Hubbard never quits. Basically all of his UFC fights have gone the same. He understands that his opponents do not want to strike with him and they sell out to put him on the mat. Hubbard is experienced in wrestling and gets up over and over and over again until finally his opponents are either gassed or demoralized.
Once Hubbard has an opening he goes to work striking and is a very real threat late. Hubbard made Max Rohskopf quit on the stool and was one good shot away from making Madsen take a canvas nap after one of the most grinding fights I've ever seen. This is probably the most reliable checkmark of the criteria that I can give.
Power
Austin is a finisher! Granted in the UFC he doesn't have many, but he is still growing accustomed to the higher level of competition he is required to face now and that can take some time. He is still only 28 years old and fighting names like Davi frickin Ramos who is damn near impossible to finish. Before his UFC run, Max accumulated 7 finishes and he is capable of winning by both knockout and by submission.
Austin Hubbard vs Joe Solecki Pick
Austin Hubbard is one of my under-the-radar fighters. He is at a great gym with champion level training partners and all the tools and attributes you might need to rise through the UFC ranks. He has had a rough run in the UFC due to the level of competition he has faced, but when he gets other fighters around his level he shows his true potential. This is a great fight and I am not intending to disrespect Joe Solecki, but this is the same fight that Hubbard has had since he got into the UFC.
Thud has to face a high powered grappler who will attempt to put him on his back and then choke him out once he is there. The issue is that nobody has been able to do it so far. Mark O. Madsen is a better wrestler than Joe Solecki is. Davi Ramos is better at BJJ than Joe Solecki is. Yes, Joe might have a combination attack that is better suited for MMA, but Hubbard took everything both more experienced men had to offer and kept coming.
Believe it or not, this fight could count as a step down in competition from what Hubbard is used to facing. Yes, Joe is a better and more experienced fighter than Max, but not counting him this is another young prospect rather than a grizzled veteran. Hubbard is on the right path and getting rounds with Justin Gathje who is training for Khabib should have him ready to go defending takedowns here.
Hubbard has access to Neil Magny and Curtis Blaydes who will have that takedown defense primed and ready. I am going right back to the well! As long as Vegas keeps making Hubbard an underdog I am going to continue betting on him. The trick here is trying to get the best number. So many people are high on Joe Solecki that I am going to wait just a bit longer. We want that Solecki money to trickle in and give us some extra value on Hubbard.
The Pick: Austin Hubbard (+125)