Alex Caceres vs Kevin Croom Pick: UFC Vegas 20 Predictions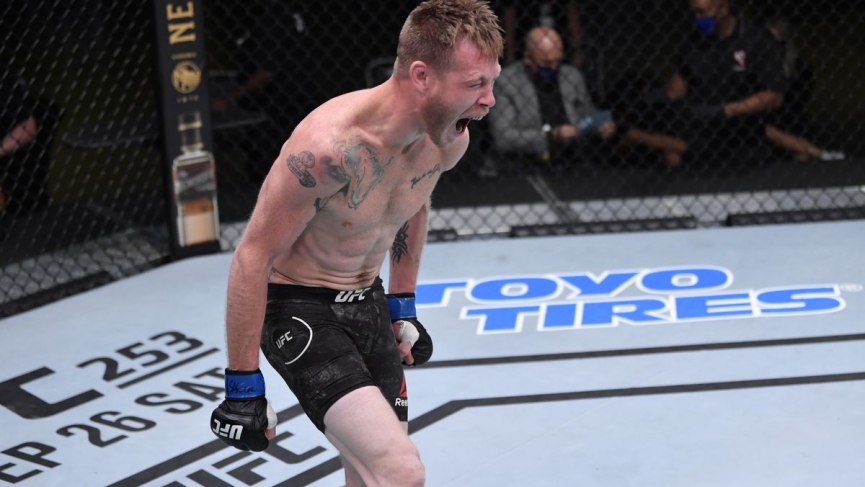 Alex Caceres vs Kevin Croom Pick: UFC Vegas 20 Predictions: The underdog in the UFC has gone 27-42 so far in 20201 for +5.31 units profit, an ROI of +7.7% per fight, win or lose. Clint MacLean breaks down his favorite underdog for UFC Vegas 20.
If you want more picks for UFC Vegas 20, check out the entire DieHardMMA Podcast for this week's UFC event.
Alex Caceres vs Kevin Croom Odds
| UFC Vegas 20 Odds | Alex Caceres | Kevin Croom |
| --- | --- | --- |
| To Win Outright | -195 | +180 |
| Inside the Distance | +400 | +325 |
| by Decision | +100 | +600 |
| Total Rounds | Over 2.5 (-179) | Under 2.5 (+160) |
| Fight Goes Distance | Yes: -163 | No: +138 |
| Where/When | UFC Apex, Las Vegas | Sat, Feb 27th, 5:00 PM ET |
So far, in 2021, underdogs have been hitting around 40%. This is a ridiculous stat and something that can only happen in the sport of MMA. Over the year, you would expect this number to revert back to the standard, but we need to attack while we can. The dogs are barking!
The Fighters: Caceres vs Croom
| UFC Featherweights | Alex Caceres | Kevin Croom |
| --- | --- | --- |
| Record | 17-12 | 21-12 |
| Finish Rate | 53% (3 Wins by T/KO) | 77% (10 Wins by Submission) |
| Age | 32 | 33 |
| Height | 5'10 | 5'11 |
| Reach | 73′ | 73′ |
Alex Bruce Leeroy Caceras is one of those rare fighters who made it to the big show too early. We have watched Caceras for a long time, and he has essentially grown up in front of our eyes, but he has never really found his groove. Caceres is a rangy and flashy striker who is an excellent test for young talent in the UFC, but he has a hole in his ground game. Caceres has settled in as a gatekeeper but is on a roll for the first time in a long time with a three-fight win streak.
The Hard-Hitting Hillbilly took the long road to the UFC. A career mixed martial artist with a ton of experience, Kevin Croom is finally getting his shot in the big show! Croom made his UFC debut short notice against Roosevelt Roberts and pulled off a massive upset with a submission win in 31 seconds. Croom is looking to keep that momentum and notch his second win in the UFC on Saturday at UFC Vegas 20.
UFC Vegas 20 Underdog Criteria
Fight IQ
Kevin Croom is a pressure fighter, but everything he does is laser-focused on the goal of putting his opponent away. The UFC Featherweight corals his opponents and looks to suck them to the ground and take their backs so that he can put his BJJ brown belt to good use. Croom is training out of Glory MMA & Fitness, which is headed by fellow UFC fighter and rising star coach James Krause who has put the world on notice. The fighters coming out of Glory MMA & Fitness are ones who most fans and bettors have written off, but under Krause's guidance, they have come out with intelligent game plans and have looked better than ever.
Chin
Kevin Croom is a wild man. There is a bit of an issue with his having been finished several times in his career. Croom has four losses by KO/TKO and four by submission, and I cannot pretend that doesn't bother me. Once again, I have to point to his recent working with James Krause and the fact that Croom appears to have turned that corner in his career. Croom is on a four-fight win streak with 2 of the four coming by finish and has not been put away since 2017. That's good enough for me when Croom is facing Caceres, who is unknown for his finishing ability.
No Quit
Kevin Croom has one direction, and that is forward. It doesn't matter if he is down two rounds or if he is tasting his own blood Kevin Croom is a dog that will fight for your money, and that's exactly why we are taking a look at him this week. Croom is dangerous until the fight is over, or he goes out on his shield. The perfect warrior if you are looking for your money's worth.
Power
Kevin Croom is a vicious combination of striking power and deadly submissions. The club and sub is something that is one of my favorite offenses in MMA and Croom is pretty great at it. Croom can hit you hard enough to put you out with a single shot on the feet, and he is slick enough to catch you on the mat. With a 77% finish rate, this kind of finishing power is what we look for to make sure if our fighter is down a round or two, we are never out of the fight.
Alex Caceres vs Kevin Croom Pick:
UFC Vegas 20 Underdog Best Bet – Kevin Croom (+170 via Bet365): I like Kevin Croom here. The Hard-Hitting Hillbilly has come out of nowhere and is streaking right now. I like what I see from him, and maybe even more than what I like from Kevin; I like what I see from Glory MMA & Fitness. James Krause is an extremely hard-working and intelligent fighter who I love putting my money behind, and he is putting underrated fighters on the right track. The recent transformation that Glory has undergone is something that I can't get enough of, and I am actively looking to bet its members, especially at an underdog price tag on the UFC odds board.
Alex Caceras is a gatekeeper at this stage of his career, and if he wasn't always fighting the UFC's newcomers and short notice fighters, he would not even be a .500 fighter. Caceras shouldn't be a -200 favorite over nearly anybody, and here we find him exactly in that spot. Caceres struggles when he cannot control the range, and the pace of the fight and the only reason he has been able to do so is his recent subpar competition. When a fighter like Croom crowds Caceres and never lets him get settled, we have seen Caceres flounder. And while Caceres is a BJJ blackbelt, he seems to struggle with his submission defense. Seven of Alex's twelve losses have come by way of submission, which is a significant factor for me with Croom's offense. I am backing the dog here at a very nice price, and I am sprinkling that submission prop at +450 to go with it!