Tampa Bay Buccaneers vs Chicago Bears Pick – NFL Week 5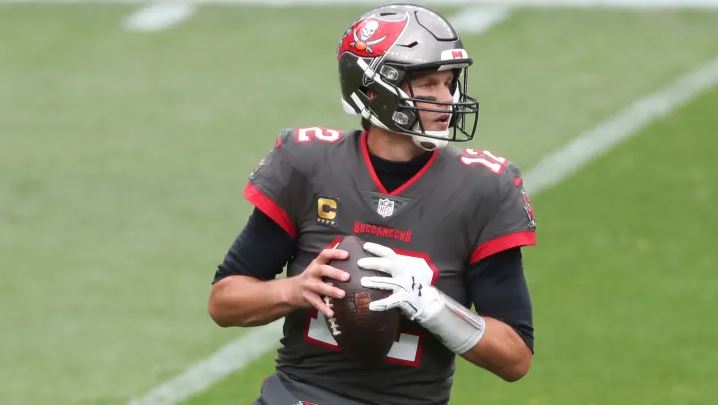 Odds.com's Tampa Bay Buccaneers vs Chicago Bears Pick for NFL Week 5: Matt Nagy and the Chicago Bears have failed to bounce back and cover after a loss, in 8 of their last 9 attempts. They host Bruce Arians and a Tampa Bay Buccaneers team that has gone 4-0 in their last four games as road favorites. 
| | | |
| --- | --- | --- |
| NFL Betting | Tampa Bay Buccaneers | Chicago Bears |
| Best ATS Line | -4.5 (-109) | +5.5 (-110) |
| Total | Over 43.5 (-115) | Under 44.5 (-110) |
| Where/When | Soldier Field | Oct 8th, 8:20 PM EST |
The Tampa Bay Buccaneers are 3-1, and in first place in the NFC South Division, with a one-game lead over the New Orleans Saints, and Carolina Panthers, who both own even 2-2 record. The Chicago Bears are off to solid 3-1 start and find themselves in second place, one game behind the juggernaut Green Bay Packers, who are tied with the Seattle Seahawks with perfect 4-0 records for the NFC top spot.
Is Brady Really 42 Years Old?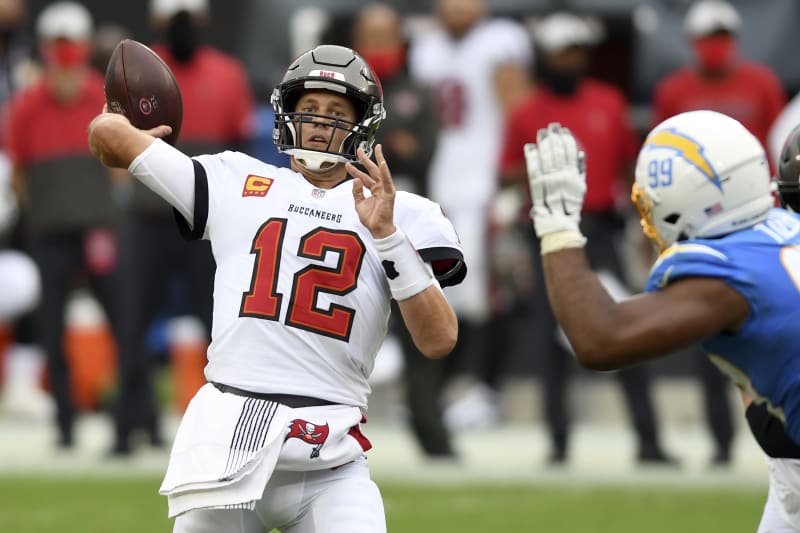 In the last incredible effort by Tom Brady, he and the Bucs found themselves trailing the San Diego Chargers by 17 points, 24-7, with 1:37 left in the second quarter, after the Chargers Badgley converted a 53-yard field goal. Brady got the ball and scored a touchdown in 1:15 to Mike Evans making it 24-14 at the half. Brady threw two touchdowns to start the third quarter giving the Bucs the lead at 28-24 marking 21 unanswered points.
With 11:05 left in the game, Brady completed his fifth touchdown pass of the game giving the Bucs the lead that they would not give up. Brady completed 30 passes on 46 pass attempts, for 65% completions, 369 passing yards including five touchdowns, and one interception. He earned an outstanding 117.0 quarterback rating and played as well as any of his great games over the last 20 seasons.
Quarterbacks Who Throw 5 Touchdowns or More.
Since 2002, there have been 98 times that a quarterback threw for five or more touchdown passes, and their team records in these games are 83-13 straight-up (SU), for 87% win percentage, and 78-15-5 against the spread (ATS), for 84% winning bets. Those results are not surprising so let us drill a bit further into the database.
The next question to ask the all-knowing clairvoyant database is which quarterbacks have thrown for five or more touchdowns the most times since 2002. At the top of the list is Drew Brees, who accounts for 11% of the 98 times with 11 games. Third on this list is Tom Brady with 8 games including three games with 6 touchdowns, and five having thrown five touchdowns.
There have been 38 QBs, who have thrown for five or more touchdowns since 2002. The top-4 names starting with Drew Brees (11), Peyton Manning (10), Tom Brady (7), and Ben Roethlisberger (6), account for 35% of the 98 times a QB threw five or more touchdowns.
How Do Quarterbacks Do After a 5 TD Game?
In the game following a five-touchdown performance Brady, all with the New England Patriots have earned a 6-1 SU record, and 4-3 ATS mark, for 57% winning bets, and a solid 5-2 'OVER' wager. Peyton Manning earned an 8-2 SU mark, for 80% wins, and a 7-3 ATS mark good, for 70% winning games. Big Ben Roethlisberger has earned a 5-1 SU, but a poor 2-4 ATS mark good, for only 33% winning bets, and Drew Brees a 6-5 SU mark but losing 5-6 ATS mark following a five or more-touchdown performance. Combined with a group of these four legendary QBs has produced a 25-9 SU mark, for 74% wins, and a mediocre 18-16 ATS mark, for 53% winning bets. Betting the 'OVER' sticks out in a big way, boasting a 23-10-1 ATS makes good, for 70% winning bets since 2002.
Peyton Manning is retired, so let us substitute Russell Wilson in the place of him to get results for the top-4 active players. Wilson has five games in which he threw for five or more touchdowns. This group of four supports the 'OVER' as well with a solid 18-9-1 mark good for 67% winning bets. Overall, a 21-7 SU record, for 75% wins, and a mediocre 15-13 ATS mark good for 54% cashing tickets.
Tampa Bay Buccaneers vs Chicago Bears Pick:
The Machine learning models project that Brady will throw for more than 275 yards and that both teams will score at least 23 points. In past games, in which the Bucs met or exceeded these measures, the 'OVER' has earned an incredible 45-2 record, for 96% winning bets since 2000, and when on the road they are 12-0 'OVER' since 2015.
The Bears in home games since 2015, and allowing 275 passing yards, and both teams scoring 23 or more points has seen the 'OVER' win the money 100% of the time with a perfect 15-0 record since 2000. Take the 'OVER' as a Best Bet NFL Pick when the Bears host the Bucs Thursday Night.
The best current price on the Over is at 44 (-115) via BetMGM