Patriots Predictions – Season Win Totals With Cam Newton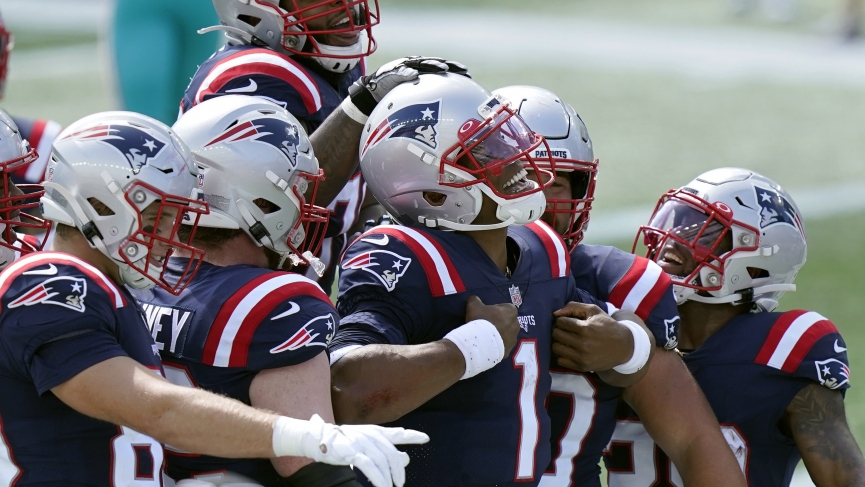 The Patriots look like a Jigsaw Puzzle with a couple of pieces gone. Now with Cam joining the team, let's look at the Patriots predictions on how many games they will win this upcoming season.
Belichick the Great putting the puzzle back together
ICYMI, Bill Belichick, the head coach in Foxboro, holds in his possession, 6, count them 6, NFL Super Bowl Championship Rings. Arguably the greatest head coach ever to walk the sidelines. Today, his New England Patriots will have to figure out who they are by finding a new identity in the post-Brady era. What is the mission here and how are they going to get there? If there is ever a coach in the history of the NFL that can solve the puzzle, it is indeed Bill Belichick. The master, the brain trust, the wizard, in a single word, Genius.
Bill Belichick just signed Cam Newton.

COMING FOR THE AFC EAST pic.twitter.com/v9YGMMXFI9

— SAVAGE BOSTON🍀 (@SavageBoston) June 29, 2020
You see, Hoodie always had a master plan that was always focused around Tom Terrific. We have seen a ton of heir apparent quarterbacks to Tom's throne waiting for his departure to get their shot, many have come and gone. Now that that train has left the station, enter Cameron Jerrell Newton, better known as Cam, aka Superman. The head-scratcher here is why would the Patriots gamble on a player who is coming off a major injury and has been almost 2 long years since we've seen him on a football field?
It's a really simple answer. The Patriots are basically getting him for a song and a dance. Cam's guaranteed salary, a paltry $1.05 million, which is the league minimum for a veteran player. Cam has a ladened an incentive deal that could bring his earnings up to $7.5 Million. He has earned almost $21 Million annually over the past 5 seasons just to put things in perspective, this is a massive pay cut. His replacement in Carolina, Teddy Bridgewater will earn $63 Million over the next 3 seasons.
The 2nd coming of Cam
Does Cam have some greatness left in that once NFL MVP tank? Cam is one tough hombre, plain and simple. He possesses a very physical presence on the field and must be precieved on every play as a major threat when the ball is in his hands. His style of play reminds me of that of the classic college QB, the ultimate dual-threat player. In contrast here to the smaller and lightning quick players like Lamar Jackson or Roger Vick, Newton possesses a more physical threat. Where he may lack in quickness, he makes up for in stature. He can knock you back while running with the ball, he's very hard to tackle, and bring down.
Edelman: "Okay Cam, it's like 50-7 and I got like 200 and 3 touchdowns. You think you can throw a couple to Jakobi, Mohammed, or N'Keal?"

Newton: "Just catch the damn ball" pic.twitter.com/bU7vyL2zIc

— Boston Cream 🍩 (@itsbostoncream) June 30, 2020
Even with the shoulder injury, he was able to have success throwing to his left and down the center of the field. Throwing to his right was a whole different story. Now we will get the healthiest version of himself since early game 1 of the 2018 season. It should make for some very interesting play calling scenarios for Josh Daniels to make work, in that complex offense he runs. You will definitely see some new wrinkles here.
The 2020 Patriots Season Win Totals
We will assume that a 16 game season will be played in order for this to make sense. In 20 years as head coach in New England, only 2 times did Belichick not win at least 10 games in a season. His first year as head coach in 2000 went 5-11 and year 3 in 2002, where he was 9-7. Every other season, he won 10 plus games or more.
Let's look at this schedule and see how I like the win total numbers play.
| Week | Date | Opponent |
| --- | --- | --- |
| 1 | Sept. 13 | Dolphins |
| 2 | Sept. 20 | Seahawks |
| 3 | Sept. 27 | Raiders |
| 4 | Oct. 4 | Chiefs |
| 5 | Oct. 11 | Broncos |
| 6 | | Bye |
| 7 | Oct. 25 | 49ers |
| 8 | Nov. 1 | Bills |
| 9 | Nov. 9 | Jets |
| 10 | Nov. 15 | Ravens |
| 11 | Nov. 22 | Texans |
| 12 | Nov. 29 | Cardinals |
| 13 | Dec. 6 | Chargers |
| 14 | Dec. 10 | Rams |
| 15 | Dec. 20 | Dolphins |
| 16 | Dec. 28 | Bills |
| 17 | Jan 3 | Jets |
Last year the Pats had a 12-4 season, with losses to 3 playoff-bound teams in Baltimore, Houston, Kansas City, and again another shocking regular season-ending loss to the Dolphins at home. It cost New England their home field advantage with an early upset loss at home vs. the Tennessee Titans 20-13 while hosting the Wild Card Game.
This 2020 roster, talent-wise is on par with last year's team. No major standouts here offensively to speak about with this rag tag bunch. So how did the Pats manage to win 12 games last season you ask?
The Genius and the leagues #1 defense, that's right defense. Both will be back in 2020.
Vegas Books have the Patriots Win Totals set at 9.5, looking at this schedule, New England will come away with a benchmark 10 win season once again here. Plug & play Cam & company are here to carry the load and push the New England Patriots over the total.
My Play: Over 9.5 wins
See you on the Field,
The Big Ragoo