Week 1 NFL Picks: NFC Early Look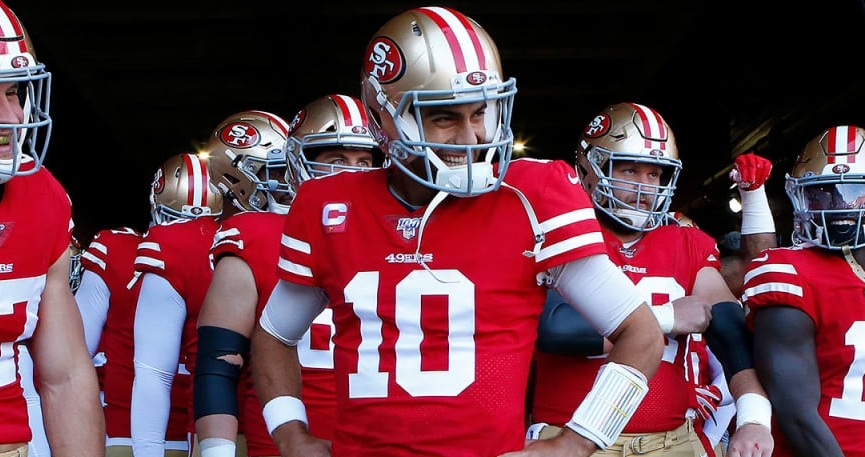 Odds.com is getting the early jump on the betting marketplace. NFL picks for week one in the National Football Conference, let's do it! The NFC is a stacked conference with many teams having a realistic path to the Super Bowl. Every week counts at Odds.com. So, let's take a look at NFL Week 1 odds and share some insight to help make the right NFL pick.
Seattle Seahawks at Atlanta Falcons
Every year the Seahawks field a roster that is not impressive and NFL analysts say this is the season they fall off. Every year Seahawks coach Pete Carroll proves his detractors wrong by going against the norms and conventions of the modern NFL while still finding a way to win. This is a testament to Pete Carroll's ability to teach and motivate, which I find quite underrated amongst NFL observers and gamblers.

<!–– MetaBet Message: No odds for an upcoming game found for '456977' ––>

The Falcons on the other hand, always come into a season full of hype and expectations. Then they often fail to meet these expectations. Julio Jones is one of the most gifted receivers in the NFL and QB Matt Ryan has a penchant for finding him when he needs a big play. The Falcons have a star-studded offense and can put up points. Their downfall last year was their defense.
Falcons coach Dan Quinn was brought in for his defensive expertise and, to be fair, last year his defense was racked with injuries that caused them to look much worse then I believe they actually are.

Yet it's still hard for me to believe in this Atlanta team. I'll take the Seahawks in this matchup. I know the effort I'll get from the Seahawks and Russell Wilson, and it's a tier above Matt Ryan. The Seahawks traditionally are a poor road team but last year they did quite well on the road. I expect that trend to continue.

Lean: Seahawks pk
Philadelphia Eagles at Washington Redskins
Eagles fans were not happy with their draft. Second-round pick Jalen Hurts is an unpopular insurance premium against Carson Wentz's health. Still, the Eagles are a talented team featuring many players with Super Bowl experience. Coach Doug Pederson gives the Eagles an edge on the offensive end. If anyone will be able to match up with the Eagles offense, it is the Washington Redskins defense. Taking a page from the Eagles playbook, the Redskins have stacked their defensive line. First-round draft pick Chase Young seems to be a "can't miss" prospect. I expect him to make an immediate impact for the Redskins.
The major concern for the Redskins will be quarterback Dwayne Haskins. Rumors about Haskins lack of work ethic, and his teammates not being fond of him are a concern. Give the Redskins credit however for surrounding Haskins with some pretty good talent as they expect to field an above-average defense. They also have talented offensive weapons on their roster, notably wide receiver Terry McLaurin. The Redskins hired Coach Ron Rivera who should do well creating a professional atmosphere around a team that has resembled a circus the past few years. We have an excellent opportunity to grab a large amount of points in a division game. I believe the Redskins and their upgraded defense can keep this game close at home.
Lean: Redskins + 6
Chicago Bears at Detroit Lions
Who will be the starting quarterback for the Bears? Mitch Trubisky will most likely start week one, but with Nick Foles nipping at his heels, he will need to perform in order to keep his starting job. The limited training camp indicates that Trubisky, with his familiarity in Bears coach Matt Nagy's offense, will win the starting job in week 1. A slow start will definitely usher in Nick Foles as the starting QB. With that in mind, it's important for Trubisky to get off to a fast start. He gets his chance Week 1 against a Lions franchise that has had trouble putting together winning seasons.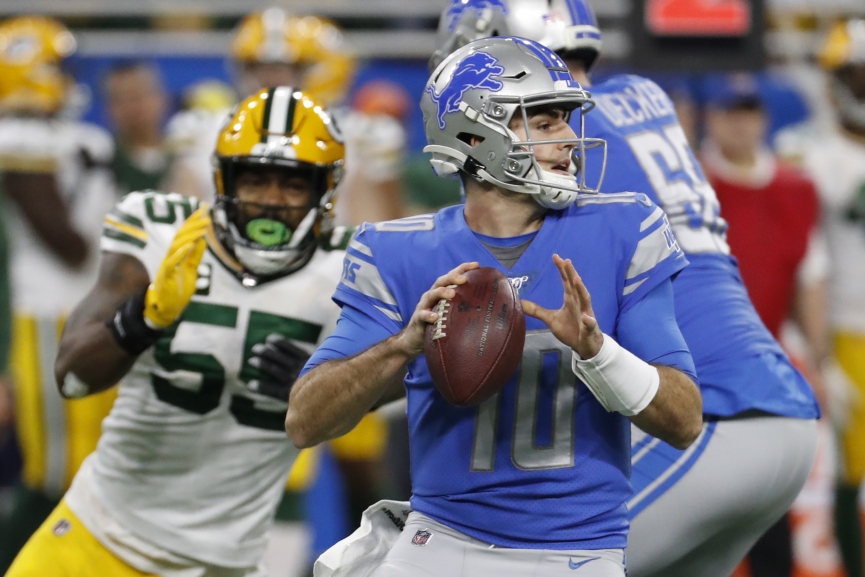 I don't believe the Lions are as bad as their record suggested last year. This team is definitely dependent on Matt Stafford and losing him essentially ended the Lions chance at making a playoff run last season. Matt Patricia has struggled in his attempt to recreate "The Patriot Way" in Detroit, and some players have turned against his abrasive, arrogant style. The Lions will definitely have the quarterback advantage here. A healthy Stafford should be keen to prove he is 100% back. I expect the Lions offense to look good against the vaunted Chicago Bears defense. This is a tough division game to call and I probably will not get involved, but I lean the Lions to win it at home due to the strength of their superior quarterback.
Lean: Lions -2
Green Bay Packers at Minnesota Vikings
Two teams that lost in the NFC divisional round face-off is a cracking game to start the season. An angry Aaron Rodgers will take the field while his future replacement sits on the sidelines. Rodgers and the Green Bay fans wanted a stud reciever in the 1st round of the draft. Regardless, Rodgers will have to make do with the weapons he has. I expect a steady dose of WR Davante Adams as he is quite superior to all Rodgers' other options at receiver. Rodgers is average on the road but he performs well against the division rival Minnesota Vikings, and that makes this a tougher game to predict.
The Vikings jettisoned malcontent receiver Stefon Diggs in the off-season. The Vikings drafted stud wide receiver Justin Jefferson from LSU to replace him, so there should not be much of a drop-off there. Minnesota quarterback Kirk Cousins performs well in these 1 pm EST games. The Vikings have a strong defense led by sharp defensive-minded head coach Mike Zimmer. Zimmer's schemes should give Rodgers a tough time. This is a tough game to call but I lean the Vikings with Cousins being in his preferred time slot. Rodgers is average on the road. This line probably won't move too much, so you have plenty of time to make your decision on this game.
Lean: Vikings -3
Arizona Cardinals at San Francisco 49ers
Will the Super Bowl hangover hit the 49ers? The 49ers were so close to winning the Super Bowl last year. One overthrown ball from Jimmy Garoppolo was the difference. If Garoppolo completes that throw, the narrative around this team is quite different. However, he did not make the throw and the 49ers lost the Super Bowl. They will now have to deal with the repercussions of that loss. Other than the Patriots, many teams have struggled to make the playoffs the year after losing a Super Bowl. Will the ultra-talented roster of the 49ers suffer the same fait?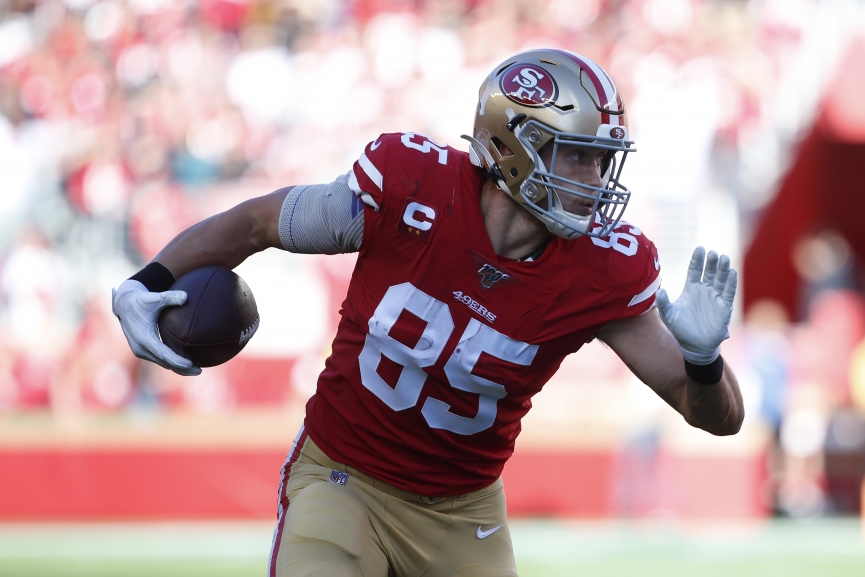 You have to like what Arizona did in the offseason. Drafting versatile linebacker Isaiah Simmons gives their defense in instant boost. They made a few under-the-radar signings to strengthen their defensive line. Most importantly, they traded David Johnson, who had become an overpriced backup for stud wide receiver DeAndre Hopkins. This gives second-year quarterback Kyler Murray an excellent number 1 option when making his reads. Hopkins should accelerate Murray's development immensely.
The Niners will look to start the season strong by washing the losing Super Bowl taste out of their mouth. Even in their dominating season last year, they struggled with mobile quarterbacks. Kyler Murray could give them the same type of problems. I expect the ascending Cardinals to give the Niners a close game and cover the spread.
Lean: Arizona +7.5
Tampa Bay Buccaneers at New Orleans Saints
Talk about must-see TV! Tom Brady makes his  Buccaneers debut against Brees and the New Orleans Saints. Once again the Saints are coming off a disappointing season-ending playoff loss. This time they lost in the Wild Card round to Minnesota at home. Regardless, the Saints have a talented roster and are definitely a Super Bowl contender behind their Hall of Fame quarterback.
Drew Brees will be facing another Hall of Famer in Tom Brady who left New England and attempts to turn the Buccaneers franchise around. Brady will be leaving a ball control, dink and dunk offense for Bruce Arians aggressive downfield attack. The tape last year does not suggest that Brady will be well suited for this type of offense, but betting against Tom Brady has not been profitable. Still, Brady is 43 years old and will face a tough task learning a new offense with limited training camps. The Buccaneers give Brady the most weapons he has seen in years, and this talented wide receiver corps could help elevate Brady to his former lofty status. I lean Saints here. They are more established in their system and have a more talented roster. Whatever the results, this should be an exciting game to watch.
Lean: Saints -4
Dallas Cowboys at Los Angeles Rams
The Cowboys provided the talking heads of the major networks plenty to discuss this offseason. You could not turn on a yelling/hot take/debate show without hearing mention of Dak Prescott's contract. The Cowboys increased their bargaining position by bringing in QB Andy Dalton as the backup. They made a greater splash when heralded wide receiver Ceedee Lamb fell to them at pick 17, bolstering their already talented offense.
They also parted ways with Jason Garrett and brought in Super Bowl winning coach Mike McCarthy, who should give the team a different feel. As discussed earlier, teams trying to implement new systems are at a disadvantage with the limited training camps that the 2020 season will feature. The Rams are looking to bounce back after a disappointing year where they suffered the infamous Super Bowl hangover. They jettisoned a lot of weapons that helped lead them to the Super Bowl, notably running back Todd Gurley and wide receiver Brandin Cooks. The Rams front office / fans have faith that their coach Sean McVay will still be able to scheme up wide-open looks for his quarterback Jared Goff.
The Rams also had some tough losses in free agency. However losing coach Wade Phillips might be more influential than any of the players lost. McVay brings in young coach Brandon Staley to be the defensive coordinator and this team will definitely have McVay's full stamp on it. The Rams, McVay, and Goff have plenty to prove this season as another losing campaign could cause panic amongst the LA fan base.
There is no reason to get involved early as there is uncertainty surrounding the Cowboys since they have yet to resign Prescott. I do lean the Cowboys. I'm not necessarily impressed with the Rams offseason moves. They will struggle without defensive coordinator Wade Phillips.
Lean: Cowboys pk