NFL Week 4 Props: Best Bets for Prime Time Football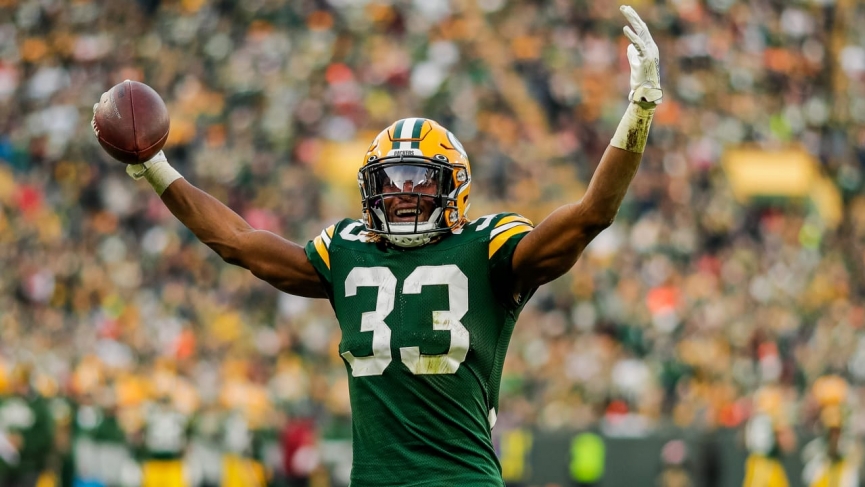 Odds.com's NFL Week 4 Props: Best Bets A 5-pack of NFL prop bets for the Sunday Night and Monday Night football games in Week 4 of NFL
NFL Week 4 Props: Best Bets
| | | |
| --- | --- | --- |
| Week 4 Match Up | Prop Bet | Best Odds (via Bet365) |
| San Francisco 49ers vs Philadelphia Eagles | Robbie Gould Over 7.5 Points Scored | -125 |
| San Francisco 49ers vs Philadelphia Eagles | Zach Ertz: Anytime Touchdown | +225 |
| Green Bay Packers vs Atlanta Falcons | Matt Ryan Over 304.5 Passing Yards | -120 |
| Green Bay Packers vs Atlanta Falcons | Calvin Ridley Over Receiving Yards | Not Yet Posted |
| Green Bay Packers vs Atlanta Falcons | Aaron Jones Over 1.5 Touchdowns | +125 |
SNF:  Robbie Gould Over 7.5 Points Scored (-125)
Robbie Gould is one of the more reliable kickers in the NFL and lately, a good kicker has been very hard to find. Gould has been good this season, he has missed one field goal but is still 6/7 on the year. He is also 9/9 on PAT attempts averaging 9 points a game between those and his field goals. He has been perfect from a short distance so far and his one miss comes from 50+ yards. He will be facing the Eagles on Sunday Night in a game that should see lots of scoring. The Eagles have not played well on defense this year so the 49ers will be able to move the ball up the field resulting in a few touchdowns giving Gould plenty of PAT attempts. Even if the 49ers fail to get into the endzone, they will set up Gould in a nice field position all night giving him some prime field goal opportunities. As long as this number stays under 9 the over on Gould's points is a solid play.
SNF: Zach Ertz: Anytime Touchdown (+225)
The 49ers have been pretty good when it comes to passing defense allowing only 187.3 passing yards per game. Those numbers might be a little padded as the last two games for this 49ers team was against the Jets and a banged-up Giants offense. Even still, the Niners defense is not to be taken lightly, and Carson Wentz will need all the help he can get from his big playmakers on Sunday night. Zach Ertz is one of these big playmakers and Wentz will have to look for him if they want a chance at winning this game.
Last year, Ertz was one of the best tight ends in the league. He has started out strong this year as well, he is 2nd on his team in receiving yards with 130 and 1 touchdown. Despite being 2nd on his team in yards, Ertz leads his team in receptions with 15 and targets with 24. Ertz is a big guy and can be hard to cover and tackle, except him to get some good yardage after the catch on Sunday too. He and Wentz have already built a great rapport together in years past and Wentz will sure look for him whenever he can here. He is the team's best option at getting the ball in the endzone so, if the price is right, Zach Ertz touchdown makes so much sense in this one.
MNF: Matt Ryan Over 304.5 Passing Yards (-120)
In their previous two games, the Falcons have taken a sizeable lead and proceeded to blow it losing the game. They face the Packers on Monday night in a game where the script could be a bit different than usual for them. This is a game where the Falcons will most likely be playing from behind the entire time so the run game will probably have to be abandoned at some point.
Matt Ryan will have to try to pull off a comeback through the air. On the season, Ryan is averaging 325 passing yards per game and 7 touchdowns total with 2 interceptions. The Packers defense is allowing 247 yards per game through the air. No matter how this game goes, Ryan will have to air it out on this defense to come back from whatever deficit they may fall into.
MNF: Calvin Ridley Over Receiving Yards
Ridley is averaging 116.3 yards per game receiving as he leads his team in yards. He also leads the team with 4 touchdowns, 21 receptions, and 35 targets. It's obvious Ridley has really taken over as the number one role and become Ryan's go-to guy in this offense. As long as Ryan's passing yards are around 300 or less, and Ridley's receiving is 100 or less, the over here may be a must bet.
MNF: Aaron Jones Over 1.5 Touchdowns (+125)
The Green Bay Packers have the most potent offense in the league right now. Part of that is due to their running back Aaron Jones. On offense, the Packers are averaging a whopping 171.7 rushing yards per game. Jones himself, is averaging 101 rushing yards per game. He also averages just over 30 yards per game in the passing game. He has 4 rushing touchdowns and 1 receiving almost averaging 2 touchdowns a game already. They play the Falcons on Monday night in a game they should be leading most of the time.
Considering their dominance in the run game, expect the Packers to control the pace of the game using Jones as a focal point. He should see lots of action and there's no one better on that team to give the ball to when within five yards of the goal line. Jones should make another huge impact in this game giving the 'Over 1.5' touchdowns for him some very nice value.