Atlanta Falcons vs Green Bay Packers Pick – NFL Week 4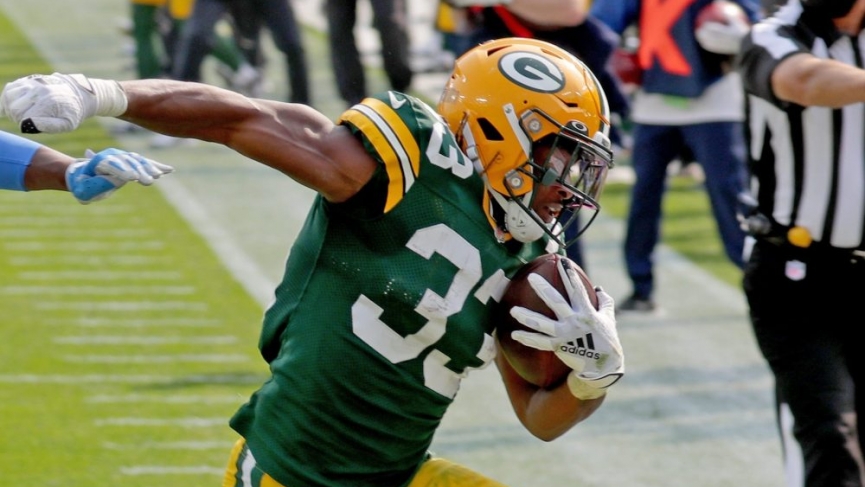 Odds.com's Atlanta Falcons vs Green Bay Packers Pick for NFL Week 4: Dan Quinn and the Atlanta Falcons are 2-11 ATS in their last 13 games in October, but head into Lambeau Field on Monday night riding a 5-0 ATS streak as the road underdog. It's a battle of 3-0 vs 0-3, as the Packers host the Falcons on Monday Night Football.
| | | |
| --- | --- | --- |
| NFL Betting | Atlanta Falcons | Green Bay Packers |
| Best ATS Line | +6 (-105) | -5 (-110) |
| Total | Over 56 (-110) | Under 56.5 (-110) |
| Where/When | Lambeau Field | Oct 5th, 8:50 PM EST |
The year is 2020 and in another twist of COVID-19 events, we have a pair of Monday Night NFL Football games to enjoy. Patriots QB Cam Newton tested positive for COVID-19 and in nothing short of a miracle was the only player in the entire Patriots organization that did test positive. So, I have a strong NFL pick in this matchup between the Chiefs and Patriots as well tonight.
The Winless Falcons vs the Perfect Packers
In this article, we will take a deep look at the analytics surrounding the Atlanta Falcons in their Divisional game at Lambeau Field and the Green Bay Packers. The Falcons have been a hard-luck team, or they brought the pain on themselves with poor defensive decisions that allowed the opponent to overcome double-digit leads. Whatever the case, they are 0-3 straight-up (SU) and 1-2 against-the-spread (ATS) on the season and know that only four teams have ever overcome an 0-3 start to make the playoff rounds.
In a complete opposite manner, the Packers are off to a perfect 3-0 SU and ATS start where everything seems to be falling their way. Aaron Rogers has never looked so good in these three wins and the Packers offense leads the NFL gaining 6.9 yards-per-play with zero turnovers. Rogers has completed 71 of 106 pass attempts for 67% and has gained 864 passing yards including 9 touchdowns and zero interceptions.
Week 4 Perfect 3-0 Teams
I was wondering how 0-3 SU teams do against perfect 3-0 teams in the NFL in Week 4. So, I asked the database to tell us. Perfect 3-0 SU teams are 11-4 SU for 73% wins, 10-4-1 ATS for 71.4% winning bets when facing a winless team in games played since 1990. These unblemished 3-0 teams are 3-0 SU winning by an average of 27 points and 3-0 ATS covering the number by an average of 17 points since 1990. A small sample size, but it underscores the confidence of a winning team playing a team with significant struggles on hand.
The Falcons Are in Quicksand
The problem with the Falcons is not from the effort, but fearing that something awful will happen in the second half of their games. They play polarizing football looking like the Super Bowl contender they were in 2016 in the first half and then looking like a team from New York, who plays in the AFC East in the second half.
The news is not good for the Falcons in this matchup. Teams that played at home and had a 7 or more point lead after the third quarter was completed and had a 14 point lead at some point during the first three quarters and then lost the game have posted a 4-14 SU record for 78% wins and 3-15 ATS record for just 17% winning bets in games played since 2015. If these losing teams are on the road, they have been a money-burning 0-8 SU and 1-7 ATS and if facing a non-divisional foe have gone 2-9 SU and ATS since 2015.
There are several more situational trends that work against the Falcons starting with a 4-14 ATS record in games with a posted total of 49 or more points in games played over the last three seasons; 1-10 ATS after allowing 400 or more total yards in their previous game spanning the last three seasons; 1-9 ATS after allowing 300 or more passing yards in their last game spanning the last three seasons.
Philadelphia Eagles vs San Francisco 49ers Pick:
The machine learning models project that the Packers will score at least 24 points, average more than 1.0 yards-per-rush than the Falcons. In past home games in which the Packers net or exceeded these projections has seen them go on to earn a solid 40-6 SU record for 87 wins and 34-11-1 ATS for 76% winning bets that covered the number by an average of 9 points.
The Falcons have a poor 6-41 SU record losing the games by an average of 14.4 points and 11-26 ATS failing to cover the spread by an average of 9 points in road games and have allowed at least 214 points and have been outrushed by a minimum of 1.0 yards-per-rush. Take the Green Bay Packers as an NFL Best Bet
The best current price on Green Bay ATS is at -5 (-110) via DraftKings