New England Patriots vs Kansas City Chiefs Pick – NFL Week 4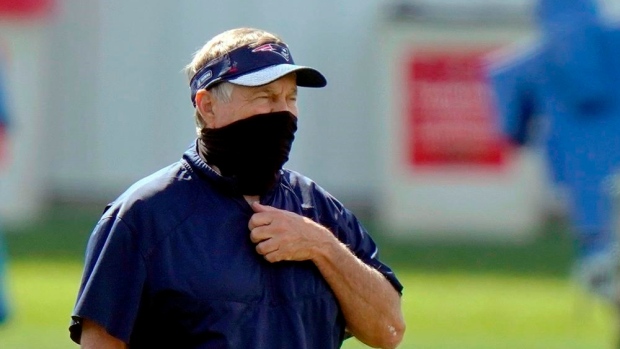 Odds.com's New England Patriots vs Kansas City Chiefs Pick for NFL Week 4: With news that both Patriots and Chiefs players have contracted COVID-19, the New England/Kansas City game for Week 4 has been pushed back until further notice. Whether or not it is played this week, is yet to be seen. However, when they do play, we do know that both coaches have a massive success record when coming off extended rest. 

| | | |
| --- | --- | --- |
| NFL Week 4 | New England Patriots | Kansas City Chiefs |
| Best ATS Line | +10.5 (-110) | -10.5 (-106) |
| Total | Over 48.5 (-115) | Under 49.5 (-105) |
| Where/When | Arrow Head Stadium | Oct 5th, 7:05 PM EST |
Patriots/Chiefs Game Postponed due to COVID-19
Per NFL Sources: Patriots-Chiefs game is being postponed and is expected to be played Monday or Tuesday. pic.twitter.com/EtCiCmDq9l

— ODDS.com (@odds110) October 3, 2020
The marquee game of the day features
the New England Patriots
traveling to the Mid-West to play the Super Bowl Champion Kansas City Chiefs, who are favored by 7 points in a game expected to see a total of 53 points scored. The Patriots got a much-needed win against a red-hot Las Vegas Raiders team while the Chiefs are on cruise-control and look like a team that may never lose another game this season.
What Does the Line Tell Us?
The public is accounting for 62% of more than 1200 betting tickets I keep track of during the week leading up to game day. However. The Patriots are accounting for 64% of the total money bet or 'the take' as sportsbooks use. This is not a surprise to me as the public saw the terrific game that the Chiefs played on the road in dominating another top-level AFC team in the Baltimore Ravens last week. Yet, the professionals know from years of head coach Belichick-led Patriots teams getting a touchdown amount of points has been a big money-maker.
Coach Belichick as an Underdog
Betting against the Patriots has not paid off well while Bill Belichick has been the head coach of the Patriots. The Patriots are 13-18 straight-up (SU), but 19-12 against-the-spread (ATS) for 61.3% winning bets as an underdog of more than 3 points and less than 10 points since the 2000 season. If we add the 'site' parameter to this database query we learn that the Patriots are 2-3 SU and 4-1 ATS in home games and 11-15 SU and 15-11 ATS for 58% winning bets since 2000.
Drilling into the data a bit further and using the type of surface the game is being played on reveals more supporting evidence. The Patriots are 3-5 SU and 5-1 ATS in games played on artificial turf under Belichick and installed as a 3 to 10 point underdog and 10-13 SU covering 61% of those 23 games for a 14-9 ATS record when the game is on grass. Arrowhead Stadium is a grass surface stadium.
Even the month when the game is played brings to light just how good betting the Patriots under Belichick as an underdog has been for backers. The chart below shows that his best month is in October, in which the Patriots have earned a solid 65-18 SU record and covered 68% of those games ATS for a 55-26-2 record.
The Chiefs Are an Elite Offensive Team
The Chiefs QB Patrick Mahomes is the best field general in the NFL and is changing how the game is played under the play-calling of head coach Andy Reid. Mahomes is the reigning Super Bowl MVP leading the Chiefs to their first title in 50 years, signed a long-term contract that will pay him nearly $500 Million, and announced just this week that he is going to have a baby. So, life is rather good for Patrick right now.
On the field of play, the Chiefs rank 5th with 1,300 total offensive yards, 4th with 91 points scored, and 7th gaining 6.2 yards-per-play. The most remarkable fact is that they have just one turnover and one fumble lost. In their most recent win at the Baltimore Ravens Reid and Mahomes were in complete sync and showed creative play-calling that was executed to near perfection. However, this is where the good news for the Chiefs ends.
News of Patriots Demise is Greatly Exaggerated
Many thought that the separation of Tom Brady and Belichick was the beginning of the end of the Patriots historic dynasty. After three weeks of action, the facts are clear that both Brady and Belichick are doing fine and are on a potential collision course in this year's Super Bowl. In fact, look for the Super Bowl prop bets specific to teams that make it and bet the Tampa Bay Bucs and Patriots to meet.
The Patriots defense was by far the best on in the 2019 NFL season and despite changes in personnel they are right back near the top of the list in many of the meaningful defensive metrics. They are tied for first with the Cleveland Browns forcing opponents into a total of 7 turnovers and is going to present problems for the Chiefs offensive scheme. The Chiefs will find it more difficult to complete scoring drives and may be forced to settle for field goals instead of touchdowns.
New England Patriots vs Kansas City Chiefs Pick:
The machine learning models project that the Chiefs will have more turnovers and more than 5 minutes less in time-of-possession than the Patriots. In past games in which the Patriots achieved these performance measures, they have gone on to earn an insane 71-1 SU record winning the games by an average of 20.6 points and posting a 67-5 ATS record good for 93% winning bets that covered the spread by an average of 13.6 points since 2000.
The best current price on New England ATS is at +7 (-110) via BetMGM