NBA Win Totals Grading Best and Worst Offseason Moves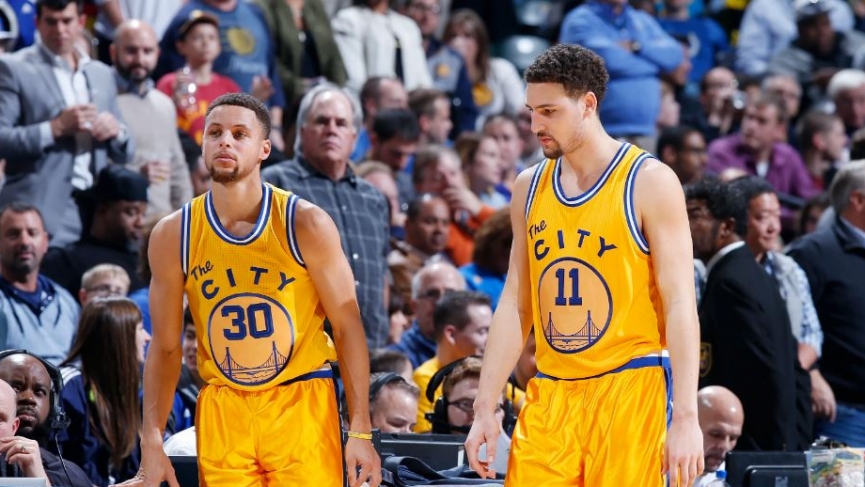 NBA Season Win Totals Grading Best and Worst Offseason Moves: The Warriors, Hawks, and Nets are expected to make large improvements compared to last season, while the Raptors and Thunder and expected to be on the decline. Let's take a look at the top 5 biggest moves from last season's win percentage to this season's projected NBA win totals.
---
NBA Win Percentage Totals vs Last Season
nba team
Last Season win %
projected win %
Difference
Golden State Warriors
23.1%
54.5%
+31.4%
Atlanta Hawks
29.9%
47.5%
+17.6%
Brooklyn Nets
48.6%
62.5%
+13.9%
Toronto Raptors
73.6%
58.5%
-15.1%
Oklahoma City Thunder
61%
33.5%
-27.%
Lines via DraftKings, Updated 12/14 at 10:30 PM EST.
---
Golden State Warriors
Under 54.5% (-122): Prior to the start of last season, Golden State lost Kevin Durant in free agency but signed D'Angelo Russell. The idea was that Russell would play alongside Steph Curry until the injured Klay Thompson came back. The issue was that Curry got hurt and missed all but five games of the season. Russell also missed several games with an injury and as a result, a Golden State roster that was considered top-heavy now had little depth and no top tier talent. The result was Golden State having the worst record in the NBA winning just 23.1% of their games and this year they are being asked to win 54.5% of their games.
The biggest problem for Golden State last year was, for the most part, they couldn't score having the NBA's worst offensive rating and scoring just 106.3 points per game. They added Andrew Wiggins during last season who averages 19.7 points per game for his career and acquired Kelly Oubre Jr. this offseason who averaged a career-high 18.7 points per game last year. These players should help the Warriors offensively but none of them are known for defense and their best defender, Draymond Green, had his worst defensive rating and defensive win shares of his career last year.
Golden State does have an electrifying player in Steph Curry and is just a year removed from having been to five straight NBA finals. What that means is plenty of TV appearances. They play on opening night against Brooklyn and Christmas day against Milwaukee both games that are part of a four-game east coast trip and games they won't be favored in. They then play a home and home with Portland and after a game against Sacramento, they have a home and home with the Clippers followed by three games against expected playoff teams and that's just the first 13 games of the schedule.
With the addition of 2020 first overall draft pick James Wiseman, Golden State likely improves their scoring but I don't trust their defense or Curry's ability to stay healthy and like last year, Klay Thompson will miss the entire season once again with an injury. They have several new pieces and their schedule does not set up favorably to help them get off to a strong start thus I could only play 'under' 54.5%.
---
Atlanta Hawks
Over 47.5% (-106): Atlanta only won 29.9% of their games last year and this year is expected to win 47.5% of their games. Atlanta is led by their emerging, talented point guard Trey Young and forward John Collins. It's also expected that the 10th overall pick in the 2019 draft Cam Reddish will take a step forward this year. They spent the 6th overall pick in this year's draft on power forward Onyeka Okongwu who should see some minutes in a backup role this year. Most of the rest of the roster however needed to be rebuilt and the Hawks accomplished a lot of goals this offseason improving at guard, wing, and center.
They added guard depth in a veteran point guard and world champion Rajon Rondo as well as a defensive-minded point guard in Kris Dunn who had a defensive real plus-minus of 3.01 which ranked in the top three for guards and was one of two players to average at least two steals per game last year. Near the trade deadline last year they traded for center Clint Capela who should provide rim protection and excel in pick and roll sequences.
Last year, Atlanta had the worst 3-point shooting percentage in the NBA at 33.3% as a result they gave up plenty of long rebounds which at times turned into easy fast breakpoints. They allowed 35.9 defensive rebounds which ranked 24th and 14.8 fast break points which ranked 27th. Think these numbers improve with better 3-point shooting and Atlanta did address this issue.
They signed Bogdan Bogdanovic who is entering just his fourth season and currently for his career is shooting 37.4% from three and Danilo Gallinari who shot 40.5% from three last year which ranked 19th in the NBA.
My only concern with Atlanta is how long will it take for a team with multiple new pieces to jell together. That said, they improved at various positions, on defense and offense, and added some three-point shooting to add to an exciting young core. Think they can make the playoffs thus I'd look 'over' 47.5% win percentage.
---
Brooklyn Nets
Under 62.5% (-112): Prior to the start of last season, Brooklyn signed all-star Kyrie Irving and superstar Kevin Durant knowing that Durant would be out for the year recovering from an achilles injury. Irving, dealing with his own injuries, only played 20 games for Brooklyn but averaged a career-high 27.4 points per game despite only averaging 32.9 minutes per game which was below his career average. The one criticism with Irving playing was the lack of ball movement and that his teammates were essentially watching him play basketball on offense. Note Irving had a plus-minus of -7 and Brooklyn went 8-12 when he played. Brooklyn went 27-25 without him and their overall record of 35-37 was good for 7th place in the eastern conference and a playoff spot.
Last year Brooklyn was led by Spencer Dinwiddie who averaged 20.6 points and 6.8 assists. Center Jarrett Allen contributed a near double-double with 11.1 points and 9.6 rebounds, 3-point marksman Joe Harris ranked 7th in the NBA hitting three's at a 42.4 clip and Chris LeVert added 18.7 points. That core was good enough to make the playoff hence the idea is with them and their two-star players, they will be a championship contender.
Brooklyn won 48.6% of their games last year and they are now being asked to win 62.5% of their games. Irving and Durant have yet to play with each other and there will likely be some chemistry issues early on in the season as these two stars learn how to play with their teammates and each other. They were brought to Brooklyn with the intention of winning a championship and considering both Durant and Irving have won championships on other teams, I expect them to coast through the regular season. Also, with their injury history, I wouldn't bank on either of them playing anywhere near all 72 games. While long-term they could be an elite, championship-level team, I expect some struggles early and with a win percentage that ranks in the top five in the NBA, it's likely a tad too high thus I would look 'under' 62.5% wins.
---
Toronto Raptors
Under 58.5% (-108): Toronto won the NBA championship two years ago but saw Danny Green and superstar Kawhi Leonard leave. Despite that, they continued their winning ways winning 73.6% of their games last year though the betting markets expect them to take a small step back this year with their win total percentage lined at 58.5%.
A large reason for that is that this year they lost two reliable big men in Marc Gasol and Serge Ibaka. Gasol ranked 7th in the NBA with a +3.42 defensive real plus-minus and Ibaka was also rated as a plus defender. Their rim protection was a large reason why Toronto ranked 2nd in the NBA only allowing 41.1 points in the paint per game. With those two out the door, four of the eight players that played for Toronto in game six of the NBA finals two years ago are now on different teams. Note that last year Toronto did fine without Ibaka posting a 13-4 record and without Gasol going 18-10.
To replace those two the Raptors signed Aron Baynes and re-signed Chris Boucher. Baynes isn't as good defensively though last year he added a 3-point shot. He had taken 89 threes in his first seven seasons and 168 last year alone. Boucher was on the team last year but had limited responsibility only averaging 13 minutes per game. Pascal Siakam will need to continue to establish himself as an all-star caliber player and OG Anunoby, who averaged double digits in scoring for the first time on 50% shooting last season, will need to take another step forward offensively.
Toronto finished second in the East last year but aside from losing some talented bigs, they bring back the same team. The issue with that is teams around them seemed to have improved. Miami and Boston finished behind Toronto in the standings but met in the East final and both have young teams that seem to be rapidly improving. Philadelphia fired their coach and revamped their roster in a way that is better suited to complement their stars and Brooklyn essentially added two all-stars.
Due to Covid-19 Toronto will be playing their home games in Florida which is not a benefit and don't think their roster is as deep as it was last year. Their projected win percentage suggests some regression but still a playoff team which seems fair. I would lean 'under' 58.5% wins as it is a tad high.
---
Oklahoma City Thunder
Under 33.5% (-127): Last year OKC had a 61% winning percentage and this year they are projected to have a 33.5%. If the odds were to play out, they would go from being the 5th seed in the Western Conference last year to being one of the three worst teams in the NBA.
This sentiment comes from trading all-star point guard Chris Paul, Dennis Schroder, who was one of the best scores off the bench, and starting center Steven Adams who rated well in various defensive stats such as defensive win shares. OKC also lost backup center, Nerlens Noel, in free agency as well as their best three-point shooter Danilo Gallinari. Note that those five players ranked second through 6th in scoring for the Thunder and combined to score 73.5 points per game.
The biggest name OKC got back in their various trades was five-time all-star Al Horford in large part because of his large contract. Instead of acquiring assets to help them this year, they acquired multiple draft picks to help them in the future indicating no real intention of winning this year. They also acquired other veterans such as Trevor Ariza and last year leading 3-point shooter George Hill.
On their current roster, only Hamidou Diallo has played more than 70 games in a Thunder uniform. This will be a development year for the Thunder young core which consists of Shai Gilgeous-Alexander, Luguentz Dort, Darius Bazley.  Shai Gilgeous-Alexander led the Thunder in scoring at 19 points per game. Dort was lauded for his defense against James Harden in last year's playoffs. His offense was erratic though he did score 30 points in game 7. Bazley was the 23rd overall pick in the 2019 draft and did not have a huge role last year though that will obviously change.
The Thunder made it clear that they have no intention of winning this year with the moves they made and if Ariza or Hill have a good season, I wouldn't be surprised to see them traded. The roster itself has a decent balance of youth and experience but the West is the stronger conference and I expect the Thunder not to be very good. Betting on bad teams, who are likely to trade players that are performing well, to go 'over' their win total is an unappealing proposition thus I could only take 'under' 33.5% wins.
---
Houston Rockets
Win Percentage Odds Not Listed: Last year Houston won 61% of their games though there is no current total for them this year over speculation that their best player James Harden might get traded. Houston is anywhere between 20 and 60-1 to win the NBA championship thus the market isn't that high on them.
During the middle of last season, they traded their best big Clint Capela and created a new meaning of small ball. This of course meant rebounding was going to be an issue and they allowed their opponents to get an average of 57.1 rebounds per game which was worst in the NBA.
This offseason they signed center Demarcus Cousins who missed all of last year with an injury and parts of the previous two years before that with injuries. Between 2013 and 2018 he averaged 25.2 points per game and 12 rebounds per game. That type of production would be welcomed but you have to wonder if he's the same player or if he can stay healthy. The other major move Houston made was trading point guard Russell Westbrook for point guard John Wall. Wall, similar to Cousins, did not play the entire year last year due to injury. For his career, John Wall is averaging 19 points and 9.2 assists and was known for his speed. You have to wonder if he's also the same player.
Last year Houston ranked 3rd in the NBA averaging 116.4 points per game and 6th in offensive rating. They led the NBA in points from three-pointers, percent of points from three-pointers and three-pointers attempted per game. They were a volume three-point shooting team but not an efficient one as they only made 34.8% of their three's which ranked 23rd.  Their main off-season acquisitions will not help their three-point shooting as Cousins is a career 33.2% three-point shooter and Wall is worse at 32.4%.
Houston traded Robert Covington in the offseason for two future first-round picks. An odd move as it did not signal a win-now attitude. Covington is a good two-way player that rates favorably in various defensive metrics.
It's impossible to make a recommendation on Houston's win total without a number and without knowing what will happen with Harden. When star players want to get traded they usually do and that would leave Houston with their two best players both coming off major injuries and not playing last year. If Harden stays, you have a disgruntled star thus I can't see a scenario where 'over' their win percentage would be a good bet. Likely to be 'under' or pass.
---
FAQ: 2021 NBA Odds
Who are the Odds on Favorite to Win the 2021 NBA Championship?
The LA Lakers are the current favorite at +275