Best NBA Offseason Grades Based on the Betting Lines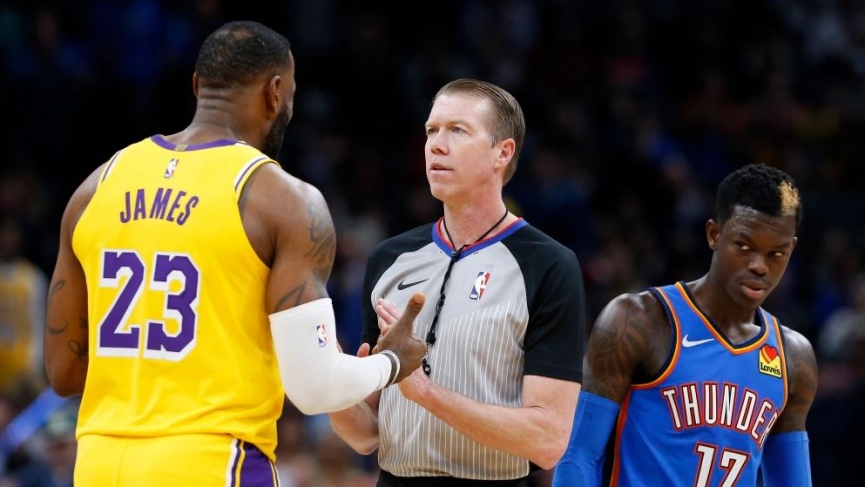 Best NBA Offseason Grades Based on the Betting Lines: Leading up to the NBA's free agency period, all the talk was surrounding the lack of strength in the player pool. Little did we know that some players would decide to opt-out of their player options (Anthony Davis, Gordon Hayward, Kentavious Caldwell-Pope, and Jerami Grant, to name a few). The lack of talent in the free-agent pool also jump-started some major trades over the week. Let's see how the player movement has affected futures odds across the league.
---
Updated NBA Title Odds
nba championship odds
2020/2021 season
Lakers (+280)
Nets (+525)
Clippers (+600)
Bucks (+600)
Celtics (+1500)
Heat (+1600)
Sixers (+2000)
Nuggets (+2000)
Warriors (+2000)
Raptors (+2500)
Mavericks (+2500)
Jazz (+2800)
Rockets (+2800)
Suns (+4000)
Blazers (+4500)
Pelicans (+6000)
Pacers (+10,000)
Hawks (+10,000)
Spurs (+10,000)
Grizzlies (+12,500)
Magic (+12,500)
Hornets (+12,500)
Thunder (+15,000)
Timberwolves (+15,000)
Wizards (+15,000)
Kings (+15,000)
Knicks (+15,000)
Pistons (+20,000)
Bulls (+25,000)
Cavaliers (+25,000)
---
LA Lakers +280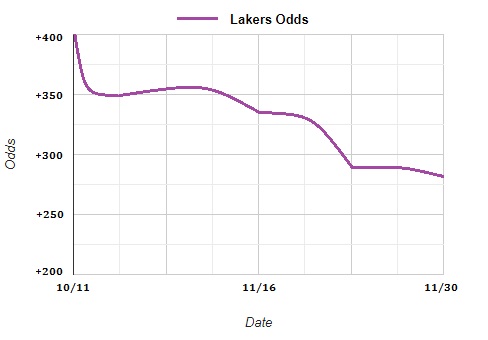 What an offseason it has been for the Los Angeles Lakers. Anthony Davis made the team wait while they pieced together the rest of the roster, but everyone knew he would be back. Just because the club won it all in the Orlando bubble doesn't mean they're content. Key departures include Danny Green and JaVale McGee being traded, including Rajon Rondo, Avery Bradley, and Dwight Howard leaving in free agency.
Those are some quality pieces that contributed to the Lakers' title run, but the acquisitions are of higher value. In comes Dennis Schroder, Marc Gasol, and Montrezl Harrell.
The 27-year-old Schroder had a quality campaign with the Oklahoma City Thunder, racking up 18.9 points and 4.0 assists off the bench over 30.8 minutes per contest. He also shot a career-high 38.5 percent from deep on 5.0 attempts per game. Schroder is superior to the likes of Green, Bradley, and Rondo, and can take some of the burden off of LeBron James when it comes to scoring. He's a nice boost as far as youth goes, too.
With Howard and McGee gone, it was important for the Lakers to reunite with Gasol. Los Angeles drafted Gasol in 2007 and later swung him to the Memphis Grizzlies in a trade for his brother, Pau Gasol. Things have come full circle, and Marc comes with championship experience, winning with the Toronto Raptors in 2019. Despite turning 36 next season, Gasol is still a terrific rim protector, and his 38.5 percent mark from three last season will be a great pick and pop asset offensively. This is a new dimension for a team that had rim runners for big men last season.
Harrell brings an intensity and fierceness on the offensive end. Every team loves to have an interior bruiser, and the Lakers have just that in Harrell. On paper, this team has improved from their championship 2020 season, which has to have the league a bit on edge. The Lakers (+280 per Bet365) are favored to win it all. Don't bother with betting on regular-season win totals after King James just endured another long season, but back-to-back championships is very much in play. As favorites to win it all again, the Lakers (+280) have a smaller return on an investment after their stellar offseason.
---
Boston Celtics +1500
Gordon Hayward's methodical offseason finally concluded when he opted out and joined the Charlotte Hornets. This opened up the books for the Boston Celtics to acquire a solid defensive big man, which they lacked last season. Tristan Thompson's presence is a warm welcome to the rest of the gang, as the club plays smaller overall and could use the boost defensively inside.
Daniel Theis is a nice player, but he's more offensive-minded at this point in his career, and scoring isn't what Boston lacks. With Jayson Tatum as the second-tallest starter (6'8), they need a big to protect the rim. The 29-year-old Thompson fits the bill, and it doesn't hurt that he has NBA Finals experience, as he played in four-straight with the Cleveland Cavaliers.
At 15-1 to win it all, Boston leapfrogs the Miami Heat (+150) after acquiring Tristan Thompson (replacing Enes Kanter) and veteran point guard Jeff Teague (replacing Brad Wanamaker). With oddsmakers having plenty of faith in Boston, this shows that they viewed Hayward's departure, including Thompson and Teague's arrival, as a solid improvement. Boston (+550) is now the third-favorite to represent the East in the Finals.
---
Philadelphia 76ers +2000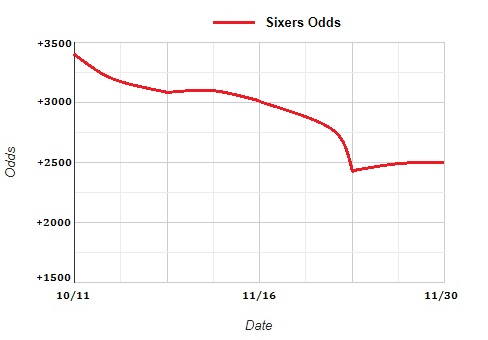 Some serious changes were made within the Philadelphia 76ers' organization, which comes as no surprise after another letdown. Out with coach Brett Brown and in comes Doc Rivers. Already, we have a coach that can control talent and maintain a locker room. Unfortunately for Brown, Jimmy Butler echoed his lack of leadership on his way out of Philly.
As the team pounced on Daryl Morey once the Houston Rockets canned him, the coaching change wasn't all, adding a new president of basketball operations to the club. Morey was celebrated and criticized repeatedly, so this fresh start is a nice welcome for him. Like him or not, he has tons of experience, including postseason assembled teams to his name.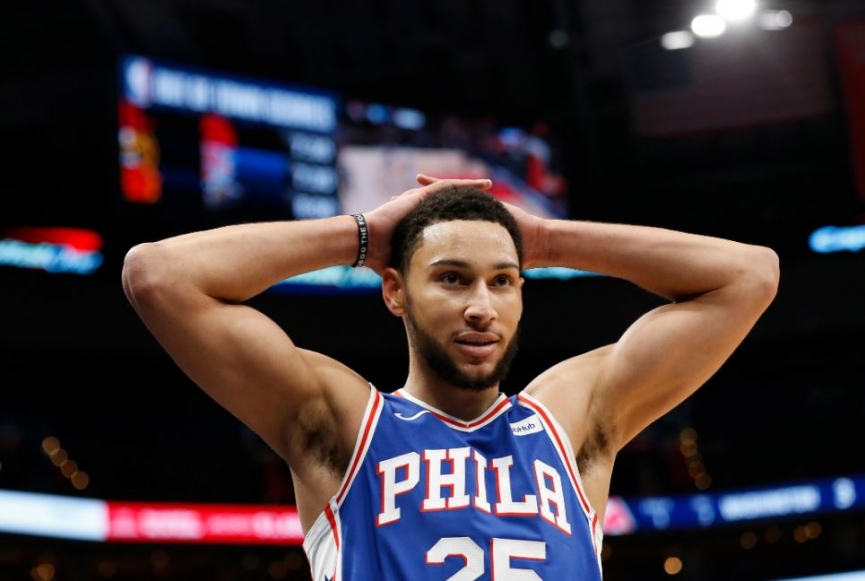 The 76ers got rid of Al Horford's disgusting contract. What also didn't make sense with Horford was that he would occasionally clog the paint up on Ben Simmons and Joel Embiid. Horford isn't a bad player, but the construction of this bunch didn't make any sense. Philadelphia also traded away guard Josh Richardson and let Alec Burks walk. In comes the reinforcements. Sharpshooters Seth Curry and Danny Green arrive along with defensive-minded Dwight Howard and 21st overall pick, Tyrese Maxey.
These moves were great for numerous reasons, but by far, the importance was spacing the floor for superstars Simmons and Embiid. Now, with Curry and Green wreaking havoc around the perimeter, things have a chance of opening up in the interior for the stars of the show. There's a balance that this squad has yet to obtain since drafting Simmons and Embiid, but this changes things in a hurry. Philly endured the biggest loss over the prior offseason, allowing J.J. Redick to walk in free agency. They lost all of their shooting, and they paid in a big way, regardless of Simmons' health.
Due to these moves, Philadelphia (+750) has similar odds to win the east as Miami (+700) and the Toronto Raptors (+750), per FanDuel Sportsbook. This is surprising, considering Miami just went to the Finals, but the Heat wasn't able to add in the offseason, and Toronto lost guys like Gasol and Serge Ibaka. Payouts have thinned since these offseason moves went through, and the 76ers are a realistic threat on paper to take a nice step forward in 2021.
---
Phoenix Suns +4000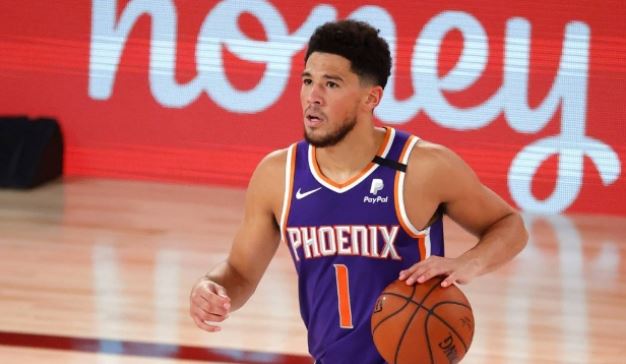 We're hardly accustomed to hearing the Phoenix Suns emerge as championship candidates. It's been a long time since Mike D'Antoni, Steve Nash, and Amar'e Stoudemire ran the seven-second offense deep into the playoffs, but this team has some buzz surrounding them.
After nearly pushing the Suns into the play-in tournament inside the Orlando bubble, 24-year-old Devin Booker is ready for more. Phoenix won all eight games inside the bubble but failed to make the tournament. Booker was astounding, averaging 30.5 points and 6.0 assists. Booker's 26.6 points (48.9 percent shooting) and 6.5 assists per game on the entire campaign marks his second-straight year with All-Star numbers. Thankfully for him, help is on the way.
The Suns went all out, trading away Kelly Oubre and Ricky Rubio to obtain Chris Paul. This point guard guided a rebuilding Oklahoma City Thunder team into the playoffs last season. The wealth of experience and talent that Paul brings to Phoenix is something the franchise needed desperately. They also added veteran Jae Crowder as a three-and-d threat and brought in a young talent in 10th overall pick, Jalen Smith.
The Suns (+2200 on BetMGM) are now tied with the Portland Trail Blazers and Utah Jazz to win the west. The Blazers and Jazz have been in the playoffs consistently over the past handful of seasons, so it's a bit of a surprise that Phoenix's odds clamped down so dramatically. They went from a bust to a near-lock for the postseason, and maybe more.
---
Atlanta Hawks +10,000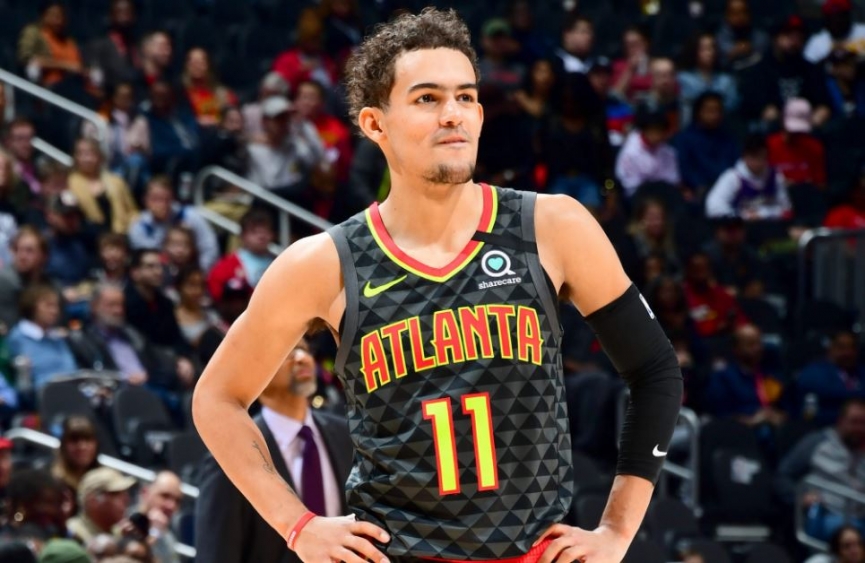 It's entirely possible that the Atlanta Hawks' organization isn't receiving enough attention across the general media. Things have changed a bit in the eyes of oddsmakers, but maybe they didn't notice enough. The investment return has shrunk slightly, but they're still intriguing at +5500 to represent the east in the Finals and 100-1 to win it all.
The Hawks saw their chances of winning increase after a flurry of moves, which is why they make this list, but the reaction doesn't feel like it's enough. After all, Atlanta still has the same odds as the Orlando Magic to win the East. Remember, the ninth and 10th seeds have a chance to enter the playoffs via the play-in tournament at season's end, so things are officially up for grabs. On top of that, the seventh and eighth seeds in the east finished the season with a sub-.500 record, so making the playoffs is attainable for this club.
Yes, the Hawks went 20-47 last season. However, the club was burdened by Chandler Parsons' awful contract at the time, and they acquired a big man that didn't play in Clint Capela. This allowed Atlanta to get Trae Young all the reps possible to mature ahead of his third season.
Young and Capela need a cast, and that's what the Hawks went out and got. They spent big on Danilo Gallinari and Bogdan Bogdanovic, adding great shooting around Young. Gallinari's 40.5 percent shooting from deep on 7.1 attempts per game (career-high) and his size add plenty of value, and Bogdanovic's 37.2 percent mark from deep and ball-handling can help ease Young's load and allow him to create space without the ball from time to time. That's not all, as Atlanta added Rajon Rondo's championship experience, Kris Dunn, and Onyeka Okongwu with the sixth pick in the draft.
All of a sudden, this group is pretty interesting. They're absolutely a dark horse to win in the playoffs, but the talent is undeniable. The conference feels up for grabs after a young team like the Miami Heat took control of the east last season. The Hawks (+10000) saw a dip in their return on investment for bettors, but those odds happen to be juicy at the same time.
---
FAQ: 2021 NBA Odds
Who are the Odds on Favorite to Win the 2021 NBA Championship?
The LA Lakers are the current favorite at +28