Miami Heat Odds to Win NBA Finals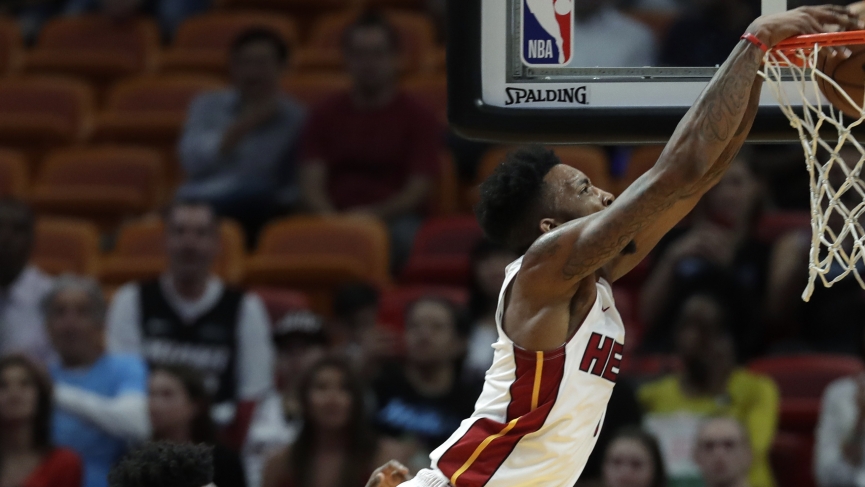 Before the NBA took a leave of absence, the Miami Heat were on pace to win 50 games for the first time since the 2013-2014 season. They had just seen their hero, Dwyane Wade, depart and retire the year prior. Pat Riley worked his magic and sparked the organization once again, swooping on Jimmy Butler in the offseason. Butler seems quite happy in Miami. Teammates have welcomed his work ethic and leadership with open arms. Who doesn't enjoy winning?
| Miami Heat Predictions | Odds |
| --- | --- |
| To Win Championship | +2700 |
If the playoffs were to start today, the Heat would finish as the fourth seed in the East. Not too shabby for a team starting a rookie in Kendrick Nunn, and sophomores in Bam Adebayo and Duncan Robinson. Adding Butler to this bunch was pivotal and Miami has implemented him quite effectively.
Sportsbooks have them consistently behind all three Eastern Conference teams that are currently ahead of them in seeding (Milwaukee Bucks, Toronto Raptors, and Boston Celtics). They're also regularly showing up behind at least three Western Conference squads. This means that there's plenty of money to be made (up to +3000 on FoxBet!). With this in mind, is it a complete waste to submit a wager on Miami? Are they being evaluated fairly?
Should Miami fear the deer?
Let's start with the obvious. The Heat have to get through the Bucks at some point or another. As a four-seed, they'd be due to meet them in the second round, assuming they both take care of business in the opening round. Can Miami match Milwaukee's strength and size? The Bucks have two starters that are taller than the Heat's center. At 6'9", Adebayo is undersized at the five, but Miami has been successful nonetheless. Knowing Milwaukee's dominance in the paint and on the glass, this is only a slight disadvantage. The Heat own the second-best defensive rebound rating behind the Bucks.
What superiority does Miami hold? I'm glad you asked. The Heat are the most efficient three-point shooting team in the NBA this season. On top of that, they're selective. They attempt just the 10th-most shots from the deep per game and lead at a stunning 38.3 percent.
True shooting percentage is a strength that both teams share, but Miami tops the list at 58.7 percent. The Heat have bought into team basketball and rank first in the East (third overall) in assist rate, which is an underlying factor to their terrific shooting percentage. Miami may have a way to get around this Goliath after all.
Navigating the east
Miami's 2-0 against the Bucks this season. In March, the Heat stomped them by 16 in Miami. Then, in October, they defeated them in overtime in Milwaukee. How'd they do it, you ask? Three-point shooting, of course. The Heat went 34-for-81 (41.9 percent) from deep, collectively, to Milwaukee's 24-of-88 (27.2 percent). Well, well, well, what do we have here?! Maybe the Bucks should hope the Heat are able to change their seed if the NBA finishes out the regular season.
The Heat is also 2-0 against the Raptors this season. As it turns out, Miami may have more trouble with a different Eastern team. They're 0-2 against the Celtics, a squad that defends the perimeter well. It's assuring to know that Miami has had Milwaukee and Toronto's number this season, but a matchup within these three top seeds could go either way.
Heat picks: Bet or not to bet?
Experience matters in the postseason, don't you forget it. Sure, the Raptors lost Kawhi Leonard and seem vulnerable. They're still floating on that championship cloud and playing very well. The Celtics have been to the playoffs with this bunch a couple of seasons now (without Kemba Walker, of course) and the Bucks blew a lead in the Eastern Conference Finals last season. It's quite possible that the Heat will be playing on raw emotion and gut instinct versus collective and experienced processing.
It's probably not Miami's time, but what can I say, they're very intriguing. At +3000 to win the NBA Finals, it doesn't get much juicier. You have to love what they've done this season as a unit, as a whole. They're terrific defensively and have an edge against most teams with their stellar three-point shooting. If I were a gambling man, making a small bet seems very interesting. If I was more focused on secure situations that yield smaller profits, then I'd steer clear. It's anyone's guess as to how far Miami will go in 2020.