Tampa Bay Rays vs LA Dodgers Pick – Game 2 World Series: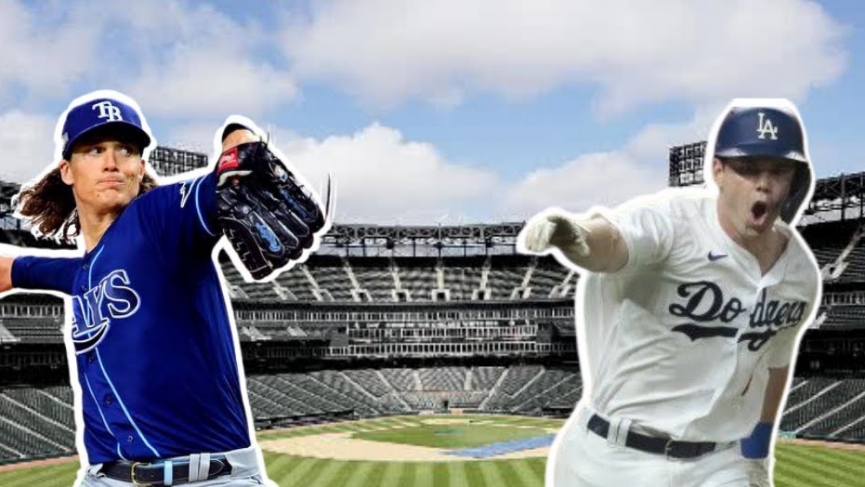 Odds.com's Tampa Bay Rays vs LA Dodgers Pick – Game 2 World Series: The Dodgers are poised to take a 2-0 series lead, but as many LA fans know, this team has been here before and failed to get the job done. Can the Dodgers take a 2-0 series lead in the World Series tonight?
| | | |
| --- | --- | --- |
| World Series Game 2 | Tampa Bay Rays | LA Dodgers  |
| Series Odds | +350 | -450 |
| Game 2 Odds | +120 | -133 |
| Total | Over 8 (-115) | Under 8 (-101) |
| Where/When | Globe Life Field | Oct 21st, 8:11 PM EST |
Game two needs to look different for the Tampa Bay Rays, or else they will be down two games to none. The Rays will look to Blake Snell, a long time Ray who's been great the first time through the rotation. Los Angeles will counter with Tony Gonsolin a hybrid pitcher both available out of the bullpen and to start. Gonsolin was touched in his first two games in the postseason, but look for Gonsolin to keep right up with Snell in the first five innings. First Five Innings Under 4.5 -122 will be in our pockets tonight in Game 2.
Starting Pitching:
Blake Snell – Here is the go-to pitcher for the Rays organization for the past 5 years plus. Snell is a better pitcher during the day, his number spike when Snell plays under the lights. In 32 inning this year Snell has allowed 29 hits and 14 runs late in games, this is a bit concerning in his biggest game in his career. Snell has this look on his face at times that makes him look dumbfounded, kind of like a deer in headlights. Good news for the Rays today, the Dodgers do not have a clear starter going in game two. Snell has a chance to make things right, or else he and his Rays squad will be down 2-0, a very tough window for any team to come back in a World Series. Snell needs to come out of the game after the first time through the rotation, or once the fourth innings hits. Whichever comes first Kevin Cash needs to not keep his ace in the game long in my opinion. Tampa Bay only used three guys in their bullpen last night giving them the advantage after the starters are relieved.
Tony Gonsolin – The unknown is real here. Dave Roberts did not hint towards Julio Urias or Tony Gonsolin. My bet would be Gonsolin, based on his innings work in the past series versus the Atlanta Braves. Gonsolin is just like Snell, he keeps batters in check the first time around, while Urias is the opposite, he struggles in the first three innings and pitches better going forward after the third. In my opinion, you want to have trust in Gonsolin, after giving up several runs in the NLCS series. This was his first playoff series in his career, and his task is much easier versus a Tampa Bay squad who is not generating any sort of rally. Gonsolin needs to be pulled just like Snell after the first time through. Whichever manager leaves his starter in the longest after the third inning will be behind after the first five innings.
Offensive Production (Postseason):
Tampa Bay cannot hit. Dating back to the series against the Astros, the Rays struggled to hit this mediocre bullpen. The team is being led by 25-year-old Randy Arozarena, other than their young stud, Tampa Bay is struggling to say the least at the plate. This team needs contributions from other names in their lineup or else they will fall short at the plate in every game of the series. This series can turn into a boat race where one team has a Yamaha F450, and the other a Johnson 95. Guys like Mike Brosseau and Brandon Lowe were key guys during their playoff run who need to get it going again. This team thrives on momentum, if they can gather a few runs early off Gonsolin, we will have a game/series. On the other hand, if Tampa Bay does not get to Gonsolin early, how will they keep up with this Dodger squad who is hitting everything in sight.
The Dodgers have woken up from the dead, guys like Justin Turner and Mookie Betts have arrived in style in their past few games. Justin Turner has the most hits in Dodger postseason history at 59, when asked about the record, Turner said " Records are pretty cool, but Championships are even cooler". This team brought in Mookie Betts for this reason exactly, steal bases, rob home runs, score when on base, the guy does it all. Mookie struggled in the first few series, but all the is in the past after robbing Atlanta from their first World Series since 1995. With little concern from the Dodger offense, my bet would be Snell gets touched if he goes more than three innings. The long-awaited drought is just three games away from being history.
Bullpen Production (Postseason):
Rays – A positive from last night was the innings Kevin Cash got from his bullpen. He still has some solid arms in the stable as Cash likes to say. Aaron Loup and Nick Anderson are not the two relievers we want to see from Tampa Bay. Anderson allowed four of the 12 runs in the NLCS series, while Arron Loup is losing velocity on his pitches, not one to trust when you need it the most. After Snell leaves the game, Cash should look to Pete Fairbanks and Diego Castillo. Castillo is their closer and will be looked to heavily today, as their chances are slim in game three when Walker Buehler takes the mound.
Dodgers – The decision was questionable when Roberts decided to use a plethora of relievers after leading by five to seven runs late in the game. in a game where you were up by five to seven runs. One of the pitchers the Dodgers should not trust in the postseason is Adam Kolarek, he's allowed five runs in the postseason, not looking strong in both the NLDS and NLCS games. Kelly Jansen and Brustar Grateral are available for the Dodgers in this game. Expect Roberts to bring one of these two or maybe both at some point in this game. Today is a bullpen day for the Dodgers, if we had our druthers, my imagination would be Roberts struggles to push the right buttons, mixing in the wrong pieces at the wrong time. There's a reason why the Dodgers have fell short over the past seven years, and it might not just be the players.
Tampa Bay Rays vs LA Dodgers Pick
Best Bet: 1st 5 Innings Under 4.5 (-122) via DraftKings: We are certain on our starting pitchers. As long as both managers do not try and tax their starter deep in the game, we have one maybe two runs after four innings, with a possible third or fourth in the 5th inning, but highly unlikely. Once the bullpens come into play, just like last night the unpredictability comes to play.