Tampa Bay Rays vs LA Dodgers Pick – Game 1 World Series: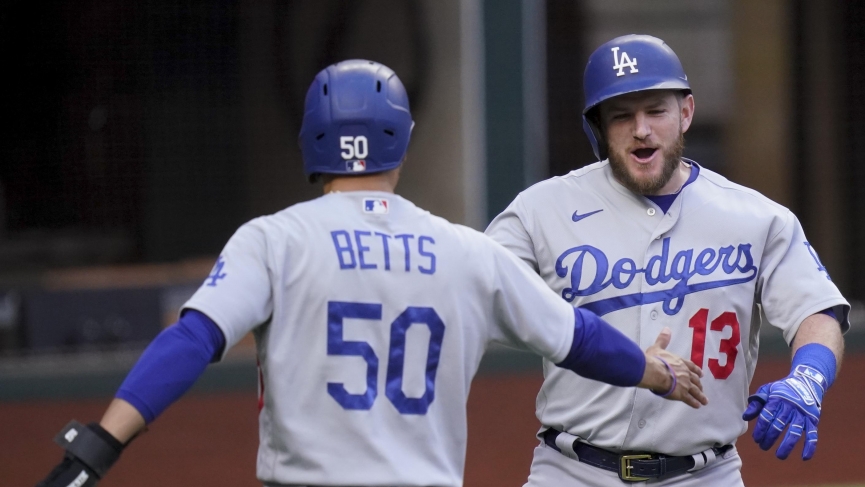 Odds.com's Tampa Bay Rays vs LA Dodgers Pick – Game 1 World Series: The Dodgers come into Game 1 of the World Series having been the favorite in every game they have played in 2020. It's more of the same on Tuesday night as Clayton Kershaw takes the mound, with the Dodgers being -165 favorites for the game, and -210 favorites on the series. 
| | | |
| --- | --- | --- |
| World Series Game 1 | Tampa Bay Rays | LA Dodgers  |
| Series Odds | +175 | -210 |
| Game 1 Opening Odds | +155 | -165 |
| Total | Over 7.5 (+100) | Under 7.5 (-115) |
| Where/When | Globe Life Field | 8:11 PM EST |
Los Angeles Dodgers and the Tampa Bay Rays will square off in game one in the (Covid-19) World Series. Tampa Bay nearly squandered a 3-0 series, being the second team in MLB history to give up a 3-0 lead. Tyler Glasnow will have to locate his fastball if the Rays want to start this series off on the right foot. While the Dodgers have their ace in the hole waiting in the stable, Clayton Kershaw. My money will be on the ever so famous no score 1st inning after rare few days off.
Starting Pitching: 
2020 Post-Season
Inning
Hits
Runs
BB
K's
HR's
ERA
WHIP
Glasnow

(TB)

19.1
17
10
8
25
6
4.71
1.31
Kershaw

(LAD)

19
16
7
2
23
3
3.32
0.94
Tyler Glasnow has three pitches he uses to get batters out. His curveball has the highest whiff rate at 50 percent, while his fastball gets up to 98 MPH opponents have batted .333 in the postseason. Los Angeles will be very similar to the Yankees lineup, lethal from one to nine. Glasnow will have to locate his fastball or else the Dodgers will expose his mistakes. Luckily the Dodgers hit only .233 versus power pitchers compared to a .267 batting average when a finches pitcher is on the mound. Glasnow will look to mess with batters going from 98 MPH to 82 MPH curveball. The Dodgers have only one game off and now will see a completely different team than the Atlanta Braves. Don't be surprised if Tampa Bay and their bullpen out pitch the Dodgers early in the series.
Clayton Kershaw was not used in-game seven in the NLCS, Manager Dave Roberts pulled the right strings in game seven keeping both Kershaw and Kelly Jansen on the bench. I like Kershaw to start this series, he will get another shot in game five which could be a closeout game or even the tiebreaker if the series is even after four games. Just like Glasnow, Kershaw has been mixing in three pitches since August 1st. Opponents are not hitting Kershaw like they are Glasnow's fastball. Kershaw gives up a 25 percent rate with his fastball and curveball, while his slider sits at 21 percent. I love how low the walk rate is for Kershaw, his nerves are in check telling me the time is now. Tampa Bay do hit finesse pitchers much better than power pitchers., going from 19 percent to 24 percent against finesse. Consider Kershaw a finesse pitcher, but one of the best. No one deserves this World Series ring more than Clayton Kershaw. He's having his 3rd best career numbers, and with the window closing quickly for Kershaw, this will be the year of Clayton Kershaw.
Offensive Production: 
The Dodgers took care of business Sunday night taking down the Atlanta Braves to win their third pennant in the last four seasons. With just one day's rest, Los Angeles will have to keep those bats humming, when they take on their toughest task yet. Two of the hottest bats for the Dodgers will be Corey Seager and AJ Pollock. Both of these guys have led their team in RBI's and hits in September, and have leaked things into postseason baseball. The Dodgers hit more home runs and scored more runs than any other team in the majors over the 60-game season. Since the Dodgers have rallied back when most counted them out, they've now checked the 'faced adversity' box. Mookie Betts was brought over this year and has been a difference-maker. It's not been at the plate, but in Right Field, where he's robbed at least three home runs from the Braves in the Championship series. Corey Seager, Justin Turner, and Cody Bellinger all started to contribute when they needed the most. while Clayton Kershaw and Walker Buehler should be ready to start for the big moment in games one and two. With rest days built-in, the Dodgers ace duo should be available more than ever at this time in the postseason.
In the other corner, we have the small-market Tampa Bay Rays, making their first appearance in the World Series since they lost to the Philadelphia Phillies in 2008,. This year's Rays team is run by the finest group of young kids the MLB has to offer, this era of Rays baseball has been known for three things: innovation, ridiculously strong farm systems, and a front office of baseball wizards who have always been overlooked by large market clubs (Astros, Yankees, Dodgers). The Rays prospect system has been the main reason for their success, it's guys like  Brandon Lowe, Randy Arozarena, Ji-Man Choi, Diego Castillo, Nick Anderson, Joey Wendle, Pete Fairbanks, and others who have come up in their farm system and have made a serious contribution to their team. If this Rays team can hit just enough to win one-run games, Glasnow, Charlie Morton, and Blake Snell make up a surprisingly star-studded rotation, keeping their opponents from getting after them early. Yes the Dodgers have the sweet names, but they've lost a significant number of starting pitchers, they would kill for in this more than likely six-game series. Just like the NHL, it may just be the year for the Tampa Bay sports teams.
Bullpen Production:
Rays – This will be the difference-maker in winning and losing the World Series trophy and all the accolades that come with it. In three series during the playoffs, Tampa Bay has pitched 52 innings allowing 58 hits, and 25 runs. In the ALCS versus the Houston Astros, Tampa Bay were extended seven games allowing the most amount of walks by far. Giving up 19 walks, Tampa Bay will need to eliminate this, or else one home run can turn into a 3 run shot if you're walking unintentional batters. There are two names you do not want to see on the mound for the Rays, Nick Anderson, and Shane McClanahan. Both pitchers have allowed five runs in the postseason, these will be the guys the Dodgers will be eyeing.
Dodgers –Los Angeles has the more experienced bullpen, with the youngest arm being star Brustar Grateral. This guy is nearly unhittable throwing 101 MPH with ease. The rest of the Dodgers bullpen has been for the most part solid. One arm you do not want to see for the Dodgers during the World Series would be Adam Kolarek. It's weird because Kolarek has had his best year during the regular season, yet he's struggled on the big stage allowing five runs in the past two series. Game four will be more than likely a bullpen game. This could be the difference-maker in this lengthy series. Game one expects both starters to eat up innings, not taxing their bullpens.
Best Bet: No Run 1st Inning -135 via FanDuel