Pirates vs Cubs Pick, A's vs Mariners and Padres vs Rockies Best Bet July 31, 2020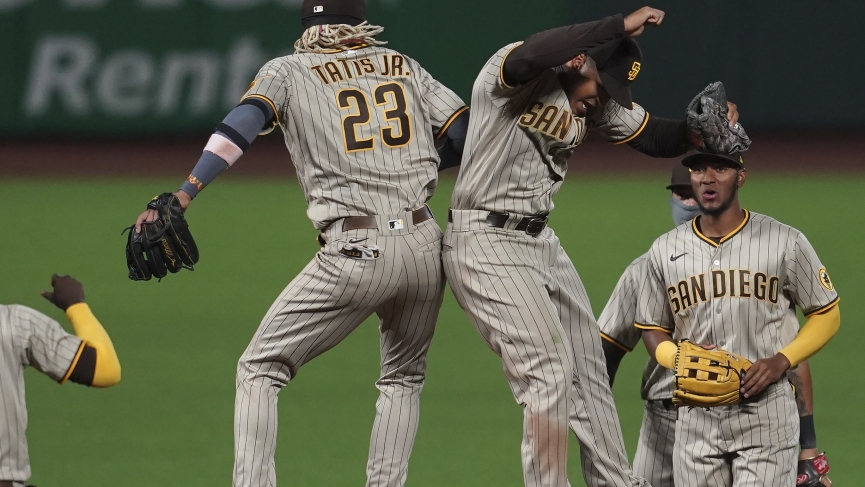 From KBO to MLB. I bring to you my 3 best bets for Friday's July 31st card. You will find today's bets will consist of all First Five Innings & Team Totals. This is a manageable way to build your bankroll as a baseball handicapper.
| | |
| --- | --- |
| Matchup | Pirates vs Cubs  |
| Odds | +170/-185 Total 9  |
| Start Time | 8 pm EST |
| Starters | T. Williams (0-1) 7.36 ERA vs Y. Darvish (0-1) 6.75 ERA |
Let's start with our Chicago Cubs, they will send out Yu Darvish, after his prior meeting at Cincinnati was postponed due to rain. Darvish has been terrific in his lifetime against the Pirates. He's posted a 0.194 BA, 0.343 SLG, and a spectacular 0.80 WHIP, all over an eight-year span in his career (larger the sample size when gauging a statistic, the better). It doesn't end there for Darvish, he shines when playing in Wrigley, allowing 0.240 BA, .466 SLG (tad high), and 1.30 WHIP.
I'm looking for some positive regression when it comes to tonight's start for Darvish. His opener against Milwaukee had some rust, he took the 8-3 loss, though he struck out 25% of batters while walking 0%. Another positive sign for the Cubs was just how well Darvish held RISP. At 0.222 when men are on base, and 0.200 when runners are in scoring position (RISP), he's going to shut you down when you need it the most. Darvish has only allowed one home run to this Pirates lineup in his career, that being Slugger Josh Bell. With the lack of power and great previous numbers from Darvish at home, look for him to have a nice bounce-back performance.
Cubs have been on fire when it comes to scoring runs, with 32 scored in their last four games. This is now a rested team and does not have that dreaded first game back from a road trip. With the extra day off, I'll look forward to watching the Cubs annihilate Trevor Williams and the last-place Pittsburgh Pirates. When I say annihilate this is what I mean. Williams will want his spot skipped in the rotation when he sees Wrigley field for the twelfth time in his career.
Williams seems to toss out meatballs when he faces this Cubs lineup, who's hit a combined 9 HR's, and 39 hits against Williams. When he does step foot on the mound at Wrigley, Williams brings a 0.350 BA, 0.633 SLG, and a brutal 2.01 WHIP. The pirates do not scare anyone with their 0.209 BABIP (batting average on balls in play), a good starting pitcher like Yu Darvish should do just that.
Now that both teams are trending in the opposite direction after 2 weeks of play, I recommend you bet the Chicago Cubs F5 -0.5. This will eliminate their lackluster bullpen that sits dead last in the majors with a 9.16 ERA. You can bet today's Cubs F5 (first five innings) -0.5 @-125 from a variety of books offered by odds.com.
BEST BET: CUBS F5 -0.5 -140 @DraftKings
Athletics vs Mariners Pick
| | |
| --- | --- |
| Matchup | Athletics vs Mariners |
| Odds | -179/+264 Total 9  |
| Start Time | 930 pm EST |
| Starters | S. Manaea (0-1) 7.71 ERA vs T. Walker (0-1) 13.50 ERA |
Manaea historically has had great numbers when facing this Mariners squad. He's managed to only give up 0.226 BA while holding his WHIP to 1.09. When you look down the Seattle lineup Rookies Kyle Lewis has led his team in every major batting category, including a bomb to Justin Verlander in week one. If you take Lewis out of this lineup, you get an average at best offense. Manaea not only plays well against Seattle, but he also thrives when he pitches at Safeco Field, with a 0.222 BA, and 1.05 WHIP.

With the slow start from Oakland look for this team to jump all over Walker, who's been on a decline since 2018. Walkers' lifetime numbers, when faced with this Athletics team, leaves me with many questions, the big one being how he'll be able to get himself out of tough jams. His BA is 0.250, and WHIP 1.34, his biggest problem is hard contact. Oakland SLG % was 0.39% when faced with Walker on the mound, and at Safeco, it increased to 0.43%.
After playing in Anaheim last night, we saw again just how bad the Mariners bullpen is, giving up 3 runs late in the 9th inning. The Mariners are yet to hold a team from scoring six runs or better, and as you can see from our table below, Oakland's bullpen has proven to be much superior thus far. My recommendation would be to give Oakland time, this team has some positive regression coming, and with Manaea's lights out numbers at Safeco give me Oakland Athletics Team Total Over 5 -120.
| Team | ERA | WHIP | Batting Average |
| --- | --- | --- | --- |
| Athletics Bullpen | 2.15 | 1.09 | 0.265 |
| Mariners Bullpen | 5.65 | 1.47 | 0.259 |
BEST BET: Athletics Team Total Over 5 -120 @ FanDuel
Padres vs Rockies Pick
| | |
| --- | --- |
| Matchup | Padres vs Rockies |
| Odds | +105/-115 Total 10.5 |
| Start Time | 8 pm EST |
| Starters | J Gray (1-0) 1.29 ERA vs G. Richards (1-0) 0.00 ERA |
The San Diego Padres are going to be a force in this league down the road. With excellent starting pitching, and a plethora of ageless hitting. I'm a buyer when it comes to Tatis Jr and the Padres. When I look at the start from the Rockies, I'm hesitant to trust this team in the long haul. Both teams have a stellar record, and it has been the quality starting pitching/bullpen support that's lead these teams to victories, not their bats.
Diving right into these bullpens, I'm much more comfortable backing an under when you have both WHIP's under 1.20 and BABIP under 0.230. I'm not worried about a team blowing up late even though this game is being played at Coors Field. Jon Gray will go for the Rockies, the team rallied behind Gray in his season opener (1.93 ERA/1.29 WHIP/0.231 BABIP) @ Texas. Gray will return home where his numbers may leave some with more to desire. A positive for Gray is that his statistical numbers improve when he faces this Padres lineup, and with both teams not hitting the baseball of late, I'm expecting a much tighter affair. Below you will see just how both teams are yet to get things going.
| | | | |
| --- | --- | --- | --- |
| Team | BA | SLG | BABIP |
| Padres Offense | 0.226 | 0.327 | 0.294 |
| Rockies Offense | 0.171 | 0.280 | 0.274 |
Let's take a quick look at San Diego's starter Garrett Richards. Richards is off to a terrific start to his 2020 campaign. He was outstanding against the Diamondback, going 5 innings allowing only one hit while striking out six. Richards is yet to face this Rockies team in his career, playing in the AL West for the majority of his time. With very little to go from, Im expecting this Rockies team to come out of the gate slow, both teams are not in the top half when it comes to generating offense.
I have a few ways to bet this game, I'll be relying on Richards and the Padres bullpen to keep this team in check. I'm not saying the Padres will win this game, but I do think the line is a0.5 higher than it should be. With a slight 7mph wind blowing in at Coors Field, I recommend a bet on the Colorado Rockies Team Total Under 5.5 -109.
BEST BET: Rockies Team Total Under 5.5 -109 @ Draftkings