MLB Predictions: Can Cubs Get Another World Series Win?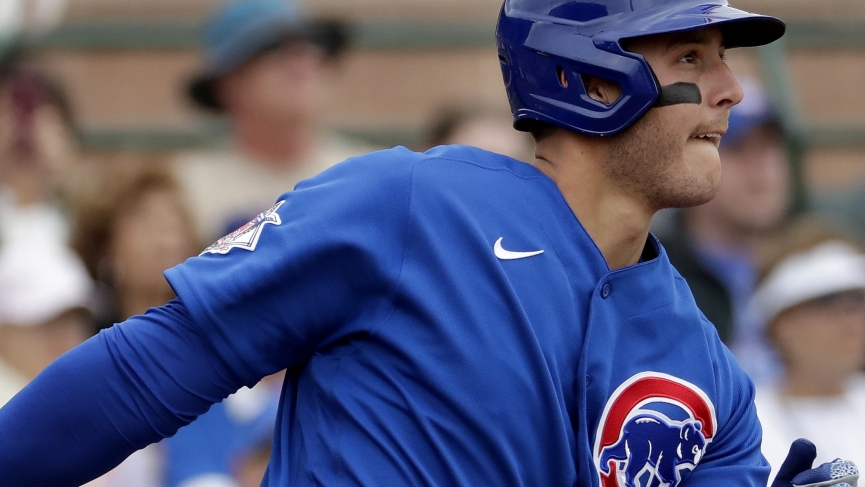 NL Central will be a tough division for the Cubs to beat
Chicago will need to improve winning 'away' this season
MLB odds to win the World Series is priced at +2800
It feels like forever since the Chicago Cubs won their first World Series in over 100 years. The 2016 season isn't long gone and this team still has plenty of familiar faces. As core players get increasingly expensive with service time, it has become much more difficult to keep the other pieces intact. MLB predictions for the Cubs this season are 
Nowadays, the subtractions (Cole Hamels) typically outweigh the additions in Chicago's north side. They currently rank fourth in team payroll. Jason Heyward's $23.5 million salary doesn't help. It's worth noting that Kris Bryant and Javier Baez are under team control for two more seasons, meaning that the Cubs should have reason to take some chances near the trade deadline if they can get off to a good start in either of the next two seasons. After winning 84 games in 2019, can the Cubs make a return to the promise land?
Improving Cubs' odds by key team changes.
First thing's first, the Cubs were simply awful on the road last season. Just 33 of their wins were accounted for as the visiting team. Their pitching staff posted a luxurious 3.50 ERA at home but tallied an unimpressive 4.74 ERA on the road. It's unfortunate because Chicago's home win total of 51 was the second-most in the NL.
Jon Lester didn't have his typical quality first half. The 36-year-old's 4.46 ERA in 2019 was his highest mark since 2012. The southpaw has a mutual option worth a whopping $25 million next season, so Lester has a lot on the line from a personal standpoint. The last time he was pitching for a new contract (2014), the lefty totaled a shiny 2.46 ERA.
Yu Darvish was miserable for the first half, compiling a 5.01 ERA over 18 starts. Something clicked in the second half, as he went off with a 118:7 K:BB ratio over 81.2 innings, including a 2.76 ERA. His 2.37 xFIP shows that he wasn't just a beneficiary of luck. This second-half performance has some thinking that Darvish could be a sneaky pick for a Cy Young run in 2020.
Another spot that desperately needs some help is this bullpen. Moving on from Brandon Kintzler, Carl Edwards Jr., and Steve Cishek will be difficult. They brought in Jeremy Jeffress on a low-risk deal. This may be an area that needs improvement if the Cubs are serious about competing in 2020. Craig Kimbrel should get back to his usual dominance. Last season's circumstances were odd and completely out of routine for the closer, so don't worry about him now.
Cubs predictions: Finding a path into the playoffs.
The NL Central isn't an easy division. The St. Louis Cardinals and Milwaukee Brewers aren't going anywhere, and even the Cincinnati Reds have gotten better since the start of 2019. The Reds will have Trevor Bauer for an entire season and have also added Mike Moustakas and Nick Castellanos in free agency. Castellanos provided a surge and was vital in Chicago's late-season run in 2019, so this hurts a bit. It makes things very interesting within the division and could make for one of the most entertaining races.
Knowing the difficulties of this division, a Wildcard spot seems most likely on paper if the Cubs were to find a way in. Teams from the Central will be fighting for those Wildcard spots, but so will the Atlanta Braves, Washington Nationals, and Arizona Diamondbacks. The Nationals lost one of their key sluggers, but the Diamondbacks upgraded their pitching staff by signing Madison Bumgarner and trading for Zac Gallen. If you thought getting into the postseason was tough with one Wildcard slot, well, things haven't gotten much easier now that there's two.
Getting into the show is one part of this equation. Do the Cubbies really have a chance if they get to a Wildcard game? The answer is yes. It would seem that if the Cubs are good enough to earn a playoff spot, then they'd likely receive a big performance from Darvish. If that's the case, then Darvish could get the start in a Wildcard game and could push the Cubs through to the next round. After that, it's really up for grabs.
MLB predictions for Cubs to win Division or World Series are grim. 
With these possibilities in mind, the Cubs are certainly not favorites to win their division, nor are they favorites to make the playoffs. They're absolutely a team that's speculative at this point, but you wouldn't end up being that shocked if they made a postseason appearance at the end of the day.
They still bring a championship pedigree with all-star talents across the infield. The ISO numbers were terrific for Bryant (.239), Baez (.250), Anthony Rizzo (.227), and Willson Contreras (.261). These stars will continue to give the Cubs a chance to move forward. Chicago finished with the second-best ISO and homer totals in the NL, proving this team can still mash with the best of them.
A little luck wouldn't hurt in 2020. If Lester can regain some of his past success, then the trio of Darvish, Lester, and Kyle Hendricks is pretty solid. The Cubs are currently sitting in the 10th-12th range for the best chances to win a World Series title. FanDuel's +2800 appears to be one of the best at the moment.
This isn't the time to go all-in on the Cubs, but there's reason to be optimistic if you think Darvish is on his way to a Cy Young caliber season. If things go well to start, then there's no reason to think the Cubs won't swing some deals to give the club a realistic chance to win. At this point, it seems as though they're valued exactly where they should be.