Nationals World Series Odds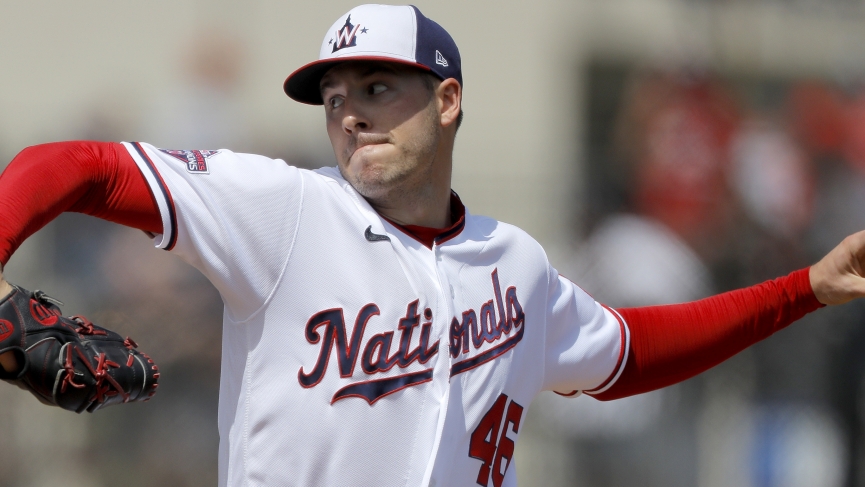 With a World Series under their belt, the Nationals' offseason was full of changes. Free agency took a key player from Washington that could hurt Washington's chances at a repeat World Series win. What are the odds they'll win a very competitive NL East? This may be easier to answer than you think. If the World Series is not in their future, which MLB picks should you be looking at? Let's begin.
Champions for a day then back to the business of Free Agency
What a season 2019 was for the Washington Nationals. After years of touting one of the best starting rotations in baseball, the organization finally took care of business and captured their first World Series victory ever. It sure wasn't an easy road, as the club needed both Max Scherzer and Stephen Strasburg just to get through the NL Wild Card game against the Milwaukee Brewers. Eventually, they got through the Los Angeles Dodgers, swept the St. Louis Cardinals, and defeated the Houston Astros in game 7 of the World Series.
An interesting offseason came next, as two of the club's best players hit free agency. A decision was made to pay Strasburg (seven-year, $245 million) and let their best hitter, Anthony Rendon, walk and sign with the Los Angeles Angels (seven-year, $245 million). Winning comes at a cost. Everyone wants your players!
Braves and Phillies are tough teams to beat in the AL East
Things just got much more difficult within the division with the emergence of the youthful Atlanta Braves and Philadelphia Phillies adding in the offseason. The Braves won the East the past two seasons, edging out the Nationals by just four games in 2019. They remain a roadblock, winning 97 games and adding to their own experience with a couple of key free agents (Marcell Ozuna replaces Josh Donaldson and they added Cole Hamels).
The Phillies welcome starting pitcher Zack Wheeler and shortstop Didi Gregorius. What a shot in the arm these two are. After finishing 2019 with a .500 record, the Phillies are poised for a nice improvement and could very well vie for a playoff spot. The New York Mets are far less threatening with the loss of Noah Syndergaard (Tommy John surgery) and the Miami Marlins are, well, the Marlins. The NL East figures to be a three-horse race.
Something to note is that Rendon played so well last season that he led the team in WAR (wins above replacement) at 7.0! Take seven wins from the Nationals last season and they would have won 86. Yikes, that's scary. How do you replace such a dominant bat? The short answer is, you don't. Rendon posted career-highs in average (.319), OPS (1.010), homers (34), and RBI (126). These numbers led him to a Silver Slugger Award at third base and placed him third among NL MVP voting.
Rendon was the heartbeat of an offense that produced the second-most runs in the NL. You've got to figure that these numbers will drop fairly significantly. Seriously though, what are the chances that 36-year-old Howie Kendrick hits .344 again? Not great. Let's hope that 21-year-old Juan Soto can carry the load and build off his 34 homer, 110 RBI season.
The Nationals ran wild last season, tying the St. Louis Cardinals for the most stolen bags in the NL. They'll need to continue their savviness on the basepaths in order to generate some easier runs. The ifs are piling up. You have to like Atlanta and Philadelphia's offenses more at this point. Don't expect that Washington will be able to pick up the slack from one of the league's best hitters departing. The division certainly feels like a high-risk situation. Don't go jeopardizing your cash thinking Washington will sniff 90 wins again. The Braves are here and ready to win another NL East crown.
Pitching wins championships
Finally, this is now true for Washington. The addition of Patrick Corbin paid off immensely in the playoffs. The southpaw seemed a bit rattled to start the postseason, but he soon took off and pieced together some terrific bullpen outings. The Nationals desperately needed this, as they were very thin on lefties. Corbin finished the playoffs with four-consecutive shutout relief appearances, including three shutout innings (innings six-eight) in the final game of the World Series.
The starting staff of Washington tallied a sweet 3.53 ERA, good for second-best in the NL. They'll roll out the same starting staff as last season. Here's something to be excited about. Sure, Scherzer is getting up there in age and battled some injuries in 2019, but he's still as competitive as ever and totaled a shiny 2.92 ERA. Call that a "bad" season for the ace if you will. The man can still deal and the strikeout numbers were as impressive as the prior season (243 Ks over 172.1 innings).
As mentioned, the Nationals depended on starter Corbin in the postseason to help bridge the gap after the starters finished up. This happened because the bullpen was a nightmare. It's a wonder that they were able to go as far as they did with hardly any help in that department. The addition of Will Harris should prove to be helpful and they retain Daniel Hudson, who was dominant after they acquired him from the Toronto Blue Jays at the trade deadline.
This pitching staff doesn't mean the Nationals will win their division. They're consistently finishing second according to sportsbooks and that feels accurate. The Braves could contend for 95-100 wins in 2020. Don't fall victim to the World Series glamour with a bet on the Nationals to take the NL East. It just isn't going to happen.
Are sportsbooks ranking their MLB odds fairly?
Despite the Nationals being my pick to finish second in their division, what does it say about their World Series hopes? Sportsbooks are pegging Washington anywhere from fifth to seventh-best chances to repeat as champions. At +1600 or +1800, are the Nationals a good bet?
The funny thing is that Atlanta Braves is receiving more World Series love than Washington is. You may be thinking, "duh, they're favorites to win their own division, you said it yourself." Hold on a minute! Yes, I do think the Braves have the best chances to win their division. No, I don't think they're better equipped to navigate a postseason format that doesn't necessarily play to their strengths.
Pitching definitely wins championships. The Nationals still have their starting rotation intact and will be a daunting opponent to any team that they match up with. I promise you that the Los Angeles Dodgers don't want to run into them again.
Generally speaking, teams don't repeat as champions in the MLB these days. The year 2000 was the last time a team repeated (New York Yankees). Since then, the San Francisco Giants have won three times and the Boston Red Sox have won four times without repeating, or even playing each other for that matter.
I do think that the difference between the Dodgers (+380) and Nationals (+1800) is a bit egregious. With that being said, I don't think the Nationals will make it back to the promise land in 2020. They have a chance with their pitching staff, that's for sure. I wouldn't even mind a smaller wager on them as a fun gamble. The +1800 is fairly juicy, so I could see why there would be interest knowing that this pitching staff still maintains a championship pedigree. It's likely not their year, but crazier things have happened.