Chicago Cubs vs Pittsburgh Pirates Pick – 9/21/20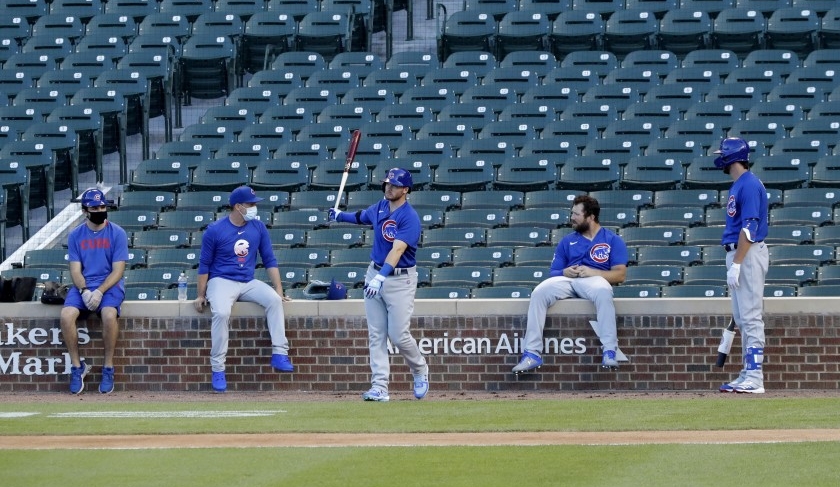 Odds.com's Chicago Cubs vs Pittsburgh Pirates Pick – 9/21/20: The Pirates have lost 38 games so far this season, with 24 of those losses coming by 2 runs or more. The Cubs head into PNC Park on Monday on a mission to capture the #2 playoff spot in the NL Central.
| | | |
| --- | --- | --- |
| MLB Betting | Chicago Cubs | Pittsburgh Pirates |
| Best Odds | -152 | +140 |
| Total | Over 8.5 (-110) | Under 8.5 (-102) |
| Where/When | PNC Park | 7:05 PM EST |
Cubs In Drivers Seat In NL Central
The Cubs are top in the NL Central with a record of 31-22 after falling to the Twins at home last night. It was their second straight loss. St. Louis, Cincinnati, and Milwaukee are log-jammed behind, all within a single game of each other. Pittsburgh's already been eliminated from playoff contention and it enters this series with the worst record in all of MLB. It's been a strange season for everyone involved, to say the least, and the playoffs this year won't be any different. Six extra teams will qualify for the postseason this year (note, that's only for 2020.) Each division will now send the first and second place teams to the playoffs, with two wild card clubs on top of those six. With just over a week to go, no one has yet clinched a division title, so the Cubs can't afford to look past their lowly opponent in this four-game series (especially with an interesting three-game set at the White Sox to finish off the 2020 regular season.)
The Pitching Matchup
Chicago is hoping to lean heavily on the leadership of Jon Lester (2-2, 4.91 ERA) in the playoffs. Lester most recently allowed two runs and struck out one over five innings in a no-decision vs. the Indians. He's been inconsistent this season after finishing 13-10 with a 4.46 ERA last year, but he enters this one on top form having posted back-to-back strong outings, including an eight-strikeout performance in his previous start. Without the benefit of a Spring training, or the luxury of a 160-game season to get "warmed up," clearly the abbreviated campaign has been a difficult one for Lester.
J.T. Brubaker (1-2, 4.79) gets the call for Pittsburgh. Brubaker most recently allowed one run off five hits over five innings in a loss to Cincinnati on Wednesday. He's faced the Cubs once this year already and allowed two runs off seven hits over five innings. Brubaker has one last start after this to try and cement a position for 2021.
Chicago Cubs vs Pittsburgh Pirates Pick
I'm going to suggest laying the 1.5 runs and taking the Cubs on the "run line" option in this matchup. Lester faced the Pirates on September 1st and was shelled for five runs off eight hits over five innings. The Pirates aren't going to roll over, and while Father Time is clearly starting to win the battle, Lester has shown vast improvement over his last two starts, allowing a combined two runs off seven hits spanning 11 innings of work.
With the division title in reach, the motivation to build and progress is right in front of this veteran's face and that's what a lot of these types of players need at this point in their careers. I don't think it's unreasonable to believe that Lester can carry over his recent momentum and focus and get the better of his rookie counterpart in this favorable matchup.
When you add in the fact that Chicago can't squander this golden opportunity. Pittsburgh has absolutely nothing to play for here. Playing the role of spoiler just isn't going to be enough of a motivational factor in my opinion because the Cubs already have a strong lead in the division. Chicago has three games at the end of the year at the White Sox, who are currently in a dog fight with the Twins for the AL Central crown. So this is it for the Cubs in my estimation. Anything can happen in that final series vs. their talented cross-town rival, but these are four straight winnable games in Pittsburgh, starting with this one on Monday night.
Both the Cubs and Lester himself have all the motivation they need and I think that'll translate into a sizeable victory for the visiting side once it's all said and done. The play is the CUBS on the RUN LINE on Monday night. The best price on the Cubs -1.5 is at (+105) via DraftKings
Cubs' Playoff Implications
If the Cubs earn the second spot in the NL Playoffs (they are currently in a tight race for second behind the Braves as of writing), they would then play host to a wild-card team. Seven teams right now have a chance at earning that spot and Chicago has not faced four of those seven (the Giants, Mets and Rockies) during the regular season. Earning that second spot is big as well, as you at least get the advantage of playing on your home field before the playoffs shift to the "bubble format." The World Series will be held in the Rangers' new stadium, but the "bubble format" will see that no team will play at home after the first round. How important was the home field to the Cubs during their 2016 World Series run? They beat San Francisco in four games, winning the first two at home 5-2 and 1-0. They then needed six games to get past the Dodgers, winning the first one 8-4 (with Jon Lester on the mound), but losing the second 1-0. Chicago then won Game 6 at home 5-0. In a historically strange season, every advantage you can get will help in a deep playoff push.