Floyd Mayweather vs Logan Paul: Best Prop Bets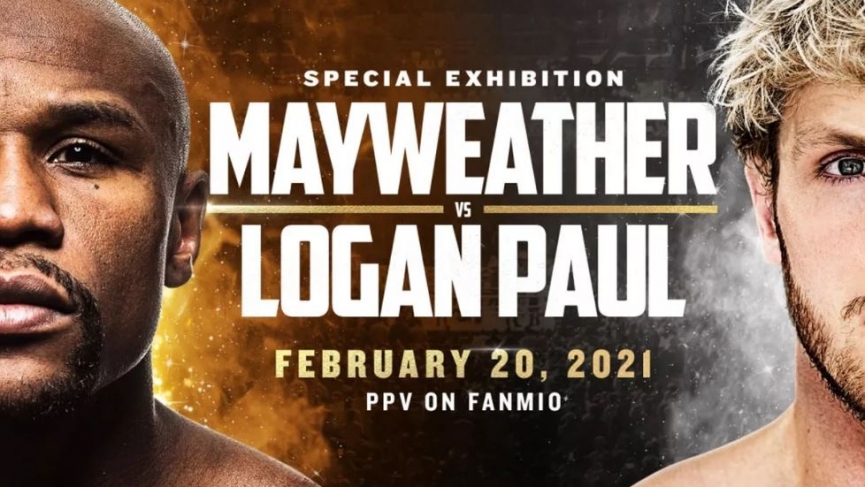 Floyd Mayweather vs Logan Paul Props Available for February 2021 Exhibition Showdown: Floyd Mayweather has been an average favorite of -500 over his last 11 fights, going back to 2009. In those 11 fights, Mayweather has profited +2.19 units on the moneyline, with the Over going 10-1.
Mayweather vs Logan Paul: Tale of the Tape

Floyd Mayweather vs Logan Paul Odds
| | | |
| --- | --- | --- |
| Boxing Odds | Floyd Mayweather | Logan Paul |
| To Win Outright | -3500 | +1200 |
On February 20, 2021, one of the greatest boxers of all time, Floyd Mayweather Jr., will come out of retirement for a special exhibition bout against YouTuber Logan Paul. Mayweather is a business guru and anytime a big payday becomes available, you know he will take the bait. With Logan looking to ride the high of his brother Jake Paul's win recent KO win against former NBA player Nate Robinson, Mayweather vs. Logan Paul is destined to be a blockbuster boxing pay-per-view.
Mayweather opened as a monumental -3500 betting favorite for this special exhibition bout, while Paul opened as a +1200 underdog. Mayweather is 50-0 as a pro boxer and Paul is 0-1, so on paper, this should be Mayweather's fight to lose. Even with Paul having a significant height, reach, and weight advantage in this fight, you can't go against Mayweather. But instead of looking at the moneyline, the real value for betting on this fight lies in the props.
Floyd Mayweather vs Logan Paul Props
| | | |
| --- | --- | --- |
| Boxing Props | Floyd Mayweather | Logan Paul |
| Winner on Scorecards | -700 | +300 |
| To be Knocked Down | Yes (+3500), No (-1200) | Yes (-700), No (+350) |
| First to Bleed | +550 | -1200 |
| Fight Goes Distance | Yes: +300 | No: -600 |
Exhibition Match Grading
Like the recent Mike Tyson vs. Roy Jones Jr. fight, the Mayweather vs. Paul matchup is officially being called an exhibition bout. That fight featured three celebrity former boxers score the bout for the WBC, and they scored it a draw. It seems very likely that Mayweather vs. Paul will also have third-party judges to give a verdict should this fight go to the scorecards. If the fight goes to the cards, the bookies list Mayweather as a -700 favorite and Paul as a +300 to win on the scorecards from the WBC or whatever other governing body hands out the final verdict.
This seems like a major steal for Mayweather. When you consider the money line on him opened at -5000 and now you can get him for -700 to win on the scorecards, that is a major discrepancy. Maybe some bettors have a feeling this fight is going to be fixed, but I highly doubt that. Mayweather just hates losing and I can't imagine he would ever sign up to lose on purpose. If this fight goes to the scorecards, Mayweather is going to win a unanimous decision.
Will the fight go the distance?
We don't know the full ruleset for this bout yet, but Paul recently confirmed that this bout will be set for six rounds of three minutes each, so 18 minutes of potential ring time in total, and the bookies are offering a prop on the fight going the distance or not. The odds are dramatically in favor of the fight ending inside the distance, pegging the odds of a stoppage in this fight at -600.
Like we just saw with the recent Mike Tyson fight, since this is an exhibition bout we might not see a knockout here. The commission will likely encourage both men to have a fun fight and not go for the kill. So while the bookies are suggesting the odds of a stoppage are -600, I'm actually looking at the other side of the coin. Perhaps Mayweather will just want to put on a show for the fans and let Paul survive. At +300, I'd rather take the plus-money odds and make a bet on the fighting going six rounds than laying huge juice on a stoppage occurring.
Will Mayweather Knock Down Logan Paul?
The oddsmakers have set the odds on Paul being knocked down at -700, an implied probability of 87.5% that Paul will be knocked down at some point in the six rounds by Mayweather. When you think about how Mayweather's last exhibition bout against kickboxer Tenshin Nasukawa went in Japanese MMA promotion RIZIN back in 2018, and how he scored several knockdowns in that bout. You'd have to imagine that he will be able to touch the chin of Paul and some point and put him on the canvas.
The -700 odds are heavy, but I can't see Paul going up to 18 minutes without suffering a knockdown. It's also important to note that headgear will not be worn, making a knockdown far more likely.
Mayweather has only won by stoppage twice over the last 11 years. In his most recent pro-boxing bout against Conor McGregor, Floyd won in the 10th round by standing T/KO. Before that, you have to go back to 2011 to his last KO victory, which came in a controversial fashion.
Mayweather KO'd Victor Ortiz in the 4th round of their WBC Welterweight title bout, when Ortiz went to bump gloves with Floyd after what appeared to be an intentional head butt, Mayweather took advantage of Ortiz, who had his hands down and unloaded a left hook which stunned Ortiz. After glancing at the ref, Ortiz took another blow from Mayweather who connected with a devastating right hand, knocking Ortiz out.

Floyd won the WBC welterweight title with the win over Ortiz, and at the time, the bout was the second highest-grossing non-heavyweight boxing pay-per-view event in history, until that record was broken by Floyd on two other occasions (Pacquiao and McGregor).
Who Bleeds First?
There is also a prop available to bet on which fighter bleeds first. The bookies placed a monster -1200 number on Paul, being the first to bleed, with Mayweather's comeback at +550. Even with the crazy odds, you have to imagine if anyone bleeds. First, it will be Paul. Mayweather is exceptionally accurate with his punches, and this prop could cash early on, though -1200 is a big number. On the other hand, I don't see Paul hitting Mayweather in the face much in this fight, so I wouldn't even bother to take the big plus-money odds on him getting cut open first.
Mayweather on the Moneyline and Total
Floyd Mayweather has had 11 pro-fights over the past 11 years, going 11-0 since 2009 for a profit of +2.19 units on the moneyline. 10 of his 11 fights have gone Over the betting total, with the only one going Under was the knock out victory against Victor Ortiz.
The Over has been lined at an average price of -340 in his last 11 fights, with the only fight well above that average being his most recent fight against Conor McGregor. In that fight, the betting total was set at 7.5 rounds, with the Over slightly juiced at -115. To the surprise of many, McGregor lasted long enough for the Over to cash, with Mayweather picking up the TKO victory over McGregor in the 10th round.
---
Floyd Mayweather Career Betting Trends
| | | |
| --- | --- | --- |
| Since 2009 | Record | Profit (Units) |
| To Win Outright | 11-0 | +2.19u |
| 'Over' | 10-1 | +3.25u |
---
FAQ: Mayweather vs Logan Paul
Does Logan Paul have a chance against Floyd Mayweather?
Based on the odds and implied probability, Logan Paul has about a 2.8% of beating Floyd Mayweather.
Mayweather is one of the greatest boxers of all time and has a 50-0 record as a professional. If some of the highest level professional couldn't stop Floyd, Logan Paul will not even come close, especially in a six-round fight.