Who Will Mike Tyson Fight Next?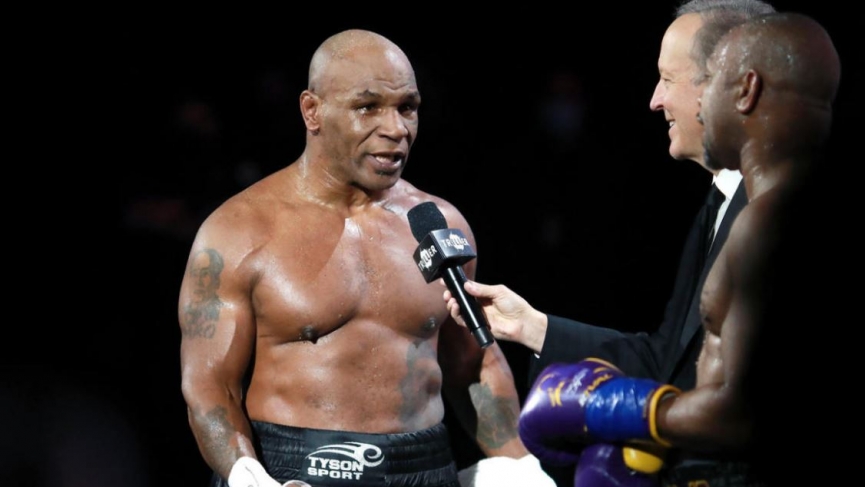 Mike Tyson Odds on Next Opponent: 'Iron' Mike has his eye on yet another exhibition boxing bout for 2021. With Tyson kicking around the possibility of getting back in the ring, betting odds on who his next opponent will be have hit the open market.
Two weeks ago in Los Angeles, heavyweight boxing legend Mike Tyson returned from a 15-year layoff and put on an entertaining exhibition bout against Roy Jones Jr. Considering he's now 54 years old and Jones is 51, boxing fans really weren't sure what to think about the fight heading into it. But both men put on a good show and went the eight-round distance, fighting to a controversial draw in the process.
After the fight, Tyson — who many felt should have won the decision — said that he felt good and mentioned that he's open to fighting again. Now the question is, if he does step into the ring again, who could Tyson's next opponent be?

Not long after Tyson and Jones Jr. took their gloves off,  the oddsmakers were quick to put up betting odds on who Tyson's next opponent could be. Below are my thoughts on three of Tyson's potential opponents, along with how likely I think they are to actually get the fight.
---
Evander Holyfield (-150)
One of the greatest boxing rivalries of the 1990s was between Tyson and Evander Holyfield. In 1996, Holyfield knocked Tyson out to win the heavyweight title, and then in 1997, Tyson and Holyfield had their infamous rematch that saw Tyson take a bit out of Holyfield's ear and get disqualified. For over 20 years, these two men have been bitter rivals. In 2021, it's possible we could see the trilogy fight. The 58-year-old Holyfield has said he's interested in Tyson, and there's no reason why Tyson wouldn't be interested. If I'm a betting man — and I am — this is my pick for Tyson's next fight. It's also the matchup that the bookies slightly favor being, as well.
The betting line lists Holyfield at -150 to be Tyson's next opponent, an implied probability of 60%. Since I believe Holyfield is about 80% likely to be the next man to step into the ring with Tyson, there is some value here at -150 if you are interested in betting on props like this.
Likelihood of the fight happening: 80%

---
Lennox Lewis (+300)
In 2002, Tyson met Lennox Lewis in a bid to re-capture the heavyweight championship. At the time, Lewis was just two fights removed from an upset KO loss to Hasim Rahman, so there was certainly a chance that Tyson could catch Lewis and knock him out. However, it turned out to be the other way around as Lewis would knock Tyson out in the eighth round. Lewis then knocked out Vitali Klitschko in his next fight in 2003 before announcing his retirement. Lewis has not fought in 17 years, but at age 55, he represents a very plausible opponent for Tyson's next bout.
The betting line lists Lewis as a +300 underdog to be Tyson's next opponent, an implied probability of 25%. I don't see the odds of Lewis getting the fight as being that high and instead cap the bout around the 10% mark of happening. So while I do think Lewis is a potential opponent based on his history with Tyson and his similar age, I don't see any betting value at +300. I'd need at least +1000 to consider a play on Lewis to be Tyson's next opponent.
Likelihood of the fight happening: 10%
---
Anthony Joshua (+5000)
There are several long shots listed with odds to be Tyson's next opponent, and Anthony Joshua at +5000 is the longest of them all. The 31-year-old Joshua is currently one of the top heavyweight boxers in the world, and he's coming off of a decision win over Andy Ruiz Jr. in his last fight. Considering he's 23 years younger than Tyson, it seems very unlikely any commission would ever sanction this fight. But there have been whispers that Tyson wants to make one more last run at the heavyweight title, and if that's the case, then Joshua would be his man.
As far as the odds go, Joshua is a +5000 underdog to face Tyson, which is an implied probability of 2%. I think Joshua is a massive long shot to fight Tyson and would cap the odds of him getting the fight at less than 1%. I don't see any value here in Joshua, even as a longshot.
Likelihood of the fight happening: <1%
Although watching 50-year-old men fighting isn't everyone's cup of tea, Tyson and Jones Jr. showed in their fight that the "old guys" can still entertain. Considering how sharp he looked in the fight, don't be surprised if Tyson does indeed fight again. If he does step into the ring in 2021 as expected, who would your pick be for who Tyson should fight next?