3 Reasons Canelo Alvarez Could Lose to Callum Smith on December 19th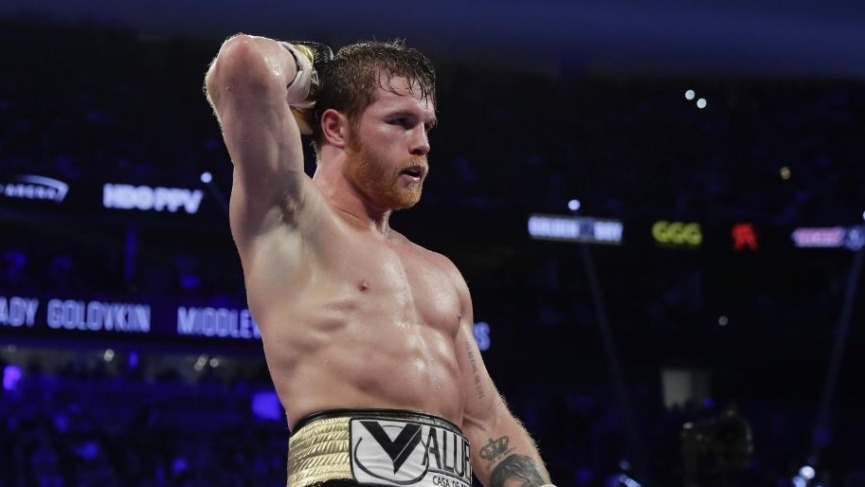 Canelo Alvarez Odds see him as a heavy favorite in a Super-Middleweight bout he could lose: On Saturday, December 19, the No. 1 pound-for-pound boxer in the sport returns to the ring when Canelo Alvarez takes on Callum Smith. The two will collide for the WBA (Super) and The Ring super middleweight titles at Alamodome in San Antonio, Texas, with the fight airing live on DAZN. It figures to be an incredible bout and a terrific way to end the year in combat sports.
WBA Super-Middleweight
canelo Alvarez
Callum Smith
to Win Outright
-550
+500
to Win Inside the Distance
-110
+535
to Win by Decision
+200
+15,000
Total
Over 9.5 (-120)
Under (+125)
Fight Goes Distance
Yes (+150)
No (-165)
Boxing Odds via WilliamHill (Updated 12/7, 5:00 PM EST)
---
Canelo Takes on 'Largest' Task to Date
Alvarez is an elite talent, having gone 51-1-2 in his incredible boxing career that began in 2005. He's the best boxer in the sport right now, and an uphill battle for anyone who opposes him in the ring. For this fight, that will be Smith. With a 27-0 record, Smith believes it's his time to score the upset over Alvarez. And what an upset that would be when looking at the betting odds.
Right now, Alvarez sits comfortably as a -600 betting favorite, with the comeback on Smith at +550. Based on the odds, Alvarez is the clear favorite to win this fight, and by all accounts and purposes, he should. But then again, this is combat sports, and upsets happen all the time. Just because Alvarez should win doesn't mean he's a lock. Everyone thinks Smith will lose, but what if he can pull off the upset? Below, let's take a look at three ways that Smith can upset Alvarez.
Tale of the Tape: Canelo vs Smith
---
Callum Smith is the Much Taller and Much Longer Fighter
I always look for physical advantages in combat sports matches, and in this particular fight, Smith has two key edges: height and reach. Standing at 6'3" and blessed with a 78" reach, Smith is the taller and longer fighter in this matchup against Alvarez, who is 5'9" with a 70.5" reach. A six-inch height advantage and a 7.7" reach advantage are massive. If Smith can keep Alvarez at the end of his jab and work from the outside, he can win this fight. Alvarez has fought up in weight, and he has beaten taller, longer opponents before, but none of them were as tall, and as long as Smith will be, it will be interesting to see how Alvarez deals with it. It's also worth pointing out that both men are 30 years old in this contest, so the age is a wash here.
Callum Smith Has an Undefeated Mindset
There is also something to be said about Smith being an undefeated fighter who has never tasted defeat in the boxing ring as a pro. Having that sort of undefeated mindset and the confidence that comes from having never lost before is massive. The mental game is a big part of the fight game, and for Smith to pull off this upset, his mental game will have to be at its best. The fact that he has never lost before should give him all the confidence in the world that he can hang with Alvarez. It's worth noting that Alvarez has only lost once, to Floyd Mayweather Jr., but he does have a pair of draws, as well. Seeing those small blemishes should give Smith the added benefit of knowing that even the best fighters in the world can lose on any given night.
Canelo Alvarez has Been in More Wars
Alvarez has more professional boxing experience, which should be an advantage, but it can also work as a disadvantage. That's because typically, the more fights someone has had, the more damage they have taken in their career. Alvarez has been fighting as a pro since 2005 and has nearly 60 fights under his belt. That's a lot of fights, and while Alvarez has won the majority of them, being a pro boxer for 15 years means the damage adds up. In Smith's case, he only turned pro in 2012 and has half the total number of fights that Alvarez has had, meaning fewer opportunities to take damage. Alvarez has displayed incredible defense, and he has never been knocked out in his career, but all of those wars add up, and eventually, his armor may crack.
Alvarez is the best boxer in the world, so it's not surprising to see him as a big favorite over Smith. But the more I dug deeper into the matchup, the more I saw some key advantages for the underdog in this spot, and I'm far more intrigued by this bout now. From a pure pick perspective, I still have to favor Alvarez to win this fight, likely by decision. But considering the advantages that Smith has, like his height and reach, taking a punt on him at +500 odds could be worth a stab if you want to take a shot on an underdog who actually holds several key edges.
Pick Your Bet: Callum Smith
Callum Smith
betting Record
proft (units)
to Win by Decision
3-6
+5.87u
Over
5-4
+4.72u
Fight Goes Distance
3-6
+3.85u
to Win Inside the Distance
6-3
+1.91u
to Win Outright
9-0
+1.62u
---
FAQ: Canelo Alvarez vs Callum Smith
Who is Canelo Fighting on December 19th?
Callum Smith is an undefeated (27-0) British boxing champion, who currently holds the WBA and Ring Magazine Super-Middleweight titles. As of May 2020, Callum is ranked by ESPN Boxing to be the world's best active Super-Middleweight. Smith is 27-0, with 19 wins by stoppage,  and is a +550 underdog to Canelo (-600) on December 19th