UFC 257: Betting Trends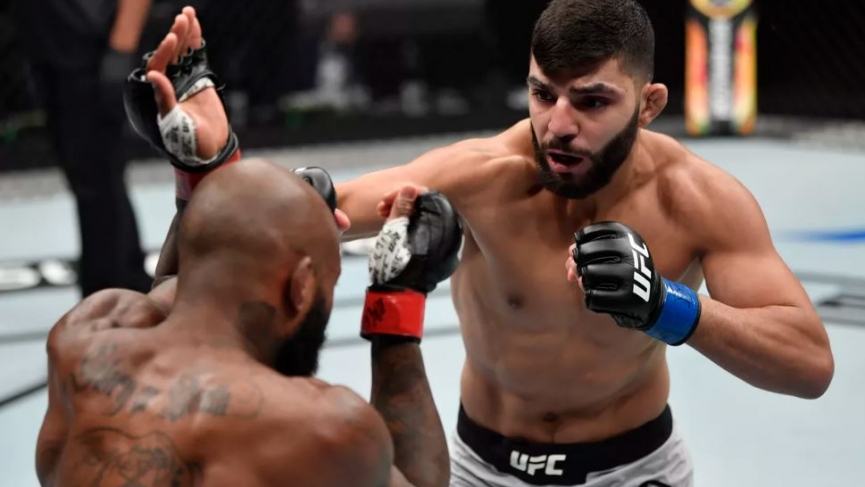 UFC Betting Trends for Saturday, January 23rd: One of the hottest division trends worth backing at UFC 257 is the 'coin flip' favorite in the men's flyweight division, which has gone 6-1 since January of 2020 for +3.52 units, while favorites have gone 22-6-1 at men's 125 pounds. Let's take a look at the rest of the active betting trends for UFC 257.
– For all the current UFC division betting trends, check out our UFC Trends page. 
UFC Betting Trends: McGregor vs Poirier
| | | |
| --- | --- | --- |
| Dustin Poirier – Since 2012 | UFC Record | Profit (Units) |
| to Win by Decision | 5-14-1 | +9.14u |
| to Win Outright (Since 2010 WEC) | 18-6-1 | +9.4u |
| Wins Inside the Distance | 9-10-1 | +4.29u |
| Under | 10-9-1 | +4.05u |
| Fight Doesn't Go Distance | 13-6-1 | +1.44u |
| | | |
| --- | --- | --- |
| Conor McGregor – Since 2013 | UFC Record | Profit (Units) |
| to Win Outright (Since 2012 Cage Warriors) | 13-2 | +5.01u |
| to Win by Decision | 2-9 | +3.17u |
| Under | 7-4 | +2.55u |
| to Win Inside the Distance | 7-4 | +1.3u |
| Fight Goes Distance | 9-2 | +0.35u |
---
UFC Betting Trends: Chandler vs Hooker
| | | |
| --- | --- | --- |
| Dan Hooker – Since 2014 | UFC Record | Profit (Units) |
| Wins Inside the Distance | 8-7 | +15.8u |
| to Win Outright | 10-5 | +5.1u |
| Fight Doesn't Go Distance | 9-6 | +3.08u |
| Under | 8-7 | +2.79u |
| | | |
| --- | --- | --- |
| Michael Chandler – Since 2013 | MMA Record | Profit (Units) |
| Under | 10-5 | +6.36u |
| Opponent Inside the Distance | 3-12 | +6.3u |
| Opponent by Decision | 2-13 | +4.4u |
| Opponent Wins Outright (Since 2011) | 5-16 | +4.86u |
| Fight Goes Distance | 10-5 | +2.07u |
---
UFC Lightweight Division
| | | | |
| --- | --- | --- | --- |
| Since January 2020 | Record | Profit (Units) | Buy Price |
| 'Coin Flip Dogs' | 58.3% (7-5) | +1.93u | -110 |
| Underdogs | 40.7% (22-32) | +5.87u | +146 |
| Under | 50% (27-27) | +4.28u | +100 |
UFC Women's Flyweight
| | | | |
| --- | --- | --- | --- |
| Time / Trend | Record | Profit (Units) | Buy Price |
| Since 2020 – Dogs | 42.9% (15-20) | +13.05u | +133 |
| Since 2020 – Under | 42.9% (15-20) | +7.29u | +133 |
| Since 2019 – 'Coin Flip Favorites' | 64.7% (11-6) | +2.23u | -150 |
UFC Middleweight
| | | | |
| --- | --- | --- | --- |
| Since January 2020 | Record | Profit (Units) | Buy Price |
| Under | 59.2% (29-20) | +10.38u | -145 |
| Favorites | 69.4% (34-15) | +1.31u | -227 |
UFC Women's Strawweight
| Since 2020 | Record | Win % | Profit (Units) | Buy Price |
| --- | --- | --- | --- | --- |
| 'Coin Flip' Dog | 3-2 | 60% | +1.35u | -110 |
| Favorites | 19-7 | 73.1% | +1.61u | -272 |
| Over | 19-7 | 73.1% | +0.16u | -272 |
UFC Women's Bantamweight
| Since 2020 | Record | Win % | Profit (Units) | Buy Price |
| --- | --- | --- | --- | --- |
| Over | 20-1 | 95.2% | +7.14u | -1983 |
| Favorites | 15-6 | 71.4% | +1.41u | -250 |
| 'Coin Flip' Favs | 3-3 | 50% | -0.89u | -150 |
UFC Light-Heavyweight
| | | | |
| --- | --- | --- | --- |
| Since January 2020 | Record | Profit (Units) | Buy Price |
| Favorites | 66.7% (24-11-1) | +1.38u | -200 |
| Under | 52.8% (19-17) | +0.82u | -112 |
UFC Men's Flyweight
| | | | |
| --- | --- | --- | --- |
| Since January 2020 | Record | Profit (Units) | Buy Price |
| 'Coin Flip' Favorites | 87.5% (7-1) | +4.38u | -150 |
| Favorites | 76.7% (23-6-1) | +6.78u | -329 |
| Under | 46.7% (14-16) | +1.11u | +114 |