UFC Vegas 15 Main Event Best Bets: Curtis Blaydes vs Derrick Lewis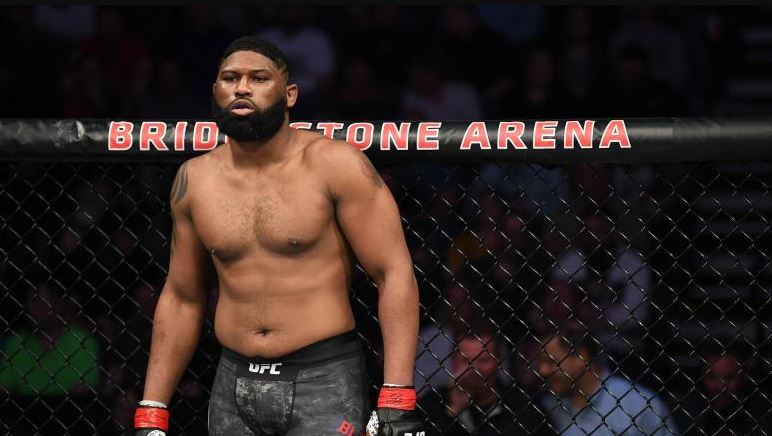 Curtis Blaydes vs Derrick Lewis Pick – UFC Vegas 15: Everybody loves the heavyweights. There is just something about these massive men who are the peak of what human warriors are capable of throwing down in the center of the cage, shaking the ground as they do.
The UFC's heavyweight division has been on ice for some time with the trilogy of Stipe and DC, but the time has finally come to see new life and movement towards that coveted #1 contender spot. The stakes for UFC Vegas 15 are high when Cutis Blaydes faces the fan-favorite Black Beast Derrick Lewis to see who will likely challenge the winner of Stipe and Ngannou in 2021. 
UFC Vegas 15 ODDS
Curtis Blaydes
Derrick Lewis
To Win Outright
-345
+260
Inside the Distance
-139
+438
by Decision
+340
+1200
Total Rounds
Over 2.5 (+100)
Under 2.5 (-137)
Fight Goes Distance
Yes: +240
No: -275
Where/When
Apex Center, Las Vegas
Sat, Nov 28th, 8:00 PM ET
Curtis Blaydes is renowned as the 2nd best young heavyweight on the planet. If it weren't for one Francis Ngannou, this man would be undefeated and likely challenging for the title. He could even be holding that strap right now. Curtis Blaydes trains out of the Elevation Fight team and is the poster child for their signature never-ending gas tanks.
Blaydes is the first pure grappling heavyweight we have seen in a very long time, and there is nobody who can manage to stay on their feet against this man. Blaydes set the heavyweight record for takedowns in a single fight, and once he gets on top of you, he goes to work with vicious elbows. You might be able to escape from Blaydes and get back to your feet, but it's never something that lasts long, and he will return you to your spot on your back as quickly as possible. Blaydes breaks the biggest fighters on the planet.
Derrick Lewis is massively popular due to the wild things that come out of his mouth and his ability to knock men unconscious. Lewis has rare power even for a heavyweight and is a threat until the very last second ticks off the clock in any given fight. You have to be on guard every second that you are locked in the cage with this man, and somehow he is getting better. Lewis has been working hard on his strength and conditioning routine, and his gas tank has been the most significant issue of his career. If Lewis patches the hole in his game and can fight at a higher pace for a full fight, you have a recipe for a terrifying human. 
The Fighters:
UFC Match-up
Curtis Blaydes
Derrick Lewis
Age
29
35
Height
6'4
6'3
Reach
80′
79′
Wins by Method
10 Wins by T/KO.
19 Wins by T/KO
Finish Rate
71%
83%
Record
14-2
24-7
The Match-Up:
Derrick Lewis is mostly being counted out in this fight. Curtis Blaydes is a man who many have held in talks for the title for many years, and while Lewis is a fan favorite, the holes in his game make him very hard to see challenging the best. This seems like a fight with too many lopsided factors, and that is why Blaydes opened -280 but is sitting as a favorite of about -380 and climbing. The path to victory is clear for both Blaydes and Lewis, and it is just hard to imagine Blaydes getting hit with a show that will put him out when Lewis is so easy to take down.

Curtis Blaydes vs Derrick Lewis Pick:
Main Event Best Bet: Blaydes/Lewis Over 1.5 Rounds (-200) via Bet365: My issue with this fight is that while Lewis can be taken down, he is fully capable of getting back up. Lewis is freakishly strong and pushes full-grown 265-pound men off of him and simply gets to his feet through sheer force. A fighter like that is incredibly dangerous and must be taken back down, and that's exactly how I see this fight playing out. Lewis is good enough defensively off of his back that while he is fresh, I don't see him getting finished, but surviving and working his way back to his feet before Blaydes eventually returns him to the floor.
Blaydes is no stranger to fights going the full distance and dominating. Lewis is similarly no stranger to fights, going the full three rounds against worthy competition who he cannot put away with a single big bomb. I think the best way to approach this fight from a betting perspective is to rely on the durability of Derrick and take the fight to go over. Since these men are both heavyweight finishers, we will have to pay a premium, but I think this fight can last 7 minutes and 30 seconds and get us the cash. After that, it will be fun to see who wilts first, but at least we won't have to sweat it since we will have already locked up our win.
Keep it locked to Odds.com for all of your UFC betting needs for UFC Vegas 15. The best current odds and content can be found on our UFC page.